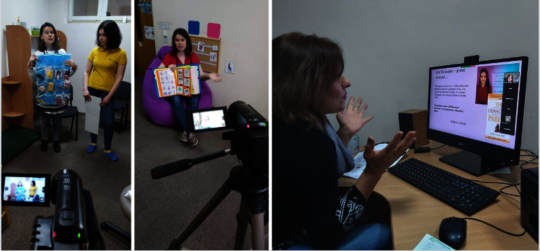 On behalf of the children, parents and staff of Dzherelo Children Rehabilitation Centre in Lviv, Ukraine we express our gratitude for your support of children with disabilities.
This year we are once again deeply grateful to our donors and friends for your understanding and kind support for children and youth who continue receiving important rehabilitation services at Dzherelo and participate in its developmental programs despite all the hardships of 2020. During the lockdown due to pandemic our main goal was to continue supporting Dzherelo`s children and youth with special needs and their families.
It was not the best year for hydrotherapy but substitute programs were launched.
+ Our Centre's psychologists launched a series of Webinars for parents on various topics related to
the handling of a wide range of crises;
+ Centre's specialists (physical rehabilitation, speech therapy, occupational therapy) prerecorded an online classes which now can be used not only be Dzherelo's clients but also by other families who need it;
+ Team members are taking online courses to upgrade their own professional skills, including those
related to distance learning.
All this in addition to usual day to day work for more than 250 children and youth with multiple disabiliteis.
To ensure worker health and safety, most of the Dzherelo team worked from home for the duration of the quarantine, while the administration and managers were working partly from home and partly in their offices and taking all necessary safety precautions which were ensured by cleaning personnel. Funds raised at GlobalGiving were also spent on disinfectants and personal protective equipment for employees and clients of Dzherelo Centre. We are happy to provide an important services again and to do it safely!
We are grateful to God that so far none of Dzherelo's children, youth or staff have experienced any
severe coronavirus symptoms. We appreciate very much your continued solidarity with us, your
prayers and support.

You can discover more about our work at the Facebook page - https://www.facebook.com/Dzherelo


Thank you for the input in brighter future people with disabilities in Ukraine. Stay safe!
Sincerely, everyone at Dzherelo Centre in Lviv, Ukraine