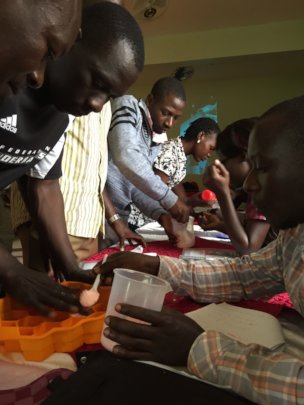 Getting Ready for Term 2!
Term 1 ended in Ugandan schools in mid-April. Teachers and students are now on holiday but Yiya has been in high gear, getting all content and materials ready for Term 2!
Empowering Yiya Partner Teachers
At the end of Term 1, our team offered a week-long train-the-trainer workshop for partner teachers who were interested in further professional development opportunities from Yiya. This training was designed to build teachers' capacity to train and support other teachers in their own school and nearby schools, in project-based, active teaching in science, technology, engineering, and math subjects (STEM).
We had a full house!
Our partner teachers took turns leading parts of the workshop in order to refine their training skills, practiced giving and receiving professional feedback to colleagues after observing their methodology in action, and took part in many engineering activities over the course of the week. Some of these engineering activities were multi-lesson projects that could be implemented over an entire school term...and others were short one-off activities that teachers can fit into their syllabus when time allows.
During the training, teachers built bicycle-powered phone chargers, experimented with heat transfer by building a heat resistant enclosure for African penguins in the Entebbe Zoo, and balanced chemical equations hands-on by creating baking soda bath bombs, just to name a few highlights!
Teachers enjoyed the opportunity to build their training skills, to further develop their STEM teaching methodology, and to network with colleagues and strengthen their support community for one another. One teacher explained that Yiya is creating a network of professional teachers in Lira, in which all colleagues are dedicated to transforming science and math teaching to be hands-on and relevant to real life. Good news for our team!
Interviewing Local Farmers
The Yiya team has also been working hard behind the scenes to do the research necessary to create a high-quality, relevant, and useful curriculum unit on agricultural engineering for our teachers and students, which will be implemented in Term 2!
Our team began this research by reaching out to our partner teachers (many of whom are farmers themselves!) to discover what common challenges are facing farmers in the community, as well as to get connections to local farmers who would be willing to answer some questions from our team. We interviewed our partner teachers in addition to a number of full-time farmers in the community.
The fall army-worm, bacteria wilt, thieving monkeys, and the exorbitant cost of commercial pesticides emerged as the most common issues.
Then our team met with scientists at the National Agricultural Research Organisation (NARO) in order to discuss our findings and explore potential technological solutions. So many technologies were debated! Low-cost greenhouses, post-harvest storage that protects crops from rotting in the heat, low-cost organic pesticides, integrated pest management strategies that leverage predator-prey relationships to control pest presence, inter-cropping...the list is almost endless!
After reviewing all these solutions and their possible curricular connections to the high school syllabus, we went BACK to farmers and our partner teachers to ask them which solution would be the most helpful for the community.
The winner is...low-cost organic pesticide!
Our team is now hard at work experimenting with different ingredients to create the most effective, lowest cost organic pesticide with the smallest environmental impact. We will keep you posted on progress!
Term 1 Impact
We have crunched the numbers from our Term 1 teacher and students surveys (given to participants at the beginning and end of each school term) and we have discovered exciting results of the program this year! 57% of our students are girls. On the baseline survey, 61% of students correctly answered the math/science question on calculating velocity ratio in the simple gear system...while on the endline, all 100% of students correctly answered this question! On the baseline, 0% of students correctly answered the math/science question on calculating velocity ratio in the complex gear system...while on the endline, 83% of students answered correctly. These are really exciting academic gains for our participating students!
Next time...
More updates on our organic pesticide prototypes and further development of the lessons in our agricultural engineering unit coming soon!