The Mano a Mano para el Desarrollo program is preparing new booklets for reading comprehension, so that students can acquire new knowledge while at home with their families.
Most of the students turned in the reading brochures they worked on this week. It is up to them to do new exercises to keep them learning and make sure they do not fall behind in school, even as classes have been cancelled for more than 3 months.
The Mano a Mano program, in addition to providing reading exercises to our students, has also facilitated the use of a laptop for José Miguel who is a fourth-year student. He is currently receiving his school assignments through emails so the Mano a Mano program loaned him a laptop so that he can perform his tasks without problems.
Faced with this crisis, José Miguel continues to study the respective content for his academic training so he won't fall beyond. This is not the case for every student. Lack of internet access and home computers mean that online learning is impossible for many students. Also, a lack of education on the part of parents means that they cannot always help their children with schoolwork. This is why we have tried to work hard to be sure that these barriers do not keep students from reaching their full potential and adapting to at-home school is one of the many challenges Coronavirus has brought. Thankfully with computers for loan and booklets that we have created, we can do a small part in continuing the education of the next generation while on lockdown.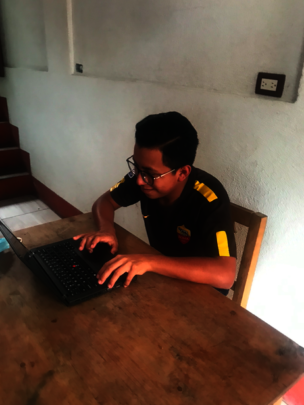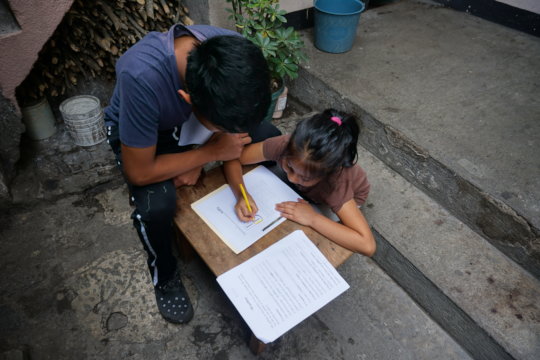 Our Mano a Mano por el Desarollo project is doing everything possible to reach out to students in these times of crisis since they are no longer going to school. Teaching and learning have been hugely affected these past several weeks. For this reason, the program is doing its best to send learning activity materials that students can do from home.
Damaris is a 7-year-old girl in first grade. At the beginning of the year, she was excited because she was going to learn to read and write. However, the COVID-19 pandemic and the resulting closing of schools has interrupted Damaris's learning. Going to school is the only avenue of learning literacy for many students, especially because their parents cannot read or write. Further, there are few technological resources available out of school, including access to computers, or even books, which makes it difficult for students to continue their learning. This crisis has highlighted the difficulties in providing a stable education, as well as the importance of literacy programs and education support.
With the learning materials that Mano a Mano, and our teacher Chonita, send to the students, Damaris is learning how to read and write from home. Israel, her older brother is helping her to recognize the sounds and letters of the alphabet. With Israel's help, Damaris is making progress in her learning. Sending learning materials and homework to students is the most effective way the program has found in maintaining our students' progress. It often keeps them from getting bored at home and offers a familiar routine. Despite the critical situation the world is in at the moment, we must offer some educational support for the generation of the future.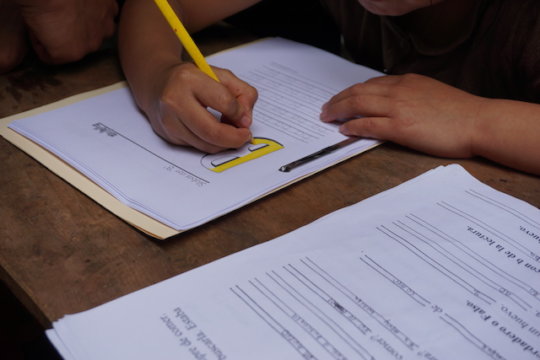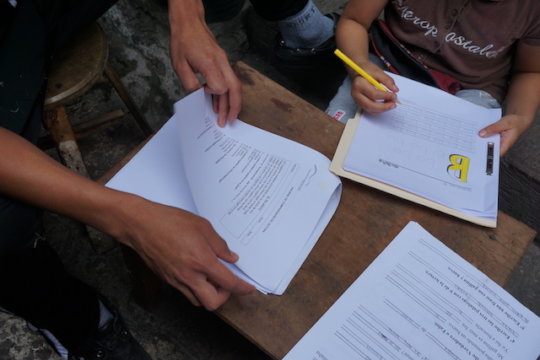 Links: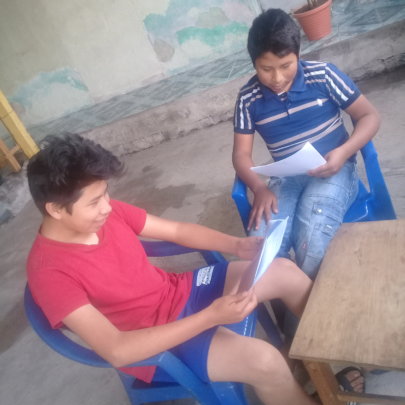 Due to the current COVID-19 pandemic that is affecting the globe, the Guatemalan government has put precautions in place to limit the spread of disease. This has obviously affected our work at Cojolya and Mano a Mano por el Desarollo. Schools have been canceled for our students and we are doing our best to work from home. There are also daily curfews that limit the hours people are outside their homes. Our daily rhythms have changed and we are doing our best to keep up with community efforts, and above all, the students that we help through our Mano a Mano program.
So what are we doing? We are encouraging our students to continue learning from home during these uncertain times. Since none of our students have access to the internet and computers at home, online learning is not a possibility. Instead, we have given students reading comprehension exercises to practice from home. Without the support of our program, many students wouldn't have a lot to do at home right now. By providing homework, we are seeking a way of continuing our work with them so that they can continue their learning. We don't want our students falling behind in their studies! This also serves to take care of their mental health and routine in the face of changes caused by this disease.
Our students are happy and motivated with these at-home activities. They are having to do one reading per day, often doing it together with their family. Two of our students, brothers Misael and Oliver, are practicing their reading together and having fun with the activities. Oliver has had a little trouble managing fluent reading, and for this reason, this activity has been especially helpful in making sure he continues to improve and learn.
Though these times have brought unexpected restrictions, it has also resulted in unexpected solutions to problems. With many students out of school, we are hoping to continue these homework exercises so students do not fall behind in their education.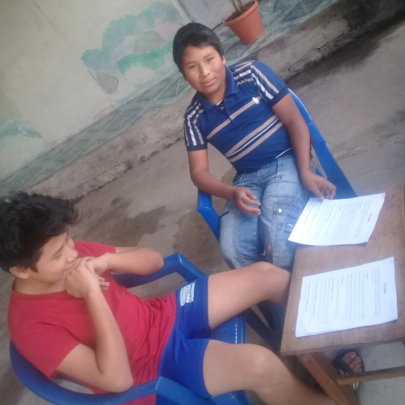 Links:
WARNING: Javascript is currently disabled or is not available in your browser. GlobalGiving makes extensive use of Javascript and will not function properly with Javascript disabled.
Please enable Javascript
and refresh this page.