Lack of funds has been a great challenge to our organization throughout the past year 2020 with the covid - 19. Many communities in our project area still do not have access to clean water and this is making life very difficult for our people. Little resources we had last year was used to encourage our people to wash hands and observe all the covid – 19 protocols. We also supported some of the communities with supply of clean water with the help of some government institutions in our project area. We have just entered the drying season in Ghana till end of April 2021 and the problems of these communities shall worsen. Many school children in the identified communities including 9 and 12 years old James Minta and Olivier Gyesi (not real names) are seriously worried about their plight now that they are going back to school after staying at home for nine months because of covid – 19.
All schools in Ghana are reopening for continuation of academic work and both parents and children are skeptical about what would happen with the covid – 19 still around. Though the government has promised to provide some of the needed tools and items needed for the observation of Covid – 19 protocols, communities without clean water accessibility is still a problem. We shall therefore once again appeal to our cherish donors to make donations to our project to enable us provide new water system for the identified communities in need.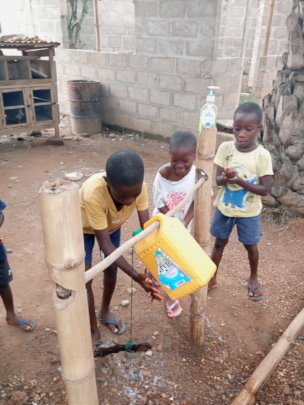 The fight to protect our people from the Covid–19 has been very challenging in the last four months. This is because many of our project communities do not have access to clean water supply. On the onset of the Covid-19 in Ghana, the Government of Ghana made water supply to the people for free till date. However the communities without water systems and supply has to rely on water supplied by benevolent institutions and some NGOs. Our organization has worked with this institutions in the last four months to ensure that our people get access to clean water supply. Funds received recently has been used to provide polytanks to the communities for water storage and supply. The households in the communities has been encouraged to wash hands with soap and used alcohol sanitizers as well as wearing of nose masks, some which we provided to the people. The result of this little efforts has help to keep our people save from the Covid-19. We need your donations to sustain this efforts. We are therefore appealing to our cherish donors to help us installed permanent water systems in the identified project communities.
Description of pictures attached:
TCWP-RP (34) Children in a household demonstrating hand washing with soap using a tippy tap they have installed in their house.
TCWP-RP (35) Anita not real name taking her turn of hand washing with soap using the tippy tap.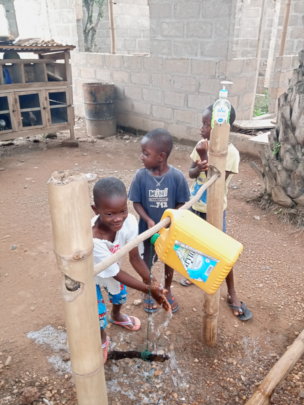 We are really not in normal times at all, with the upsurge of the corvid-19 in almost every part of the world. The situation in my project community in Ghana is not different. Our ways of doing things has changed to ensure that we are protected from contracting the virus. In all this, water usage for washing hands at each given time has become very relevant in every community. By this the government of Ghana has to absorb the bills of water usage for three months in all communities with access to national and community water supply. Many communities in my project area still do not have access to this facilities of water supply. To remedy the situation, our organization Twifu Rural Youth And Women Concern has been working with opinion and community leaders to get water to some of these communities. Two poly tanks has been made available to some of these communities with donations received recently to help the people receive free tanker water supply from some of the state institutions like the Ghana National Fire Service. Our project team are in the communities to encourage the people to adhere to protocols of hand washing with soap and the use of sanitizers. Many children like Kojo Asiamah (not real name) have developed simple hand washing tools made from used gallons in the absence of tabs with running water and this tools are working perfectly and serving the purpose.
In all this, the need of water supply to the communities without water has become key to the survival of our people since we don't know how soon the corvid-19 would go. We are therefore appealing to our cherish donors to help us install the water systems in the new project communities. We are seriously counting on your usual support.
WARNING: Javascript is currently disabled or is not available in your browser. GlobalGiving makes extensive use of Javascript and will not function properly with Javascript disabled.
Please enable Javascript
and refresh this page.