We have some fantastic news. Our rented school is full to bursting, 175 children, in fact we have had to temporarily disband the computer suite to use as a classroom but that is not the fantastic news. We really need to build our own school but although we had the money to build two classrooms we could not start without money for the foundations. We were beginning to think that it was not going to happen. So, no-one can imagine our delight when a private donor gave us the money we needed. This means that we can start the foundations in March 2014. We are now working hard to raise the money for another two classrooms to complete a secure four classroom block with toilets so hopefully when I write the next update there will be a photograph of construction taking place.
We were out in Kenya in November and hope to go back next month. I can't wait to see how Hope our profoundly deaf student is doing. We had been told that because she had been without any hearing for so long that it was unlikely that she would be able to make sense of what she heard. I can't tell you how fantastic it felt when last November I walked into the room and Hope called out 'Rita'. Her mother is brilliant and is working in school as a teaching assistant with her own child but without pay. Hope is such a lucky girl to have a mother like Joyce.
Then we have Stella. Stella is hard of hearing but she copes. Sort of. Our classrooms are small and Kenyan teachers have loud voices but it didn't stop her being on the periphery of everything that happens. Then Siemens donated hearing aids to a small number of deaf children in Mombasa and because we were in the loop through Hope's audiologist we were able to access some for Stella. I'm really excited at the thought of seeing her.
We take so much for granted in the UK. If you can't hear you get hearing aids and if you can't see you get glasses. No-one in Mgongeni wears glasses. Incredibly we had only just noticed. (Probably explains all the road traffic accidents). Then when I was there last time I saw a child reading with her nose almost on the page. A UK donor has given us the money for Triza's specs and also some for Said and we are hoping to be able to offer them to others who have a problem. I couldn't bear to be without my specs but I guess if it is see or eat you have no choice.
Such an exciting time for our community. I can't wait to see the start of our new building.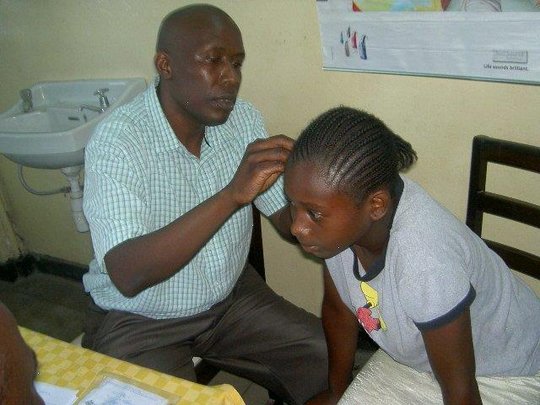 Links:
Two years ago Scottish charity Books Abroad sent 3000 books to our school Miche Bora Primary in Mgongeni. Enough books to fill four large lockable book cases. The books are great but so many of them are currently too advanced for our children, the oldest of whom are only nine years. It seemed such a pity locking away such lovely books when the need in the community was so great, and then we came up with a solution.
Thanks to the hard work of volunteers Julia and Jari from Finland and Helen from the UK who spent a total of 15 weeks working on Mustard Seed Project we now have an excellent library at the school. It's amazing the number of hours required to catalogue 3000 books and then label and put library cards inside them. A mammoth task, mostly completed by Helen.
The library now looks fantastic but more importantly it is being used by four other local schools. Three schools are using it as a regular library and the fourth sends a class of children every week to sit under our outside canopy to read.
And this is just the start. We plan to support the rest of the community with a big library/computer centre, sports hall and a clinic when our new school is built. We have the land, we just need the funds.
We've just returned from a great month in Kenya where things are really going well. Our school is of course primarily for children but we have recently started adult education classes. At present only women attend as many have not been to school before. It was wonderful talking to Esther. Well actually I was just looking at her delighted face as she showed me 'visuri sana' (very good) written everywhere in her book. 'I can read my own texts on my mobile' she said. 'And I can read the signs in the community' said a delighted Agatha. Probably the proudest was Shali who proclaimed 'I signed my own name when I went for a job'.
Then there is our new admission to school, 6 year old Joshua. Seimens have donated hearing aids to 25 poor children in Mombasa and he is to be one of these children. We already have Hope who, thanks to a UK donor was provided with hearing aids 6 months ago. She is being supported in class by a teaching assistant but when she met Joshua it was obvious what an asset it would be to have two deaf children learning together. And the queue has started. The parents of another two deaf children have asked for places and maybe when we have build our school we shall be able to accommodate a deaf unit but we shall go slowly on that one.
Things are also progressing well with our planned new building.As soon as we have planning permission and the money we shall start. We have got a contractor on stand-by so hopefully it will be all systems go in the next few weeks.
WARNING: Javascript is currently disabled or is not available in your browser. GlobalGiving makes extensive use of Javascript and will not function properly with Javascript disabled.
Please enable Javascript
and refresh this page.