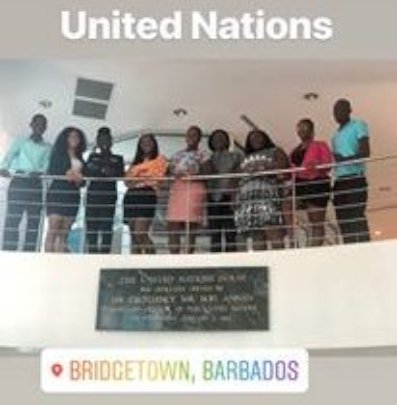 February 2019 Impact Report
LEADING SUSTAINABLE CHANGE
CARIBBEAN ASSISTANCE AND RESILIENCY EFFORT (CARE)
Disaster recovery in the U.S. Virgin Islands (USVI) continues! As climate change becomes more of a reality and with a destructive wake-up call sent with two Category 5 Hurricanes devasting St. Croix in 2017, we understand more than ever the importance of resiliency for isolated territories. In fact, resiliency is evolving in many ways as St. Croix Foundation begins to expand its grantmaking to ensure that there is continued support to nonprofits and to nurture critical social systems like food security. St. Croix Foundation continues to ensure that as the Territory rebuilds its infrastructure a plan to augment a resilient economy is also included.
STRATEGIC GRANTMAKING THAT GOES BEYOND THE AWARD CHECK --
St. Croix Foundation often refers to our grantmaking as strategic and our grantees as partners based on its commitment to leveraging existing relationships and building new ones far beyond the grant award check. Every grant award becomes a partnership and works in concert with local nonprofits to gather data, support critical social services, and build capacity for nonprofits. It's a progressive, interactive approach to grantmaking informed by 28 years of service to nonprofits as a fiscal sponsor and civic sector advocate. As a place-based foundation operating in a community with limited financial resources, invaluable lessons have been learned about both the assets and challenges inherent in the nonprofit sector.
Virgin Islands Good Food Coalition (VIGFC), a sponsored project of the Foundation, member of our Nonprofit Consortium and a CARE grant recipient, is a perfect example of our unique grantmaking strategy. With the Virgin Islands importing 98% of its food exposing critical vulnerabilities exposed after the storms, VIGFC is working tirelessly to ensure that every resident is able to sustain their household with locally sources food in the event of future disasters. Aligned with the Foundation's own vision for equity, social and economic justice and self-sufficiency, our CARE grant to Good Food Coalition is supporting a first of its kind Territory-wide movement to create a comprehensive sustainable food system for the Virgin Islands.
In July of 2018, armed with its first CARE grant from the Foundation, the Good Food Coalition and the Caribbean Center for Boys and Girls Virgin Islands partnered to send three students to Barbados for ten days to attend the Change Institute International. The program offered a unique intersection of culture and STEAM (science, technology, engineering, arts, and mathematics) and provided students with opportunities to collaborate with their peers from North Carolina and Barbados, while learning about youth leaderships roles to effect local transformation. Youth participated in activities focused in the areas listed below:
Youth Leadership: Collectively built skills through peer mentorship, experiential learning, community engagement and fun!
Sustainability: Provided global learning of social, environmental and economic issues through a multidisciplinary approach.
Local & Global Partnerships: Engaged in community service and learning in partnership with community organizations locally and abroad.
History & Culture: Experienced another culture while also exploring their own. Captivated minds by exploring diverse histories and viewpoints.
Inclusion & Equity: Developed an analysis of power dynamics; discovered and/or expanded on youth roles as change agents in their community and in the world.
Students were also given the opportunity to meet the Prime Minister of Barbados, to work in the United Nations office, and to learn about the importance of Food Systems through partnering with local farms. By working with youth and partnering with local nonprofits, the Good Food Coalition is demonstrating sustainability in action!
With its CARE grant, the Good Food Coalition also began to build on conversations and prior workshops, and in January of this year, the organization invited stakeholders from diverse agencies and departments across the private and public sectors to engage in a conversation about the landscape of agriculture on St. Croix. VIGFC partnered with VI-EPSCoR, a program hosted at the University of the Virgin Islands, in order to develop a network of community partnerships to assess and further improve St. Croix's agri-business infrastructure and functionality. In total, 25 participants representing the Department of Planning and Natural Resources, University of the Virgin Islands Experimental Station and Cooperative Extension, Virgin Islands Department of Education, and the Virgin Islands Department of Tourism attended working collectively to develop a new network of relationships, to align policies, needs, missions, and environmental change strategies. At its next convening, the Good Food Coalition will be meeting with local Farmers to discuss their needs, systems, and Vision for the future.
The Heart, Soul, and Economics of Powering Our Communities for Resiliency
St. Croix Foundation knows that disaster recovery looks different in small, isolated rural communities and that as an island, nurturing self-sufficiency is the foundation for true sustainability. Recognizing that by empowering smaller, civic based neighborhood centers to be energy independent, in the face of major natural and/or man-made events, St. Croix Foundation began developing our Sustainable Solar-supported Community Demonstration Project in May 2018. But this Initiative is about more than just solar energy: through it, we are nurturing local talent, supporting local businesses, building capacity for workforce development with our youth, and empowering neighborhoods to be more resilient and self-sufficient in times of plenty and in times of crisis. Ultimately, this solar program is also a demonstration of the power of philanthropy and cross-sector collaborations - all grounded in community.
Over the past several months, the Global Giving Community has been updated on the planning of this solar project, and now, the Foundation is excited to report that in March 2019, there will be an official launch of this pilot project.
With a sudden influx of off-island contractors, one of the Foundation's priorities is to rebuild from within, and as such, supporting local businesses like Sustainable Systems and Design International (a locally owned and operated solar design company); and Jensen Berkitt (a local solar installation business and NCCER Certified Solar Installer) has become a priority.
This team of skilled professionals will provide comprehensive technical support and installation of the solar PV system at the Caribbean Center for Boys and Girls, which serves over 80 at-risk children daily. The PV-system will generate 6kW of power to offset CCBG's critical loads and over time reduce their energy costs. But Sustainable Systems and Design International is not only charged with the installation component of the project – they have also developed a Solar System Sustainability Chart that will enable community partners to document the project and monitor the economic, community, and environmental impact of the solar system.
The workforce development component is also gearing up to launch in March 2019. With the assistance of the Virgin Islands Workforce Investment Board, the Foundation will provide 10 young men ages 17-24 with NCCER courses in Core Curriculum and Solar Photovoltaic System Installer, which will provide a nationally recognized certificate at the end of their on-the-job training. In partnership with the Department of Labor, St. Croix Foundation will select students through a standard application process, with students participating in interviews and taking a pre-test to assess their knowledge as they enter the program. Having already developed and implemented a NCCER program for young men back in 2013, the Foundation recognizes that targeting disenfranchised, unemployed youth will necessitate extra academic supports in order to ensure students' success. To provide further supports for these students, the Foundation secured supplemental funding through the Workforce Investment Board and selected local instructors who are experienced and relatable to work with students. The Foundation is committed to supporting students with job placement assistance upon completion of the program as well; currently working with one instructor who has already committed to providing internships and job opportunities to graduates of the program.
The Foundation's approach to the development, funding, implementation, and evaluation of its projects is centered around partnerships and collaboration. By including local governmental agencies like the Department of Labor and Workforce Investment Board, private businesses, national foundations, and the civic sector, the assets of the community is harnessed for greater impact and long-term sustainability of the program itself.
In fact, in December of 2018, the Foundation received funding from the Center for Disaster Philanthropy in support of the pilot, and in January 2019 St. Croix Foundation was pleased to be presented with a certificate of "Commitment to Action" by Hilary Rodham Clinton in recognition of St. Croix Foundation's solar program being a 'comprehensive' model of holistic community development and energy resiliency. The Foundation is currently working diligently to identify an additional $200,000 to expand this project to three more vital community centers that serve the elderly, vulnerable residents in low-income housing, and our young people.
LONG-TERM RESILIENCY: MOVING FORWARD
With another Hurricane Season just four months away, St. Croix Foundation is in demonstration mode to implement holistic projects with some urgency to create small, sustainable community models that will nurture real resiliency in the face of any disaster. It is the intent of the St. Croix Foundation to build capacity within the nonprofit sector through strategic grantmaking, and stimulation of the local economy. We know that for any community to maximize the current flow of federal and philanthropic resources, there must be an intentional practice to begin with the end in mind, leveraging every dollar to go farther and committing to data collection to inform future programming and measure impact. On behalf of the community we serve, St. Croix Foundation for Community Development extends its deepest appreciation to the Global Giving community for their support and engagement.
True recovery and sustainable rebuilding cannot happen overnight, but together we can build community-based models that can be replicated throughout the Virgin Islands and the world. We hope you'll stay with us on our journey!