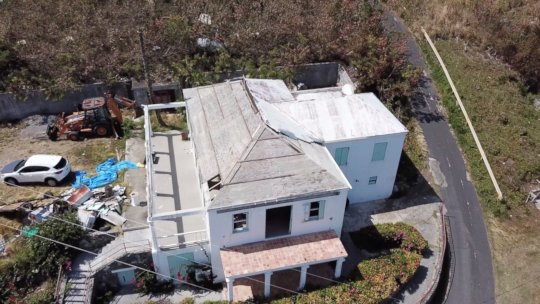 The Hurricane Season in the region is now well underway. Our Team Rubicon Staff and volunteers on the Islands have been working tirelessly with the local community and partners to launch a series of resilience and preparedness initiatives – as well as continuing our work in responding to the ongoing needs form the storms of last year. This report gives you, our valued donor and partners, a brief snapshot of our work over the past few months. None of which is possible without your support – you are having an impact!
General activity over last 3 months has consisted primarily of Business Continuity support to Ministry of Health & Social Development, and assisting BVI Red Cross with their disaster response planning, as well as planning for training serials described below.
In addition, have done some consulting to BVI Police over a VHF procurement project for national communications resilience.
Last week we signed a contract to rebuild the West End Community Centre on Tortola on behalf of the Ministry of Health & Social Development. This is being done in partnership with the NGO One Love BVI.
July was a very busy month. 10 Team Rubicon 'Greyshirt' volunteers deployed to BVI in 2 waves of 5 to conduct training as below.
28 sessions, totaling 128 hours, were delivered to 430 people in:
Disaster Management Preparedness training (Leadership, teamwork, communication and collaboration, impact & damage assessments, aid distribution, disaster management using the Incident Command System, Shelter management)
Trauma Exposure and Resilience (TEaR) training.
Disaster preparedness and business continuity consultancy.
Some of the organizations we trained in some or all of the above were:
Virgin Islands Search and Rescue (VISAR)
British Virgin Islands Red Cross
Episcopal Relief & Development - St George's / St Paul's Church
Youth Empowerment Programme (YEP)
Ministry of Health and Social Development
Department for Disaster Management Community Emergency Response Teams
Unite BVI
Rotaract Club/ Rotary
Lions
Crisis intervention Team
St. Ursula's Catholic Church Hurricane Preparedness Committee
Virgin Gorda Recovery Operations Centre
The training included 3 table-top exercises and culminated in a 4 hour Live Simulation Exercise on 28 July, which saw the BVI Red Cross set up their ops room and manage tasking after a fictional hurricane. As part of the training scenario, Virgin Islands Search and Rescue (VISAR) launched their boats and exercised two of their crews in casualty management, taking scenario casualties from the BVI Red Cross medical team and transporting them by sea to the hospital. A total of 37 people (plus 7 Team Rubicon training staff) played in this exercise, which was the first of its kind for both BVI Red Cross and VISAR.
This capacity building deployment was delivered in partnership with BVI Red Cross, fully funded by Unite BVI, accommodation was provided by St George's Church, and EY continued their ongoing support with office space and a training venue.
Much has been achieved – but we still have so much more to do. Our focus on preparedness and resilience through disaster management training is growing a level of expertise and understanding within the community of what measures they can best take for when the next storms hit. We are continually overwhelmed by the kindness and support we receive from the BVI community as we all work together to tackle these challenges.. We will keep you all posted on our progress! Thank you all again!