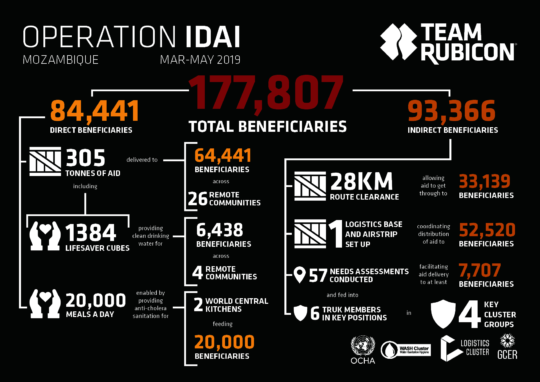 Dear Supporters,
Our teams have now recovered back to the UK having spent over a month in Mozambique. Team Rubicon was able to deliver over 300 tons of humanitarian aid reaching over 175,000 benificiaries affected by the Hurricane Idai.
Our teams were on the ground within 48hrs of the hurricane making landfall in March and worked witihn the UN Cluster system to deliver the last mile logistics to the most remote communites who had not been reached.
Attached is a graphic describing the impact the teams had on the ground to assist the communites in the aftermath of the storms. This would not have been possible without your support,
We hope you will continue to support out work in disaster response across the globe in the future
Thank you,
Team Rubicon.
Dear Friends,
We felt in writing to you this time that we should reflect on the incredible impact your support has made since we launched this campaign in 2017. In the immediate aftermath of Hurricanes Irma and Maria hitting the Caribbean region in late summer 2017 we rapidly deployed disaster response teams to the area. In those early days we launched this partnership with the amazing team at GlobalGiving to generate support for the immediate response operations we were conducting. These included debris removal, route clearance, hasty repairs and disaster mapping to assist the overall coordinated effort.
With your continued support it became clear that the recovery effort was going to take weeks and months – and we shifted our focus to building a full time core capability to assist in the rebuild of the community centers which form a focal point during disasters. We also began working with local agencies, governments and organizations to support training and resilience initiatives – recognizing that preparedness forms such a crucial element to enabling communities to rebuild and recover following natural disaster. Most recently TR staff provided training on disaster preparedness at the American University of the Caribbean as part of a regional center of excellence initiative.
None of this would have been possible without your support. Looking forward as the Hurricane season approaches the region we remain poised to response again and look to combine these initiatives within our wider global disaster operations campaign. As ever, we remain committed to support those communites affected by natural disaster,
Kind Regards,
All the Team
Dear TR Supporter,
From 30 January to 09 March 2019 Team Rubicon Australia launched Operation Gordon - to provide emergency assistance to the disaster stricken community of Townsville, Qld following the recod levles of flooding.
In that time 125 volunteers logged over 10,000 hours of work in the service of the community. The teams responded to over 350 requests for assistance. For many overwelmed residents, Team Rubicon brought back hope.
As floodwaters subsided Team Rubicon helped the community get back on its feet and start to rebuild their lives. None of this would have been possible without your help.
A heartfelt thanks from all of us at Team Rubicon.
Attachments:
WARNING: Javascript is currently disabled or is not available in your browser. GlobalGiving makes extensive use of Javascript and will not function properly with Javascript disabled.
Please enable Javascript
and refresh this page.