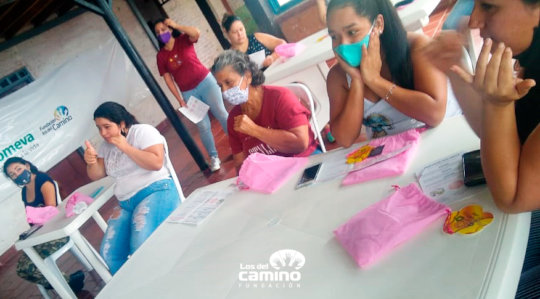 A medida que el Covid 19 se difundía, las medidas del gobierno se extremaban, se acentuaba la crisis económica y con ella las crisis emocionales, esas que nadie puede ver pero que pueden ser tanto o más desastrosas que la escases de dinero. El encierro producido por la cuarentena y el miedo a ser contagiado ha desatado angustias profundas en algunas personas.
A medida que las medidas de aislamiento han sido flexibilizadas, nosotros hemos empezado a desarrollar actividades que incluyen a los padres de familia para que, con todas las medidas de bioseguridad, puedan tener herramientas con las cuales enfrentar esta situacion tan difícil y sin precedentes en este siglo.
Desde el mes de septiembre hemos empezado a desarrollar talleres junto con una organización norteamericana llamada Interhec, para el cuidado del cuerpo y la mente de los niños y sus padres, empezamos con un taller de maquillaje cuyo patrocinador fue la empresa de maquillaje Mary Kay, en este taller se enseñaron tecnicas de maquillaje, cuidados de la piel y se entregaron kits de maquillaje, junto a una charla sobre el reconocimiento de nuestro valor personal más allá de lo físico.
También 2 personas que sufrieron accidentes graves que los dejaron discapacitados, nos acompañaron en una charla desde Philadelphia con sus Corazones de Acero; nos mostraron cómo con determinación nos podemos adaptar y superarnos. Seguimos con masajes terapéuticos y, así cada 15 días y hasta el mes de diciembre estaremos dictando conferencias sobre alimentación saludable, escritura creativa y otros temas para alimentar la mente y el espíritu de los niños y sus padres, encontrando juntos la motivación, estilos de vida más saludables y distracción, para salir fortalecidos de esta situación tan difícil que nos obliga a tener una nueva normalidad.
Esperamos que cada persona encuentre fortaleza, motivación y su felicidad en medio de este pandemia.
Con todo nuestro amor,
Equipo de La Fundación Los del Camino
----
As Covid 19 spread, the government measures became more extreme, the economic crisis was accentuated, and with it came the emotional crises, the ones that no one can see but can be as or more disastrous than money shortages. The confinement caused by quarantine and the fear of being infected has unfeded deep anxieties in some people.
As isolation measures have been made more flexible, we have begun to develop activities that include CEII children's parents so that, with all the biosecurity measures, they can have tools with which they can face this difficult and unprecedented situation in this century.
Since September we have started to develop workshops together with an American organization called Interhec, for the care of the body and mind of children and their parents, we started with a makeup workshop whose sponsor was the makeup company Mary Kay. This workshop taught techniques of makeup, skin care and delivered makeup kits, along with a talk about recognizing our personal value beyond the physical matter.
Also, 2 people who suffered serious accidents that left them disabled, accompanied us in a talk from Philadelphia with their Hearts of Steel; they showed us how with determination we can adapt and overcome ourselves. We continue with therapeutic massages and every 15 days until December we will be giving lectures on healthy eating, creative writing and other topics to feed the minds and spirits of children and their parents, finding together motivation, healthier lifestyles and distraction, to emerge strengthened from this difficult situation that forces us to have a new normal.
We hope that each person will find strength, motivation and happiness in the midst of this pandemic.
With love,
Los del Camino Foundation's Team