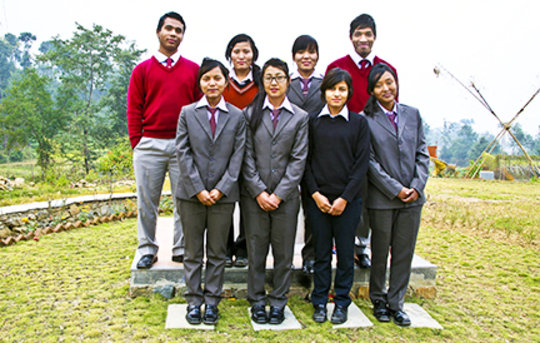 Hello and Happy Holidays to our wonderful Global Giving Donors! The seven students that you are supporting have received their first semesters' grades from higher education, and we're happy to report that all are passing and most have made excellent grades. It's always difficult transitioning from the equivalent of high school to what in Nepal is the equivalent of college, so there's been some adjustment - but so far everyone is successful and working hard. Hope you enjoy this photo of your scholars in their respective college uniforms.
In other exciting news: your seven scholars, plus the other 39 kids in the Ama Ghar family, celebrated the Grand Opening of their new home in Godavari, right outside Kathmandu, on November 12. After 9 years in a crowded rental home, the children have moved into a new home of their own, which is environmentally sustainable, with solar energy and a sustainable waste management system merged with traditional Nepali architecture. Over 400 guests attended the opening ceremony, and all the entertainment was provided by the Ama Ghar kids themselves. They displayed their talents in traditional Nepali dances and songs as well as "pop" dances and modern musical offerings.
One of the best things about the new house is that there are now separate study rooms for the older students so that they can really concentrate on their studies after dinner and on weekends; we now have a small computer lab for them as well. They're all working hard and we're hoping that the holiday season brings some new donors to support their education costs... thank you so much for your generosity and we wish you a beautiful holiday season.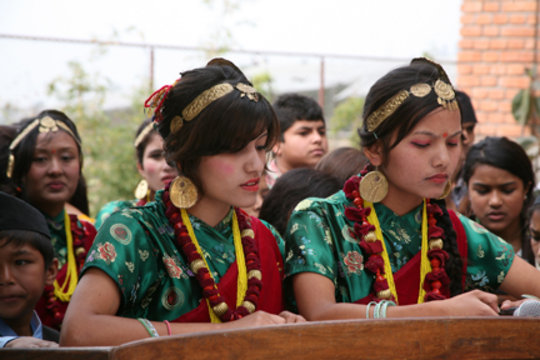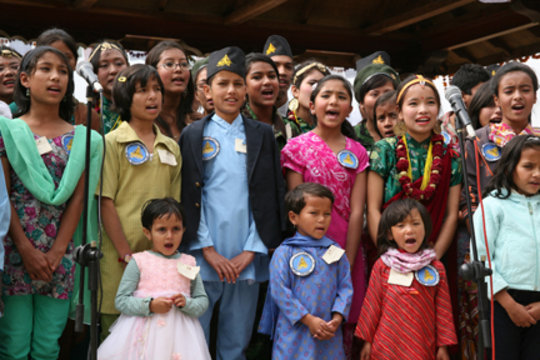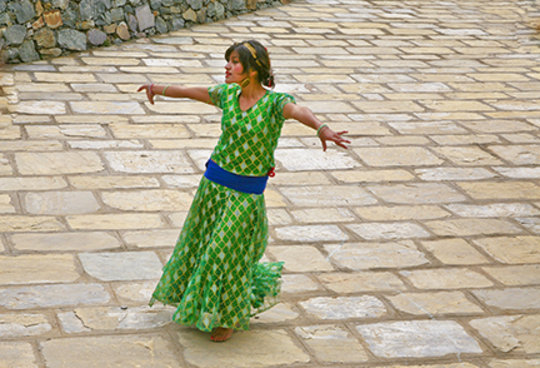 Links: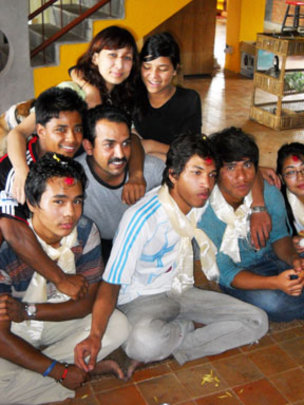 All seven children who passed their National Exams have moved on to new schools for their Class 11 and 12 higher education - the expenses of their first semester are covered, thanks to generous donors like you.
Ashok and Sajan are going to Little Angels College in Kathmandu, where they are studying Computer Science; Kalpana Pun is going to United College, a school with a very stringent admissions policy, where she is studying Management; Pabitra, Kalpana Thapa and Ganga have all gained admission to Omega College, where they're studying Languages and Hotel Management; and Laxmi is attending National Open University, working toward a Bachelor's degree in Public Health.
In August, we had a big celebration at Ama Ghar to honor them for passing their exams with such high marks - you'll find some photos of the event below. Each of the graduates invited a friend in addition to their Ama Ghar brothers and sisters, and we were also joined by six of our volunteers from the U.S. Everyone enjoyed delicious Nepali food, dancing, singing and a talent show - so a good time was had by all. We wish you could have been there!
If you know others who are interested in supporting these future leaders, please encourage them to do so - we still need funding for the remainder of this year and all of 2012. Again, thanks for your support.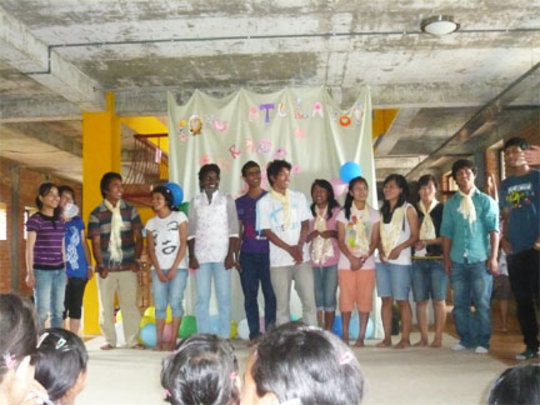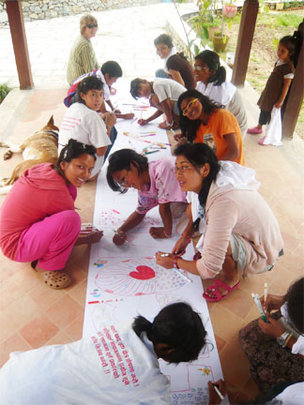 Links: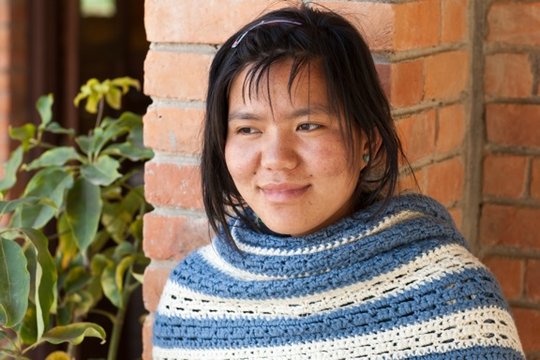 We got some wonderful news today - all 7 of our oldest children passed their national exams (called SLCs) with honors - both boys with Distinction, and all 5 girls in First Division. This national exam is very important, because if a child doesn't pass with high marks, they are not considered fit for higher education.
Because Ashok and Sajan passed with Distinction, they will perhaps be eligible for scholarships, or at least have more options open to them. The girls, Kalpana Pun, Kalpana Thapa, Ganga, Laxmi and Pabitra, will be eligible for higher education and should have their choice of course work because of their high grades.
Thank you for supporting these wonderful kids - as our friend and donor Anne said, these are the future leaders of their country... and the path to world peace is educating kids like these. Thanks for doing your part.
We've attached some individual photos - hope you enjoy.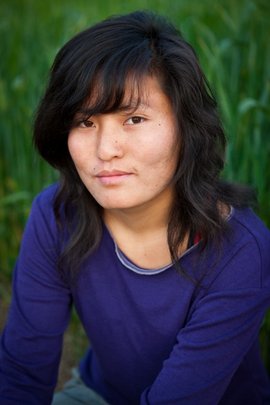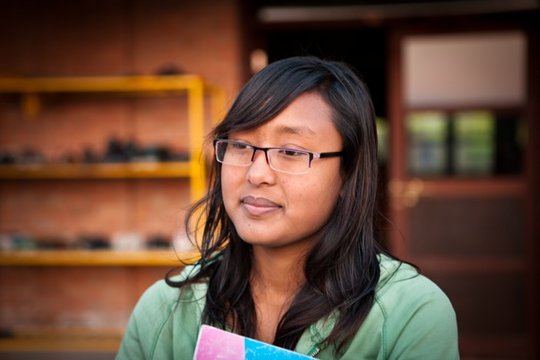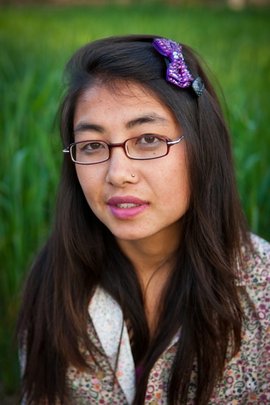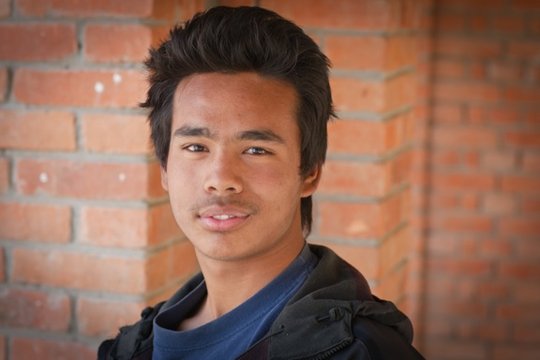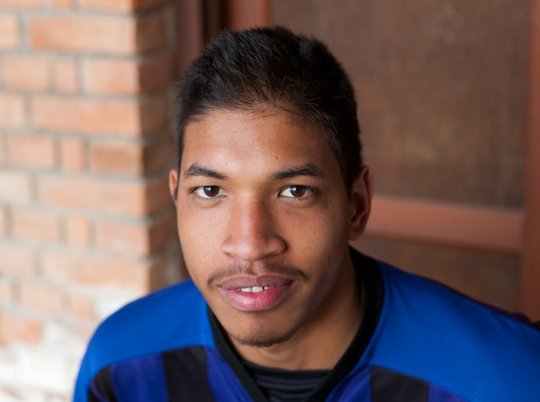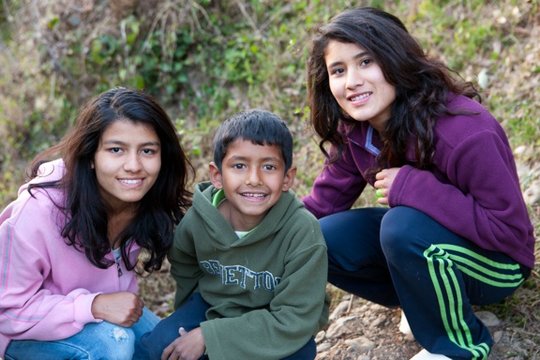 WARNING: Javascript is currently disabled or is not available in your browser. GlobalGiving makes extensive use of Javascript and will not function properly with Javascript disabled.
Please enable Javascript
and refresh this page.