We are temporarily pausing this project on the Global Giving platform in order to focus our efforts on the other project we have active.
Plus, we haven't had any activities nor donations related to this project for a while, and our project about helping 200 beekeepers fight against climate change is somehow covering the youngsters working in the honey coops.
We may reactivate it in order to look for funding for 5 young supervisors to be able to attend a two year course in apiculture partnering a local southern university.
Thanks for your support! Please keep on helping us in the future!

https://www.globalgiving.org/projects/helping-200-beekepers-adapt-to-climate-change/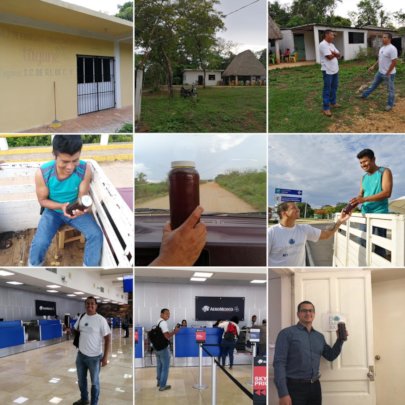 We are sad to report to you that our beekeepers have had one of the worst seasons this year. Not only they have faced climate change's consequences almost as heavy as they did two years ago (2016 was one of the lowest honey production season in the last decade), but what is worse, market prices have reached low records as well.
Normally, when the production volume is low, the prices in the market go up (considering the scarcity of the offer and the evergowing demand). Nevertheless, this year a lot of factors have wronged the law of supply and demand:
Surplus in the honey production in other latin american countries like Argentina and Brazil.
Lower prices for lower quality honey overflowing the international markets, coming mainly from China.
Fake 'organic honey' being sold from many corners of the world, disrespecting quality requirements and wrongly inflating market prices for a while, but now dropping them to the ground and making it more and more difficult to have access to european fairtrade markets.
In 2018, a honey producer received $54 pesos per kilogram of organic honey; in 2019 they received $31 pesos pero kilo. For our beekeepers the problem is simple: no matter how much effort and investments and hard work they put into their beehives and making them more resilient to climate inclemencies, there are external factors that have direct effects on their income and livelihoods, and global warming is not helping.
Thus, we are stengthening our efforts in improving the handling of their apiaries in order for them to be prepared for next season, and we are helping them sell the remaining honey to more conscious buyers, and bottled for the consumer. You will be hearing from that soon so you can purchase your honey!
We need your help more than ever! To support us is to assure that we will be able to provide the technical assistance and skill development our beekeepers need.
Thank you for your help!
This year's harvest hasn't been great for our beekeepers. Global warming is once again playing with weather conditions all over the world, changing the blooming periods and the rain seasons, bringing 2019 harvests in Mexico to a very low level. Normally by march our producers already have harvested some of the honey they will sell this year. It is not the case so far.
Also, the prices in the region we work in are reaching unprecedented lows, for conventional honey, as well as for organic honey. Our commercial contact is offering lower prices to the producers than in previous years, leaving them without the certainty of a steady income for the rest of the year.
That is why, our young beekeepers need your help more than ever! If we manage to fundraise enough money to pay for their supervisors' wage, they will be able to focus on improving their hive management and resilience, rather than trying to find new ways to obtain money for their families.
We hope to hear from you soon ;)
WARNING: Javascript is currently disabled or is not available in your browser. GlobalGiving makes extensive use of Javascript and will not function properly with Javascript disabled.
Please enable Javascript
and refresh this page.