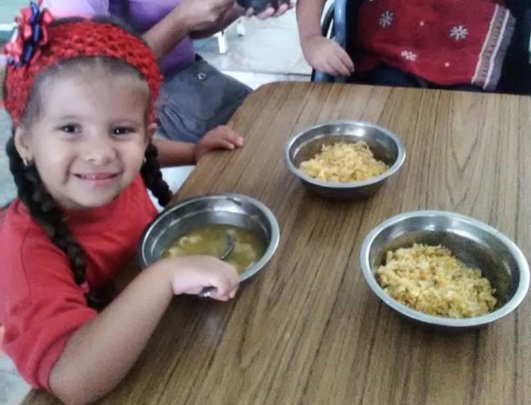 Translation to Spanish at the bottom.
Ashlly is 3 years old, she is the youngest of 3 sisters. Her and her family live in the Los Sector
Jardines of the Las Torres neighborhood, in the upper part of La Vega in Caracas. Ashlly goes to school in the El Porvenir de Las Torres Preschool, one of the beneficiary schools
of the program. The goal of this program is to provide balanced food at schools for pre-school children in this vulnerable area of Caracas and keep them out of the risks of malnutrition and school dropout.
But Ashlly is different. Her mother, Mrs. Yulisbet, tells us the her daughter's story:
- At birth she was diagnosed with a myelomeningocele* with spine
Bifida
*Myelomeningocele is a neural tube defect in which the
Spine bones do not form fully during the
gestation. This causes an incomplete spinal canal. The
spinal cord and meninges, which are the tissues that cover the
spinal cord, protrude from the child's back. It should be noted
that myelomeningocele can cause other disorders
congenital or birth defects in children who suffer from it.
Eight out of ten children with myelomeningocele have hydrocephalus,
as is the case with Ashlly.
....When she was 15 days old she went for spine surgery and when she was 18 days olds, the Doctors put a valve that helps drain the fluid from the spine. She started walking just a year ago. I periodically take her for neurosurgery control at the Domingo Luciani Hospital in El Llanito. On the other hand, I take her everyday to the Child Development Center in Montalbán to receive three types of therapies: language, stimulation and occupation.
-What is Ashlly's current medical situation?
- Well, so far what the therapists have told me that she has a small psychomotor delay that makes it hard to adapt and capture things. I take her to therapies everyday and we are waiting to see if you can go to a normal school or if you should go to a special school. She wears diapers and it is yet unknown if she will be able to leave them. Shee also needs a splint and requires a brain test that I have been unable to afford: an encephalogram (EEG).
- Has it help her to come to school?
- Yes, a lot. She likes to come to school very much. Her therapists have told me that it is very beneficial for her. For instance, while coming here has learned to eat alone.
She is now able to dress and interact a lot with the children.
He likes to use color books. She has learned a lot, a lot. She already knows most colors. Also, by coming to school she receives a balance diet that has greatly benefited her development and evolution. Additionally, this is of great financial help for me. I am unable to work fulltime as I am her caregiver and need to take her every day to therapy.
- What do you think about this program that benefits Ashlly and all the children of El Porvenir Preschool?
- The Program is very good because our children benefit by getting daily meals in such difficult financial hardship for everyone. It helps all moms a lot. For example, I had to quit a full time job, as I am her primary caregiver. So, combining the independence and encouragement by coming to school with her daily meals is an invaluable help.
- What would you say to those who support this program?
- Thank you very much and continue helping, because this is of great help. They deserve an applause, a medal, and not just for the nutritional program, but for other recreational activities that children receive as well. When the Foundation took the children to the movies, Aslly went and enjoyed it. She also enjoyed the recreational activities of the vacation plan in August. Even though she could not ride in the inflatable mattress and stuff, she enjoyed a lot, she painted, ate. She came back home very happy that day. With all my heart thank you very much.
The main objective of the Nutrition Program "Una Arepa Para Mi País" is that preschoolers in one of the most vulnerable areas of Caracas do not dropout from school due to hunger. However, children like Ashlly require support that goes beyond the reach of this program. Due to her condition, she requires medical tests that her mother can't afford. Despite that, and as Ashlly's mom indicated during this interview, the benefits of attending school are significant for her child in addition to financial support of receiving meals at school. Therefore, staying in school allows her to evolve more and better in this difficult situation.
Traduccion al Castellano
Ashlly tiene 3 añitos, es la menor de 3 hermanas. Viven en el Sector Los Jardines del barrio Las Torres, en la parte alta de La Vega. Estudia en el Preescolar El Porvenir de Las Torres, una de las instituciones beneficiarias del Programa "Una Arepa Para Mi País, a través del cual se brinda alimentación balanceada en sus centros educativos a niños en edad preescolar de zonas vulnerables, con la finalidad de mantenerlos fuera de los riesgos de la desnutrición y de la deserción escolar.
Pero Ashlly es diferente. Su madre, la señora Yulisbet, nos cuenta la historia de su hija:
- Al nacer fue diagnosticada con un mielomeningocele con espina bífida.
(El mielomeningocele es un defecto del tubo neural en el cual los huesos de la columna no se forman totalmente durante la gestación. Esto provoca un conducto raquídeo incompleto. La médula espinal y las meninges, que son los tejidos que cubren la médula espinal, sobresalen de la espalda del niño. Cabe destacar que el mielomeningocele puede ocasionar otros trastornos congénitos o defectos de nacimiento en los niños que lo padecen. Ocho de cada diez niños con mielomeningocele tienen hidrocefalia, como es el caso de Ashlly.)
…A los 15 días de nacida la operaron de la columna y a los 18 le pusieron una válvula que la ayuda a drenar el líquido de la columna. Caminó apenas hace un año. La llevo periódicamente a control de neurocirugía y neuropediatría en el Hospital Domingo Luciani de El Llanito. Por otra parte, la llevo todos al Centro de Desarrollo Infantil de Montalbán a recibir tres tipos de terapias: de lenguaje, de estimulación y de ocupación.
-¿Cuál es la situación médica actual de Ashlly?
- Bueno hasta los momentos lo que me han dicho los terapeutas es que tiene un pequeño retraso psicomotor que hace que le cueste adaptarse y captar las cosas. Yo la llevo a las terapias y estamos esperando a ver si puede ir a un colegio normal o si debe ir a un colegio especial. Ella usa pañales y no se sabe aún si los va a dejar. Además necesita una férula y requiere un estudio en su cabeza que no se lo he podido pagar: un encefalograma.
-¿Le ha hecho bien permanecer en la escuela?
- Sí Mucho. Le gusta venir mucho para acá. Los terapeutas me afirman que es muy beneficioso para ella así ella se va adaptando. Imagínate el venir para acá me le ha enseñado a comer sola, bueno he visto cosas en ella que ha avanzado bastante. Ella no se vestía sola, ya se viste sola, ya come sola, interactúa mucho con los niños, le gusta colorear, todo eso. Ha aprendido mucho, bastante. Ya se sabe la mayoría de los colores. Que ella siga viniendo a su escuela y recibiendo sus alimentos le ha beneficiado enormemente a su desarrollo y evolución. Aparte que me ayuda enormemente a mí que no trabajo porque debo llevarla todos los días a terapia.
- ¿Qué le parece el programa Una Arepa Para Mi País que beneficia a Ashlly y a todos los niños del Preescolar El Porvenir?
- El Programa es muy bueno porque nuestros niños se benefician de los alimentos en momentos tan difíciles para todos. Nos ayuda mucho a las mamás. Por ejemplo yo me tuve que retirar del trabajo, yo no trabajo porque debo dedicarle todo el tiempo a ella. Pero la independencia y estímulo que le ha brindado estar acá, más los alimentos es una ayuda incalculable.
- ¿Qué les dirías a los miembros de la fundación que hacen posible el programa "Una Arepa Para Mi País", a los embajadores de la arepa, esos venezolanos que están fuera del país buscando recursos para el programa, y a los donantes?
- Que muchas gracias y que sigan luchando por su país, porque esuna gran ayuda. Se merecen un aplauso, una medalla, y no sólo por el programa nutricional, sino todas las demás actividades recreativas que nos han brindado. Cuando la Fundación llevó los niños al cine, Aslly fue y lo disfrutó. También disfrutó las actividades recreativas del plan vacacional en agosto, aunque ella no se pudo montar en el colchón inflable y esas cosas, disfrutó mucho, la pintaron, comió de todo, ella regresó muy contenta. De todo corazón muchas gracias.
El principal objetivo del Programa Nutricional "Una Arepa Para Mi País" es que los niños en edad preescolar de las zonas más vulnerables no dejen de asistir a sus escuelas por falta de comida. Sin embargo, niños como Ashlly necesitan un apoyo que va más allá del alcance de un programa nutricional, pues su condición especial amerita estudios médicos periódicos costosos que su madre no puede pagar. A pesar de eso, y como ella misma lo afirmó en la entrevista, los beneficios del Programa son excelentes para ella pues, además de verse aliviada del peso de la alimentación de Ashlly, seguir estando en su escuela le permite evolucionar más y mejor en su difícil situación.