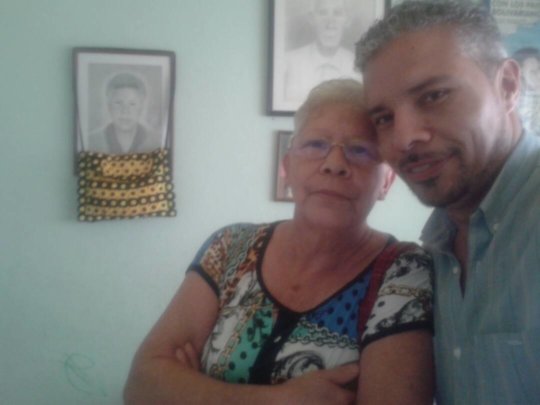 English Version (Spanish Version is at the bottom)
My name is Jose Gregorio and I am a former beneficiary of Fundacion Oportunidad y Futuro. This Foundation granted me a scholarship that allowed me to eventually gain a college degree. It all started in 1997 at the Mariscal Sucre West Technology Institute, where I was supposed to graduate with a Technician degree in Computer Science (the equivalent of an Associate degree in a Junior College). However, because of the recommendation of the Fundacion Oportunidad y Futuro, I eventually switched to Central University of Venezuela were I graduated with bachelor in Computing Science with a major in Education Technology in 2005.
I come from a poor neighborhood in the upper part of La Vega in Caracas. I say in the upper part, because, to get to the city from there you have to take a 4-wheel drive vehicle that takes about 40 minutes to get from the hill to the city. I am the oldest of four brothers and we were all raised by a single mother who worked as a house cleaner so her children could be fed, dressed and receive a basic education.
Once I finished high school, I started working to help my mother. Moreover, if I wanted to continue my education, I would have to cover these expenses because, as I grew older, I felt I had to stop being an extra burden and start helping at home so that my mother would only had to take care of my younger brothers. So I started working at Laboratorio Educativo Publishing House, as a storekeeper and later as deliveryman, making deliveries of the books that the publisher sold to the various bookstores in the city. I liked the work because I it kept me close to books. In my spare time, I reviewed them and kept in touch with knowledge.
Once I decided to continue my education, I had to stop working at the publishing house because they would not allow me to work part time. I went to work in the same school I attended elementary and middle school: the Canaima School, a school created to give an opportunity to the poorest. There I helped students with their homeworks on a part-time basis.
It was through the Canaima School, where I learned about Fundacion Opportunidad y Futuro. I applied for a scholarship and was selected.
I must say that Fundacion Opportunidad y Futuro not only gave me the financial aid I needed on a timely basis every month, but also assigned me a mentor, Mr. Juan Otero who was a Director of Tecadi, an e-learning technology company. Mr. Otero gave me the academic support but also cheer me up at those times when any problem could affect my performance. He often showed me the projects of his company and always made me a special guest of E-learning events and speeches organized by his company, opening a door to knowledge in my area of concentration. Not only that, in the last year of college, he gave me a space in his company to carry out a professional internship, a requirement to be able to graduate from college.
Throughout my college education, the Foundation held several meetings where I was able to meet other tutors, benefactors and other beneficiaries of the Oportunidad y Futuro family. This allowed me to understand the origin, mission and vision of the Foundation, as well as the difficulties and needs of other fellows. I particularly remember an indigenous student from the Venezuelan Amazon, who came to Caracas to study with the support of the Foundation. I also clearly remember that in one of these meetings, one of the tutors explained how the Foundation was born. I do not remember literally but he basically said that: "We (referring to the directors and tutors of the Foundation) had the joy of having families who provided us with a private and quality education, and we know the doors that education can open up. But there are people who, for economic reasons cannot access education. And we decided we needed to do something to help. It is a matter of obtaining the opportunity, the opportunity to change a person own Future", and thus they established Fundacion Oportunidad y Futuro.
Thanks to the support of the Foundation, I completed my college education at Central University of Venezuela. However, I kept connected with education and continued working at the Canaima School teaching computers at all levels. Eventually, I became a member of the board of directors and later President of the Canaima School Foundation from 2005 to 2012. It was that continuous connection with education that made me pursue an undergrad major in Education Technology and years later to start a graduate degree in Education at Universidad Católica Andrés Bello. In the process, I also became an adjunct professor of Mathematics, Physics and Computing at Central University of Venezuela.
Working at the Educational Publishing House, studying and then working at the Canaima School, and being the recipient of a Fundacion Opportunidad y Futuro scholarship, all made me understand how important education is in order to positively transform people's lives.
Two years ago, I approached Fundacion Opportunidad y Futuro, this time not to ask for a scholarship, but to support the extraordinary work of this Foundation. As a result, I became a tutor of Fundacion Opportunidad y Futuro. I also search for potential recipients of the scholarship in La Vega, the poor neighborhood where I grew up. I can proudly say that I am now the tutor of a successful trainee. He is about to start his thesis and culminate his college education in Education with a major in Biology and Chemistry. Also, I co-tutor another student whose major is Tourism at Colegio Universitario de Caracas. I know that for them, as it was for me, the financial support as well as mentorship of professionals in their area of concentration can make the difference between graduating or having to drop out of school. In other words, the opportunity to change their own future.
Presently, the economic and social reality of Venezuela is even much more difficult than when I went to college. Venezuelan's faces the highest inflation in the world, dire levels of scarcity and the current political crisis has caused school dropout rise to levels unprecedented in our country. But it is also more difficult for the Foundation to get benefactors and resources to keep the number of beneficiaries. But this extraordinary work needs to continue.
For all the above reasons, I strongly encourage you to become a benefactor of Fundacion Oportunidad y Futuro, as I know the honorable work that is done by this institution. My life experience is one of the many fruits harvested from this Foundation and I can give Faith that any contribution will be properly managed and invested in the training of future professionals who most likely would not be able to continue their education without the scholarship and the mentorship that the Foundation grants them.
I hope that you can become a benefactor of this great institution.
Version en Espanol
Mi nombre es Jose Gregorio y soy uno de los ex beneficiario de la Fundación Oportunidad Y Futuro. Esta institución me otorgó una beca durante mi carrera universitaria, la cual inicié en 1997 en el Instituto Universitario de Tecnología del Oeste Mariscal Sucre de donde egresaría como Técnico Superior en Informática. Sin embargo en ese tiempo y por recomendación de la misma Fundación, me cambie a la Universidad Central de Venezuela de donde egresé como Licenciado en Computación mención Tecnologías Educativas en el año 2005.
Provengo de un barrio pobre en la parte alta de La Vega en Caracas, digo en la parte alta, porque, desde allí, para poder llegar a la ciudad hay que tomar un vehículo rústico que tarda aproximadamente 40 minutos para bajar desde el cerro hasta la ciudad. Soy el mayor de cuatro hermanos que fuimos criados sólo por nuestra madre, la cual trabajaba como doméstica en hogares limpiando, fregando, planchando, cocinando para poder alimentarnos, vestirnos y pagar nuestros estudios.
Una vez culminé el bachillerato, me tocaría trabajar para ayudar a mi madre además que, si quería continuar mis estudios, debía cubrir los gastos pues, ya mayor, sentía que debía dejar de ser una carga más y empezar a ayudar en el hogar para que mi madre sólo se ocupara de mis hermanos menores. Entonces empecé a trabajar en una editorial, la editorial Laboratorio Educativo, como almacenista y luego como repartidor, haciendo las entregas de los libros que la editorial vendía a las diversas librerías de la ciudad. El trabajo me gustaba porque estaba en contacto con los libros. En los ratos libres, podía revisarlos y mantenerme en contacto con el conocimiento.
Cuando decidí continuar mis estudios me retiré de la editorial porque no me permitían trabajar medio tiempo. Me fui a trabajar en una escuela, la misma escuela donde yo había estudiado básica: la Escuela Canaima, una escuela creada para dar oportunidad a los más pobres. Allí dictaba tareas dirigidas medio tiempo y, cuando consiguiera cupo en la universidad, estudiaría el otro medio tiempo.
Es a través de la Escuela Canaima, que supe de la Fundación Oportunidad y Futuro, opté por una beca y fui seleccionado.
Debo decir que la Fundación Oportunidad Y Futuro no sólo me otorgó una ayuda económica de manera puntual cada mes, sino que además me asignó un tutor, el sr. Juan Otero, director de Tecadi, una empresa de sistemas. El señor Otero me brindó todo el apoyo necesario tanto en lo académico como en lo anímico en aquellos momentos en que cualquier problema pudiera afectar mi rendimiento. Frecuentemente me mostraba los proyectos de su empresa y siempre me hacía un invitado especial de eventos y charlas sobre E-learning que año a año organizaba su empresa, abriéndome así una puerta al conocimiento del mundo laboral de mi área de estudios. No conforme con eso, al final de mi carrera me brindó un espacio en su empresa para realizar las pasantías profesionales, requisito obligatorio para graduarme.
Durante mi carrera la Fundación realizó varios encuentros donde pude conocer el resto del equipo de tutores, benefactores y otros beneficiarios de la familia Oportunidad y Futuro, lo que me permitió comprender el origen, la misión y visión de la Fundación, así como las dificultades y necesidades que tenían los otros becarios. Recuerdo especialmente que había un estudiante indígena proveniente del Amazonas, que se vino a Caracas a estudiar con el apoyo de la Fundación. También recuerdo claramente que, en uno de esos encuentros, uno de los tutores contó la forma en que nació la Oportunidad y Futuro, no lo recuerdo textualmente pero, palabras más palabras menos, dijo lo siguiente:
"Nosotros (refiriéndose a los directores y tutores de la Fundación Oportunidad y Futuro) tuvimos la dicha de contar con familias que pudieron brindarnos educación privada y de calidad, y sabemos las puertas que nos abre la educación, pero hay personas que, por razones económicas no pueden acceder a la educación, vamos a hacer algo para ayudar, es cuestión de tener la Oportunidad, la oportunidad de cambiar su propio Futuro, y así crearon Oportunidad y Futuro."
Gracias al apoyo de la Fundación culminé mis estudios en la Universidad Central de Venezuela pero, debido a que siempre estuve en contacto con la educación, continué trabajando en la Escuela Canaima enseñando computación en todos los niveles. Llegué a ser miembro de la junta directiva y presidente de su Fundación desde 2005 hasta 2012. Fue el contacto constante con la educación lo que me hizo optar por la mención de Tecnología Educativa y posteriormente iniciar estudios en Educación en la Universidad Católica Andrés Bello.
Trabajar en la Editorial Educativa, estudiar y luego trabajar en la Escuela Canaima, y haber sido becado por la Fundación Oportunidad y Futuro me hicieron comprender cuán importante es la educación para transformar de manera positiva la vida de las personas. Hasta 2012 fui profesor de Matemática, Física y Computación en la Escuela Canaima y en la actualidad soy profesor universitario de Matemáticas de la Computación en la Universidad Central de Venezuela.
Desde hace algunos años toqué la puerta de la Fundación Oportunidad y Futuro, esta vez no para pedir una beca, sino para ofrecer mi apoyo a la extraordinaria labor de dicha Fundación. Es así como, desde hace casi dos años, soy un tutor más de la Fundación Oportunidad y Futuro, busco candidatos a becarios en La Vega, la parroquia donde yo crecí y puedo decir con orgullo que soy el tutor de una becaria que llevan con éxito su carrera, próxima a iniciar su tesis y culminar sus estudios en Educación mención Biología y Química. Y co-tutor de otra estudiante que cursa Turismo en el Colegio Universitario de Caracas. Sé que para ellas, igual que lo fue para mí, la ayuda económica y el apoyo de profesionales en su área puede ser y hacer la diferencia entre graduarte o tener que abandonar los estudios, es tener una Oportunidad de poder cambiar tu Futuro.
En la actualidad, la realidad económica y social de Venezuela es aún más difícil. Viviendo en el país con la mayor inflación del mundo, con niveles espantosos de escasez y la actual crisis política ha hecho que la deserción escolar aumente a niveles nunca antes vistos en nuestro país. Y asimismo se hace más difícil a la Fundación conseguir benefactores y que los recursos alcancen para mantener el número de becarios. Pero su extraordinaria labor necesita continuar.
Por todo lo antes expuesto recomiendo ampliamente a la Fundación Oportunidad y Futuro para que reciba todo el apoyo que usted pueda darle, pues conozco el honorable trabajo que allí se hace. Mi experiencia de vida es uno de los tantos frutos de su cosecha y puedo dar fe que cualquier contribución será debidamente administrada e invertida en la formación de futuros profesionales que muy posiblemente no podrían continuar sus estudios sin la beca y el apoyo que la Fundación les otorga.
Espero puedan ser parte de esta invaluable labor.