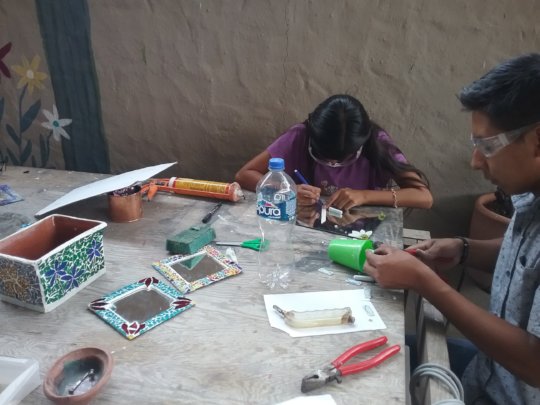 This is a little bit about a young boy named Juan Daniel, Ojala gave him an opportunity.
Juan Daniel came to the Ojala Ninos program when he was 10 years old, in 2010. He began to work with stained glass, in a project cutting small pieces and making designs on small vases.He created beautiful pieces that the program volunteers wanted to buy.
At age 14 Juann taught 3 of his peers at Ojala, who also started producing stained glass art, together they showed their work at a local weekly market and sold everything.
Juan Daniel didnt continue his academic school after 9th grade, but went to work with a local brick making family. This is common practice among rural families that need an income from as many family members as possible. Juan Daniel continued to work without professional instruction with an amazing array of design ideas. Three dimensional and flat. Throughout the years they have readily sold to residents of San Miguel Allende and visitors from all over.
One day we were given a large donation of supplies from a professional stained glass artist, Juan investigated how to expand his own work using these materials. He worked after hours at home learning the techniques using lead.
Juan Daniel is now 19 years old and is a regular instructor at Ojala Ninos, to the new younger children, two times a week. He continues to grow as an artist and as an instructor and no longer needs to make bricks, he has time for music. Playing the guitar is another passion of his.
Hope is an Illusion without opportunity.
Our goal is a future learning center that we want to establish for Ojala Ninos and the community of San Miguel Viejo, we continue to evaluate and bring new learning opportunities for the children of all ages and hope to expand to include adult learning opportunities. We need to create community space inclusive of classrooms, gardens and adaptable space for events on the Ojala Land.
Thank you for your continued support!