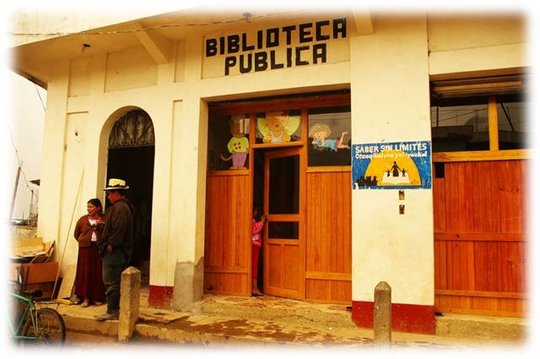 Thanks to you, our generous donors, Limitless Horizons Ixil has received fantastic support in 2012-2013 for the early childhood literacy programming in the Saber Sin Límites Community Library. So we're writing to update you on how things continue to grow and how the library is doing overall! The funding we've received through our campaign has allowed our local library team to further develop our services from literacy materials, a space conducive to study, academic support, and literacy programming in the library.
The library has had a great growth spurt in recent months! Our local staff led a number of publicity initiatives in Chajul schools to spread the word about the library services offered and the response has been overwhelmingly positive—173 new users registered in June alone! (In our last update, we reported 70 new users in March—so this increase in sign-ups is huge!) Thanks to recent donations from partner organizations and individual donors, the collection of books also continues to grow. The number of registered users is now almost 1,400 and the number of books in the library is greater than 5,000.
Riding this wave of growth, we are focused on deepening the impact of our early childhood literacy program to have the fullest benefit to our youngest library users. Most of our regular users are under the age of 8, the age at which most students in Chajul start school. So, their time in the library is a highly influential introduction to literacy and education as well as an opportunity to bridge educational gaps left by the under-funded and under-resourced local school system.
Story Hour and Reading Club activities provide young readers and pre-literate children structured exposure to the Spanish language and focused comprehension practice. Combining this with creative interaction opportunities such as accompanying art projects allow youth an engaging activity outside of school hours where they can continue to learn, fostering a love of learning.
Our greatest success in the Saber Sin Límites library is certainly its fast-growing popularity among youth in Chajul—there are 50-200 people in the library at the same time during popular activities! This is also the root of our greatest current challenge because of demands on our limited resources.
Looking forward, we are working hard to make the remainder of 2013 a defining period for our library, with improved structure for all library visitors, better time management for our librarians to continue to provide a high level of individual support, and a deeper engagement with early childhood literacy and education methodologies to take full advantage of youth engagement and further develop the positive impact of our programs on education.
Thank you for your continued support and interest in the progress of Chajul's only community library!