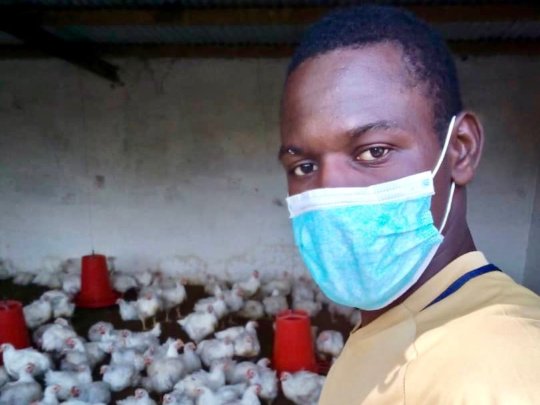 Dear Friend,
We hope this message finds you and your family well in these most challenging of times. Few of us could have imagined the extent to which COVID-19 would affect our lives and the world around us.
Just like the rest of the world, Senegal has been heavily impacted by the pandemic. While the virus initially appeared to have been effectively suppressed thanks to the prompt response of the Senegalese government, cases have steadily risen in recent days. With 5,173 confirmed cases and 64 deaths, there are fears that Senegal has not yet reached its peak. The country remains in a state of emergency as it battles a host of health, social and economic challenges posed by COVID-19.
In recent days, the IMF has cut Senegal's 2020 economic growth forecast to 1.1% from a 3% estimate in April. In a country where over 40% of its population currently live below the poverty threshold, and where social safety nets are quasi inexistent for anyone working in the informal sector (97% of enterprises), the impact of the pandemic on people's livelihoods has been devastating. In addition, with 42% of total loss of activity, Saint-Louis (where we currently work) also ranks amongst the regions most affected in Senegal.
Our chicken-rearing project
The first official case of COVID-19 was diagnosed on March 2, after which the government undertook gradual response measures, including a curfew and a travel ban between regions. Needless to say, our fears for the project grew as measures were tightened. With schools and restaurants closed, and gatherings cancelled, the market for the sale of chickens shrunk overnight and competition rocketed. Even for already established and successful entrepreneurs, the context became seriously challenging.
Our talibés however were determined not to lower their expectations. They had done an excellent job rearing their 350 chickens, which were large and of great quality. Their product could handle a little competition. They therefore decided to stick to the standard price and avoid selling in bulk at reduced prices. Despite the restricting measures in place, the CIPA team continued to support them and did a fantastic job. They mobilized all their contacts but also provided a freezer, which allowed the talibes to extend their sales period. Many of our Saint-Louis- based friends and contacts also showed their support by placing orders. In light of current circumstances, the end result of this project was a real triumph as they:
managed to sell out without lowering their price;
secured all the funds needed for the next batch of chicks;
shared a small part of the profit to cover their urgent needs;
still managed to put aside a considerable amount of savings.
"For me this first income generating project for talibes was very important, because it helped them understand the limits of their knowledge, learn by doing and strengthen their skills. Many of them have put a lot of hope in this project. And this is just the beginning… if all goes well, this will be a great success, and a glimmer of hope for talibes, as they realize they too have an oportunity to succeed in life and become economically independent. The success of this project will also give Koranic teachers confidence to guide their talibés towards vocational training, while the talibes will be able to enrol, knowing they have the same chances to succeed as any other young people their age." Nafi (CIPA Training Centre)
While everything was technically in place to move forward with the next batch of chicks, the current crisis has posed a range of challenges. As such, the talibes are now planning to commence the second batch in July. The chicken coop of the CIPA is reserved for them, as well as a small plot of land adjacent to the coop, where they will start horticulture activities to expand their income generating activities. We are most grateful for our partners at the CIPA Centre, who have and continue to go above and beyond the call of duty.
Next Cohort (CIPA/USAID project) & Aspyre Africa Strategy
Meanwhile, the recruitment of the next cohort was again delayed due to additional administrative requirements from USAID, as well as the closure of the CIPA centre. Given the rapidly changing context and the new challenges that the pandemic poses, the next pilot project is more crucial than ever. As forecasts predict a sharp fall in economic growth, there are real worries that existing problems of inequality will be exacerbated. Since the start of the crisis, 89% of the population who were educated in a Daara (same % as those who did not receive any education) experienced a drop in income, compared with 68% for those who pursued graduate studies.
While it would be tempting in times of crisis to focus on "emergency support", Aspyre Africa has always been committed to "systems change" through the introduction of long-term sustainable solutions. Our projects aim to pave the way to make quality vocational training more accessible. We want to make sure the most vulnerable young people in society, as well as the services that support them, remain resilient in the face of any crisis ahead.
Thank you for your continued support.
Stay safe and healthy,
Warm wishes,
The Aspyre Africa Team