I just returned from 16 days in Uganda. We camped in the bush in the Nakayot Peace Village. I had a excellent meetings with our partner NGO and local government officials. I was able to inspect the tractor and plow that they have and it is in good operating condition. I met the 85 year old Ugandan gentlemen that runs the tractor for the village. They have hundreds of acres that they are trying to cultivate largely by hand. They NGO has been given 70 acres by the village and they hope to plant this in the spring to raise money so that they can move toward financial independence from US support. The equipment that we want to purchase with till the soil to a finer grade and the seed drill will speed the planting process which now all done by hand. The mower will speed the harvesting of the crop which gets them to market sooner. These are very hard working people. If we can find good used equipment we can likely cut the cost in half. Spread the word to your friends and companies.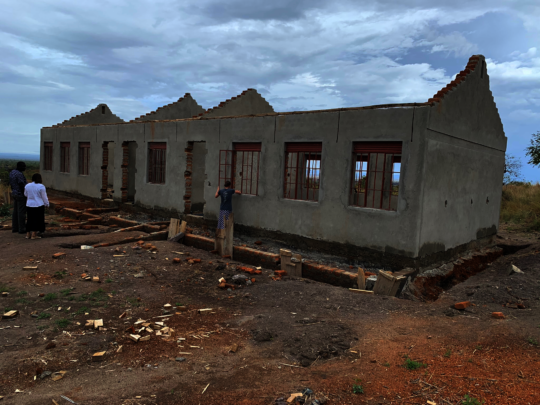 I just returned from almost 3 weeks in Uganda. We spent 16 days camping in the bush. It was a great time with these dear Ugandans. Along the way we had some surprises. January is normally part of the "dry season", but we had quite a bit of rain. It rained most nights and we had some heavy downpours during the day. Twice while taveling on the dirt roads we got stuck, once it took us and hour and a half to dig ourselves out. As a result of the unusal amounts of rain the progress on the new school has been slower than planned and so we are waiting to purchase desks and supplies. We visited the school site and the village and they are are very excited about having a school. I will keep you posted on progress. I think we will be done in about a month.
A small team from the US will be traveling to Uganda late January to do some training, dedicate a new school and housing for teachers. We will also meet the first nurse the village has had that will work out of the clinic that we helped build last year. We will also be giving away 25 goats to widows and orphans. The goat give aways are always a huge village celebration. Goverment officals always come to the celebration to thank us for how we are helping their people. They so appreciate the life changing opportunity recieving a goat affords them. Thank you for your support. It is making a huge difference.
WARNING: Javascript is currently disabled or is not available in your browser. GlobalGiving makes extensive use of Javascript and will not function properly with Javascript disabled.
Please enable Javascript
and refresh this page.