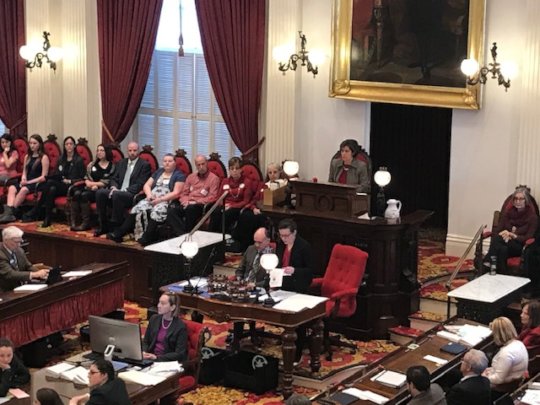 On February 14th, the Vermont Suicide Prevention Center (VT-SPC) hosted Suicide Prevention Day at the State House in Montpelier with our partner, the VT Chapter of the American Foundation for Suicide Prevention (AFSP-VT). We are grateful to AFSP-VT for planning, implementing, and funding the event with us. Great connections were made with legislators, while VT-SPC members and AFSP advocates gained knowledge and skills around suicide prevention advocacy.
The day focused on Suicide Safe Pathways in Health Care. Attendees joined a press conference and a training on talking to legislators, followed by lunchtime meetings with legislators and adoption of a Suicide Prevention Resolution in the House Chamber, as well as a special remembrance where flowers were handed to legislators in memory of Vermonters lost to suicide. The event was co-hosted by Rep. Anne Donahue and co-organized with AFSP-VT on behalf of the VTSP Coalition, which represents more than 70 organizations and individuals concerned about suicide.
This spring, on May 16th and June 6th, the VT-SPC will host the Zero Suicide Practice Institute in Monpelier, VT. Zero Suicide is a commitment to suicide prevention in health and mental health care systems. It involves the implementation of a set of evidence-based tools and strategies used in a strong pathway of care for people who are suicidal.
Composed of two full days of teamwork and learning from national speakers and Vermont colleagues, the Zero Suicide Practice Institute brings together mental health, health care, state, and local teams to establish a common frame of reference, language and understanding of the use of evidence-based tools for screening, assessment, treatment and follow-up. Teams will conclude the Institute steeped in an understanding of Zero Suicide, with knowledge about their organizations' capacity and readiness to implement the tools and processes.
VT-SPC is a public-private partnership with the Vermont Agency of Human Services, foundations, individuals and organizations. Created by the Center for Health and Learning (CHL), our mission is to create health promoting communities, in which people have the knowledge, attitudes, skills and resources to reduce the risk of suicide in Vermont. Your support of our Global Giving Project, Umatter and the Vermont Suicide Prevention Center, gives us the funding we need to advance this work.
Please consider continuing to help us expand the reach of our programs by clicking on the "Give Now" button below to make a recurring donation that will provide long term support for the VTSPC. You can learn more about our work by visiting www.vtspc.org and www.healthandlearning.org.
Thank you for your support.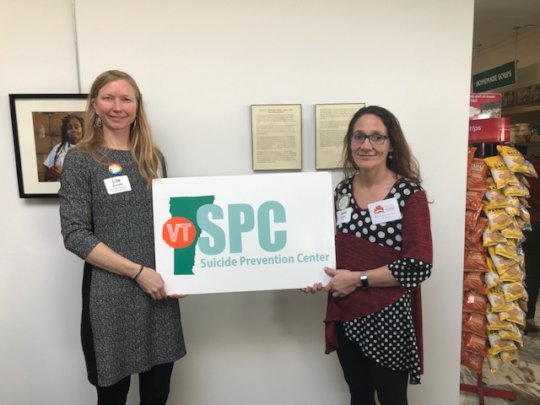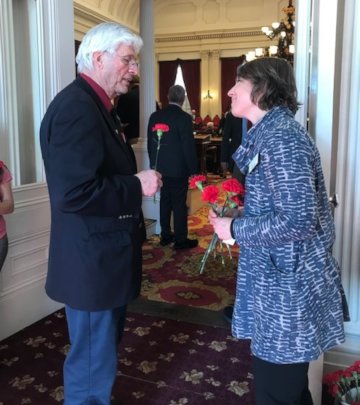 Links: