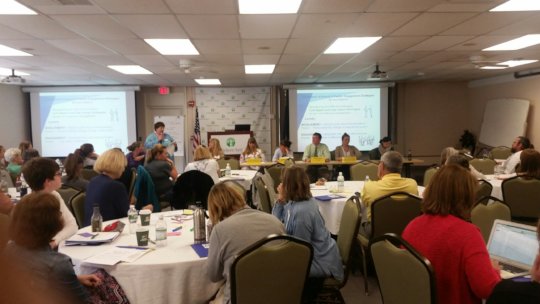 Retrospective Fall / Winter 2017 at CHL
CHL has accomplished much in the past few months, and in 2017. Here is a look back at some of our key programs. Along with those below, CHL also offered eight other face to face and online trainings to Substance Abuse Coalitions, Regional Prevention Partnerships, and school districts. Contact us for more information about our trainings and technical assistance!
A day in the life

Every day, CHL takes calls from community members seeking advice on prevention of critical health problems. On any given day, we might field a call from a young person wanting resources for prevention school health promotion project, a school counselor seeking advice about framing the discussion on opioid use to substance abuse at large, a woman in crisis who googled us and needs to be directed to local mental health supports, a county Sheriff who wants training on self-care for secondary trauma, a coalition director who wants assistance with strategic planning and evaluation, a state agency program manager wanting data to inform program planning, or a hospital administrator seeking resources for suicide prevention.
We answer all those calls and we are honored to be a resource in Vermont and New England.
Thanks to our funders, donors, and supporters more than 2500 people over the past year have benefitted from our services addressing critical health issues such as suicide; bullying and harassment; and alcohol, tobacco, marijuana and opioid addiction.
Here are some examples of what we've been able to offer in the last few months of 2017:
Vermont Suicide Prevention Coalition
The VT Suicide Prevention Coalition, convened and facilitated by CHL, advises the VT Suicide Prevention Center, a public-private partnership. VTSPC provides resources to create communities of hope throughout Vermont in which schools, agencies and people of all ages have the knowledge, attitudes, skills and resources to respond effectively to mental health challenges and suicidal behavior. The Coalition meets four times a year and consists of representatives from public health, education, state agencies, suicide prevention advocacy groups, youth and adult serving leadership, mental health services and survivors throughout the state. The VTSPC has been a catalyst for change in the field of suicide prevention and education through its work with advocacy at the state level, policy, research, training and technical assistance.
Gun Shop Project
CHL had the honor to be invited to present to 50 attendees at two Gun Clubs. Each presentation focused on the "Three Step" process for Suicide Prevention: Show you care, Ask about Suicide, and Get Help. We distributed educational materials tailored to Gun Shops and their clients, and offered Gate Keeper training. There was also discussion about a collaborative Legislative Day in January. Attendees asked thoughtful questions and were appreciative of the information. These Clubs are a huge advocate for our Suicide Prevention work, and we hope to further build out this partnership
Umatter for Schools Youth Suicide Prevention Training

This two-day training, delivered to 30 school professionals in Vermont, is designed to help school communities respond to the mental health needs of students and prevent suicide. Once adults know suicidal warning signs and how to help, and the school has prevention and postvention protocols in place with local Mental Health providers, they will be ready to teach suicide prevention lessons using the Lifelines curriculum, an evidence based program of four lessons appropriate for Middle and High School students.
Umatter Youth and Young Adults
Umatter for Youth and Young Adults (Umatter YYA) is a youth mental health promotion leadership and engagement initiative that includes two full days of interactive training with peers statewide, short sessions at the school/ community setting, and design and implementation of Community Action Projects. Our December "kickoff" meeting brought together young people from around the state to participate in a day-long event. The focus of the event was on personal skills training and the process and design of local youth produced Community Action Projects.
Thank you so much for being with us, supporting us in 2017. We're looking forward to a productive and healthy 2018.