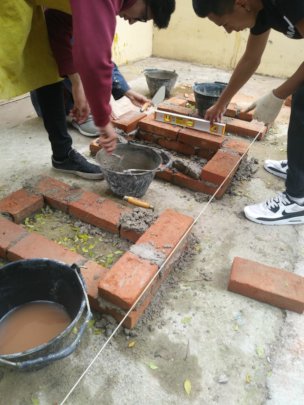 We begun the 2019 with many activities and challenges solved thanks to you!
We continue to work in Barrio Mirizzi, a low-income neighborhood in the City of Cordoba, Argentina.
This year we have achieved more than 9 workshops with 85 students and we have worked together with 7 teachers of the institution.
In two months we hope to complete the construction and start up of our prototype of phytoremediation through a humedal on the course of the Canal Maestro Sur, in order to recover part of this water resource for use by the educational institution. Thanks to your monthly contribution we have managed to raise funds to carry out all these activities and be recognized by many actors of the state, business and citizenship of Cordoba ( Province Finance Ministry of Cordoba, Tu Papel es Reciclar, Global Shapers Cordoba, Holcim, Agencia Cordoba Joven, Neighborhood Center, Government of the Province of Cordoba).
We are currently carrying out paper recycling days together with the students of the Institution and other non-governmental organizations. The collected paper is taken to a cooperative that recycles as a source of work.
In the month of June we are going to appear on open television in the Province of Cordoba telling about our work and thanking each one of you for your help, you can watch these videos on our networks in the month of July.
Each step we take is thanks to you, it has become difficult to purchase materials this year and the implementation of the prototype is starting its first stage, that is why we need your help to continue supporting this project and connect the community so that this action can be used by all inhabitants.
What does 2020 have in store for us?
Carry out impact studies of the prototype of phytoremediation, its presentation to State agents and its dissemination by the community.
We are thinking about new projects with environmental themes together with more civil organizations and neighbors from different neighborhoods of the city.
We want to connect with other wetland prototypes throughout Argentina to work together to improve our canals and rivers.
Versión Español abajo ---------------------------------------------------------
Comenzamos este 2019 con muchas actividades y desafíos resueltos gracias a ustedes!
Seguimos trabajando en Barrio Mirizzi, un barrio de bajos recursos de la Ciudad de Córdoba.
Este año hemos logrado más de 9 talleres junto a 85 estudiantes y hemos trabajado en conjunto con 7 docentes de la Institución.
Estamos a dos meses de finalizar la construcción y puesta en marcha de nuestro prototipo de fitorremediacion a través de un humedal sobre el cauce del Canal Maestro Sur, para poder recuperar parte de este recurso de agua para la utilización del mismo por parte de la institución educativa.
Gracias a su aporte mes a mes hemos logrado juntar los fondos para llevar a cabo todas estas actividades y ser reconocidos por múltiples actores del estado, del empresariado y de la ciudadanía cordobesa. (Ministerio de Finanzas de la Provincia de Córdoba, Tu Papel es Reciclar, Global Shapers, Holcim, Agencia Córdoba Joven, Centro Vecinal, Gobierno de la Provincia de Córdoba)
Actualmente llevamos a cabo jornadas de reciclaje de papel junto a los estudiantes de la Institución y otras ONG's. Los papeles que se recogen se llevan a una cooperativa de carreros que recicla como fuente de trabajo.
En el mes de Junio vamos a aparecer en la televisión abierta de la Provincia de Córdoba contando sobre nuestro trabajo y agradeciendo la ayuda de cada uno de ustedes, pueden visualizar estos vídeos en nuestras redes en el mes de Julio.
Cada paso que damos es gracias a ustedes, se ha hecho difícil la compra de materiales este año y la puesta en marcha del prototipo está arrancando su primer etapa, es por eso que necesitamos de su ayuda para seguir sosteniendo este proyecto y poder conectar a la comunidad para que esta acción pueda ser aprovechada por todos los habitantes.
¿Qué nos depara el 2020?
Realizar los estudios de impacto del prototipo de fitorremediacion, su presentación ante agentes del Estado y su divulgación por la comunidad.
Tenemos pensando nuevos proyectos con temática ambiental junto a más organizaciones civiles y vecinos de distintos barrios de la Ciudad.
Queremos conectarnos con otros prototipos de humedal a lo largo de Argentina para lograr un trabajo en conjunto para mejorar nuestros canales y ríos.