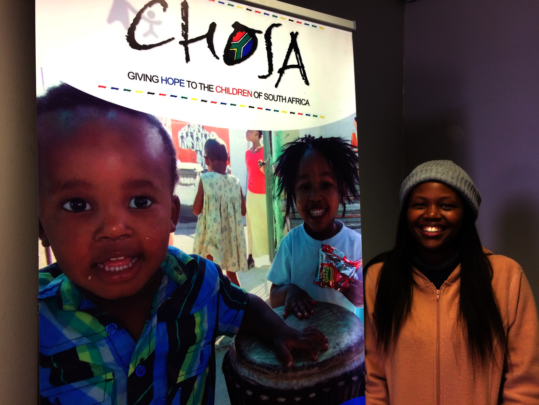 Our newest intern, Andiswa, shares a little bit about her experience as a CHOSA intern:
"The purpose of an internship is to develop real work experience, and so far I am having a great experience with CHOSA. As a CHOSA intern, I am able to explore my interests and gain opportunities to work with different communities, and people from different backgrounds. So far I have learned a lot of new things about how I can apply my knowledge in public relations to the nonprofit sector to really make a positive difference.
Being tasked with managing social media, I have learned how my reach can communicate CHOSA's work to broader audiences. It's been so cool to share the amazing work of CHOSA's partner organizations with CHOSA donors and supporters around the world. It's exciting to support our partner organizations in finding a voice for themselves beyond their local community that they work. Public relations is all about connecting people and stories, and being able to connect people to stories that are making impactful changes in the lives of children makes studying towards a career in this industry incredibly fulfilling.
So far my experience at CHOSA has helped me to improve my writing skills, and gain more independence and pride in my work. I also love being able to feel so incorporated into the rest of the CHOSA staff, they have really made me feel at home in the short time I have been with them.
As you continue to receive updates from the field with all of the great work CHOSA is doing to support and uplift community based organizations and projects that work to improve the lives of children in South Africa, please enjoy the content I'm working to help curate! Together, as we connect people, places, and projects, we collectively are doing our part to make the world a better place for all who live in it, especially the smallest amongst us."
***
CHOSA thanks Andiswa for her hard work helping us grow, expand, and learn more ourselves about how we can best communicate the work CHOSA does to wider audiences, including you. Thank you for allowing us to not only improve the lives of the children of South Africa through supporting CHOSA, but also by being able to be an organization that seeks to support, guide, and educate the next generation of non-profit leaders, like Andiswa.