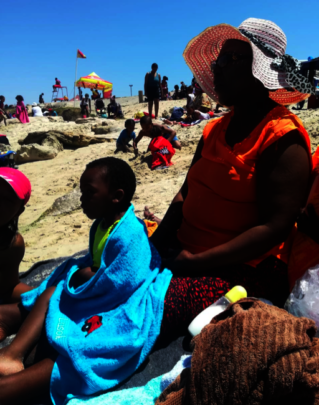 Over December and January in South Africa, it is summer holiday. Graduations happen, schools close, people go on vacation, and the summer sunshine is shining bright. Things are no different for our partner organizations; it's a time for them to send children from preschool onto primary school, allow time for home visits with biological family, prepare to welcome new children in the upcoming school year, and celebrate all they have accomplished throughout the year improving children's lives.
One of our partner organizations, Abaphumeleli Home of Safety, had a great time over the holiday thanks to the return of their van, which had been undergoing repairs for nearly half of the year. With the van back in action, they were able to take the children remaining at the home for the holidays to the local beach. It was a great day out, which gave some of the youngest members of the home their first chance to touch their toes in the Indian Ocean.
The end of 2018 also brought exciting news from our partner organization, the Thope Foundation, who in January 2018 launched their iSTEAM (innovation, science, technology, engineering, arts, mathematics) primary school, Molo Mhlaba (which means Hello World in isiXhosa). Wrapping up the year with the first kindergarten graduating class, who are now moving on in the school to Grade 1, the announcement was also made that Molo Mhlaba will now be expanding into a high school. CHOSA is so excited about their mission to transform local education opportunities for girls growing up in South Africa's townships, and we cannot wait to see where this growth and movement will propel them!
The staff at CHOSA also had a great holiday season, joining together with projects in our last networking event of the year to reflect, evaluate and celebrate the hard work our partner organizations have put in throughout 2018 to make it a successful year for the children we work with. It's always great getting to have all of our partners together in one place during our quarterly networking and capacity building events; collectively, they are changing the township landscape for children. We look forward to all that is ahead for CHOSA and our partner organizations as we have now hit the ground running in 2019.