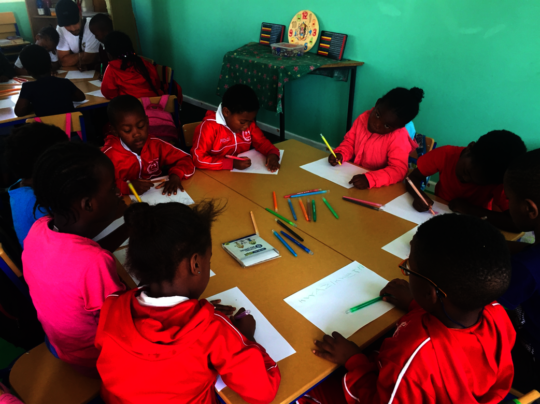 The 2019 school year is coming to a close here in Cape Town, and we have much to be thankful for as we reflect on the progress our projects have made this year. Here are a few highlights:
Blessings Educare Center began receiving financial support from CHOSA last year, and it has already grown by leaps and bounds to become a community hub for education and enrichment for local children. As you will recall from our last update, Blessings was recently able to acquire two new classroom buildings on their property. They have since settled into the new classrooms, and the children are overjoyed! They now have the opportunity to learn in a much more structured classroom environment, where everyone has desk space and a designated seat, as well as a white board to learn from. We are so proud of the team at Blessings for persevering through challenges to make sure that children from their community have access to safe and quality early childhood education.
Another partner preschool we serve, Ubuhle Babantwana, is a colorful place filled with excitement and learning. It is also a beacon of hope and a model of courage for the entire surrounding community. The preschool endured multiple break-ins in recent months but, after losing almost everything, they continue to rebuild again and again to serve the children of Mfuleni township. Realizing that significant structural changes would have to be made to increase security, Ubuhle applied for and was granted an emergency grant from CHOSA to begin construction on a new structure to house the preschool. The building will be upgraded from its current informal state of wood/tin roofing and side paneling, to NuTec bricks which create a moveable formal structure that is much more secure and weather-proof. This will ensure a safe and positive learning experience for the 30 children who count on the early childhood education that Ubuhle provides. Ubuhle is so grateful for your generosity
Finally, Abaphumeleli Home of Safety provides a warm and loving home to 33 children who have been orphaned, abused, or neglected. Founder Evelyn Makhasi and her staff are eagerly awaiting approval to expand to a vacant plot of land across the street - and it looks like it will happen any day now! They dream of creating a community hall space where the children can hang out, as well as a dining area. (Right now, the kids eat in shifts - five at a time - in the small lounge area.) This expansion would also give the older children and young adults who call Abaph home more private living spaces as they transition out of care, and would open up room in the main houses for new children. Noluyolo, assistant manager of Abaph and Evelyn's daughter-in-law, explains:
"We really need that land because each and every day children are being neglected and we have to send them away when police bring them to us because of space. We are currently at capacity and only have space for the children that are in our care right now. So if we can get the land we can keep on saving lives and make sure no child is being neglected. This will allow us to close the gap of the children who are currently living without their own parents. Our vision is to build a home for the children that are in need with open hearts, knowing we are giving back to the community."
We feel honored to work alongside each of these projects as they confront challenges and continue to grow in their ability to provide quality care and education to some of Cape Town's most vulnerable children. As we close out the year, we'd love to send you our printed holiday card with more updates and photos from Cape Town. Please email ellie@chosa.org with your mailing address if you'd like to receive one. Warm wishes for a beautiful holiday season!