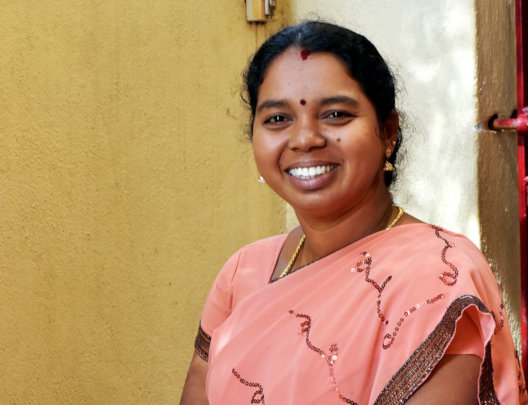 Saranya is a wife and mother of two children. When her youngest daughter was born with a developmental disability, everyone in Saranya's life blamed her. Before enrolling in Priyam's program for mothers of children with disabilities, Saranya's life played out in her home—she had no reason to leave her house, and felt very isolated. She could not find a job that was flexible enough to also allow for her to care for her daughter, as each morning and afternoon she needs to accompany her to and from a special education school. Saranya became depressed, and the poverty that her family lived in made everything worse. But then she was given an unexpected opportunity when she was invited to join Priyam Global's MAHLA (Mothers Access Health, Livelihoods, and Advocacy) program in 2018. We sat down with Saranya earlier this month to hear in her own words how being a part of this program has changed her life.
Interview designed and edited by Michaela, Priyam Global director. Interview led and translated by Gereena, Priyam Global social worker and program coordinator.
G: Before you joined the program, describe how you felt about your life at the time. What thoughts and feelings did you have most often?
S: Before joining this program, my life was a question mark without any answer. I felt very lonely and isolated. I would go outside and mingle with society, but I was unable to share my happiness with my family, friends, or relatives. Very often I felt I must have committed some sin in my life, which is why god has given me a special [needs] child. Everyone ignored me since I had a special child. I was not able to attend any family occasions because they would see me with pity and talk behind my back. This made me feel upset and weak.
G: Before you joined the program, describe how you spent your time. For example, describe what would happen in a typical day.
S: Before joining this program, I mostly spent my time doing household work and taking care of my three children after they came back from school. My entire world was in that house; without any rest, I was the only one behind all of the things that needed to be done to maintain a good family, without any encouragement from anyone, including from relatives or friends.
G: For you specifically, what was the best part about being in the MAHLA program?
The best part about the MAHLA program is that we [the mothers in the program] were able to develop many new friendships and we began to know each other very well. Before the program, no one knew each other, but now we have all become like one big family.
G: What has changed in your life and in you since you have been in the MAHLA program?
S: The best way that my life changed through the MAHLA program is that I now feel that I am a "super mom". I don't compare with others anymore and I celebrate each and every little thing around me. I made new friends with whom I can share my thoughts and experiences freely. I am no longer experiencing as much depression after entering into the Mahla project. I have also become more aware of health: cleanliness, hygiene, and nutrition because of the education sessions. Now I am focused on creating a life where I can live for many more years with my child.
G: What did you learn about yourself during the program? Did you discover anything new about your talents or interests, your feelings or your personality?
S: This project made a drastic change in everyone's life, not only mine. I didn't miss any of the training hours or educational sessions because I wanted to gain as much knowledge as possible. This knowledge has allowed me to improve my personality and gather new ideas to develop and grow as a women with a special [needs] child. Before coming to this program I built a barrier for myself in which I believed I couldn't do anything new. I would always depend on my husband as I didn't have a proper education. Now I have developed courage and self-confidence through continuous training and awareness classes. I would like share my experiences and knowledge with [other mothers] so they can feel motivated to become independent in their own life.
G: Has anything changed in your family because of the program? For example, has your relationship with your husband changed? Has your relationship with (or understanding of) your special needs child changed?
S: Of course, many changes have occurred because of the project, especially within my husband. Previously, he did not involve me in anything. However, after I started learning new skills he got began to believe that I could acquire a better position by earning more money. My family members and friends now have more respect for me and even ask my opinion for new innovations in their life. This has made me feel like the happiest person in the world. If I had said no to [joining] this project I would feel like I was of no value, like trash in my house. My future has truly changed from this program — now I have the confidence to face any problems or issues that can happen. My past was a tragedy and my present was unhealthy, but now I would like to make some changes in the future, not only through my personality but from being able to stay stable and strong. I am so thankful that I had an opportunity through this MAHLA project.