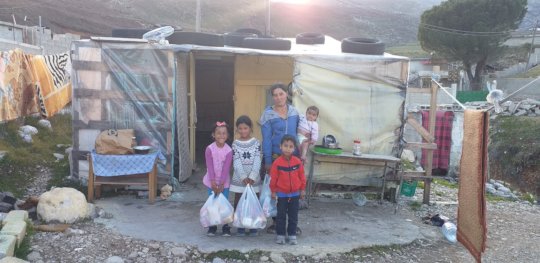 Dear friends,
On March 10, we sent you a report about Roma children in Gjirokaster who were in school and thriving with your support. That same day, all the schools in Albania were closed after the first cases of COVID-19 were identified in that country. Restrictions on movement and public gatherings followed quickly, and lifeline services like soup kitchen meals were put on hold.
The children in the after-school program have been home ever since. So have the guests who usually rely on NG's soup kitchen for a hot, nutritious daily meal, company, and access to counseling. All of them had precarious existences even before the pandemic, isolated by health conditions or poverty, and in many cases living on the brink of homelessness.
The Gjirokaster team can't provide hot meals in a communal setting right now, or group homework help, but they have diligently brought aid bundles to each household every other week since the lockdown, contributing food, cleaning supplies, medicine, and counseling services at a safe distance. They check in regularly with each child in the school program, maintaining their connection to education even while the schools are closed-- so that when schools do reopen, they all go back.
Your donations have made this ongoing care possible. We thank you for your generosity and will keep you posted as the situation in Albania continues to unfold.
We recognize that this is a challenging time for many people. If you are able to contribute to this ongoing program, you can still do so here.
Gratefully yours,
Sarah Pita
Development Director, NG-USA