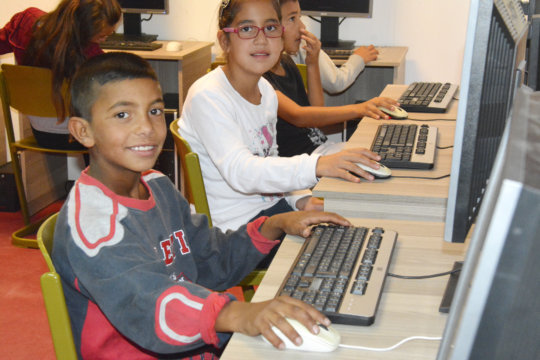 When the students at the Amaro Tan School in Pogradec returned from summer vacation on September 4, a brand-new classroom with 16 new computers was waiting for them.
"The new computers are fantastic!" says Francesko, a student in the 6th grade. "Now we have computers of a very good quality. Besides, there are UPS batteries which help us save our work when there is no electricity", adds 9th grader Jorida.
In today's world, computer literacy is not optional. It is required in school curriculum by the Albanian Ministry of Education for grades 6-9. In addition to helping the school provide this required curriculum, the new computer lab will be used for afternoon classes for all grades, going far beyond the Ministry requirements. This will help to mitigate extremely limited access to computers outside of school for most students.
"The students at Amaro Tan school love the new computer classroom," says Vjola Dikellari, who teaches computer science at Amaro Tan. "Now it's much bigger and comfortable. The old computers were not only out of date but also nonfunctional. With the new IT Lab the students can do research work. They will be able to get information, produce projects in PowerPoint and display them through the projector."
By contributing to our campaign this summer, you helped provide a life-changing opportunity to these children. Thank you, wonderful donors!
Our campaign for a new laptop for Moza, who teaches at Amaro Tan, is still running on GlobalGiving. Please consider helping this blind English teacher get the tools she needs to be the best teacher she can be for her students!
All the best,
Sarah Pita
Development Director, Nehemiah Gateway USA