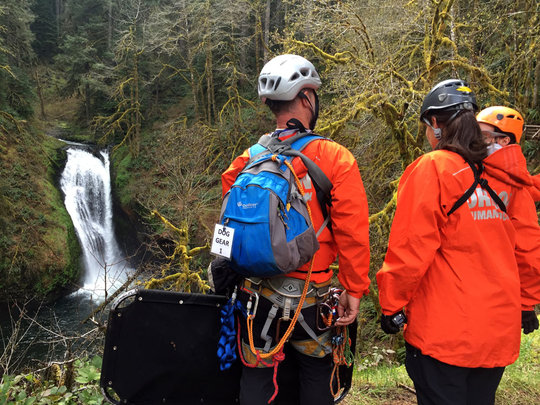 A dog who fell more than 200 feet from a cliff in the Santiam State Forest outside of Silverton was brought to safety this evening by an OHS rescue team. The dog, an 80-lb. Great Dane-Mastiff mix, suffered at least one broken limb but was alert and appeared to be in otherwise good condition.
The seven-person OHS rescue team deployed for the rescue early this afternoon after Woodburn safety officials contacted them. The dog, named Ranger, went missing last night when he was with his owner hiking on the Butte Creek Falls trail. Unable to locate his missing dog, the owner returned to the trail today and located Ranger at the bottom of a rocky outcropping. The dog had fallen more than 200 feet from a promontory overlooking Butte Creek.
Although rescuers could reach the dog via a trail, the trail was too steep to allow Ranger to be brought out on a rescue litter. Instead, a member of the OHS rescue team rappelled by rope approximately 230 feet down the cliff. After Ranger was secured in a rescue basket, the dog and the OHS rescuer were hoisted to the top of the cliff. Firefighters from the Silverton Fire District were on the scene and assisted with the rescue. After Ranger was safely back on high ground, he was carried out to the trail head by the rescue team.. He was then transported by his owner to an emergency veterinary clinic. Ranger's front leg was broken and he had also suffered numerous bruises and cuts. But rescuers reported that he was alert, friendly, and did not appear to have life-threatening injuries.
The rescue group, know as the OHS Technical Animal Rescue Team (OHSTAR) is comprised of volunteers skilled in using technical climbing equipment to help animals who are stranded and need human help to survive. The work of OHSTAR is supported through donation to OHS.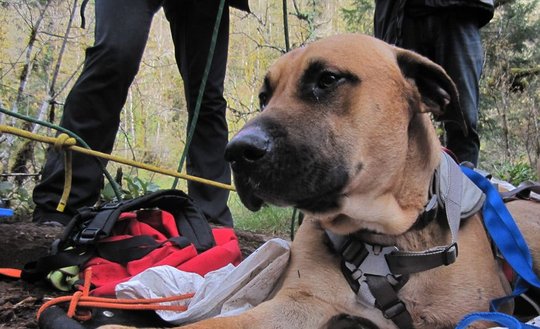 Links: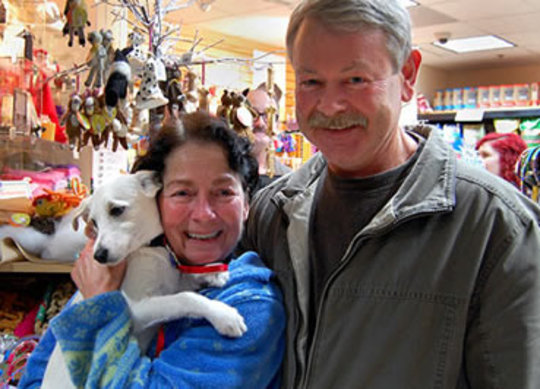 Staff and volunteers at OHS celebrated the 11,000th adoption of 2014.

The lucky dog was Lucy, a four-month-old Jack Russell terrier mix who was adopted by the Bruns family of Vancouver, Wash.
"This is what the holidays are all about," said Sharon Harmon, OHS Executive Director. "It's wonderful to see people opening their hearts to shelter pets."
The large number of adoptions makes OHS one of the busiest shelters in the nation with one of the highest save rates. OHS adopts more animals from its shelter on NE Columbia Blvd. than any other single shelter facility on the West.
Today's adoption marks the fifth year in a row that OHS has reached the 11,000 mark for animal adoptions. The feat is especially remarkable because OHS never puts a time limit on how long a pet remains available for adoption.
Lucy (originally named Ornament until adopted) came to OHS from a shelter in California that was faced with too many pets and too few adopters. She is one of about 5,000 animals that OHS accepts each year from shelters in Oregon, Washington and California as part of the OHS Second Chance program.
This is just one of 11,000 stories that you made possible. Thank you for all you have done for the animals in 2014!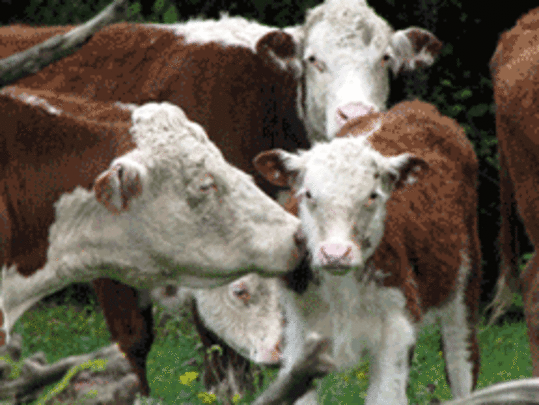 A Columbia County jury last week convicted two local residents of more than 120 counts of animal neglect in relation to a commercial cattle operation. The unanimous conviction on all counts marks the end of one of the longest and most complex animal trials in the history of the Oregon Humane Society.
The defendants, William Holdner and Jane Baum, possessed 170 cattle that were seized during a joint operation by the Columbia County Sheriff's Office and OHS in the summer of 2012. Veterinarians found many of the cattle to be severely underweight and others to be suffering from serious illnesses.
After a three-week long trial, a jury convicted Holdner on October 3 of 16 counts of first degree animal neglect and 79 counts of second-degree neglect. Baum was convicted of one count of first-degree neglect and 26 counts of second-degree neglect. Holdner and Baum face up to one year in jail and a $6,250 fine for each first-degree count, and six months of jail and a $2,500 fine for each count of neglect in the second degree. Sentencing is set for December 5.
Your donation to OHS supports the work of OHS Humane Officers who investigate animal crimes daily and work with law enforcement agencies across Oregon. OHS receives no tax dollars.
Links:
WARNING: Javascript is currently disabled or is not available in your browser. GlobalGiving makes extensive use of Javascript and will not function properly with Javascript disabled.
Please enable Javascript
and refresh this page.