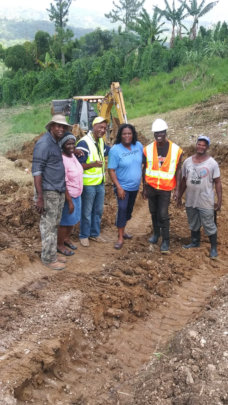 Our aquaponics farmers have been extremely productive since our last update. Via a partnership with the Jamaica Ministry of Economic Growth and Job Creation, INMED Caribbean recently broke ground on two more community aquaponics systems in the parish of Clarendon, where residents continue to struggle with the devastating environmental and socioeconomic effects of climate change. While construction proceeds on these systems, farmers in the community of James Hill held a volunteer workday to prepare their grow beds for planting (see photos).
INMED's Increasing Access to Climate-Smart Agriculture (IACA) project will not only provide year-round food security for vulnerable communities, such as those in Clarendon, but will also provide technical and business training, access to financing and links to markets for those who wish to launch agribusinesses.
And speaking of agribusinesses, we're pleased to congratulate Marcus Sewell, one of our first IACA farmers, on winning the JN Small Business Loans Start-Up Kick Start Competition to launch a vertical aquaponics enterprise , including aquaponics and vertical farming to raise microgreens.
"I pitched the concept to seven panel judges," explains Marcus. "I took them through the concept and how I would scale the micro-business into a full-grown company that would do an IPO on the Jamaica Stock Exchange." His plan impressed the judges enough to award him JMD100,000 in seed funding. Our team at INMED Caribbean is helping Marcus negotiate a partnership with Dinthill Technical College to potentially lease its INMED Aquaponics system to get started.
"Being a participant of INMED's IACA program helped me a lot with the actual idea," says Marcus. "I was aware that the JN Small Business Loan and INMED had a partnership that would allow INMED's trained farmers to receive a loan to start-up their aquaponics systems. I was thinking if I win the JN Start Up Kick Start competition, then it would position me better to get the loan from JN Small Business Loan program."
Marcus is now well positioned to achieve that goal and much more! Read more about the JN Small Business Loans Start Up Kick Start Competition: https://www.jnsbl.com/jnsbl-start-up-kick-start-winner-announced/