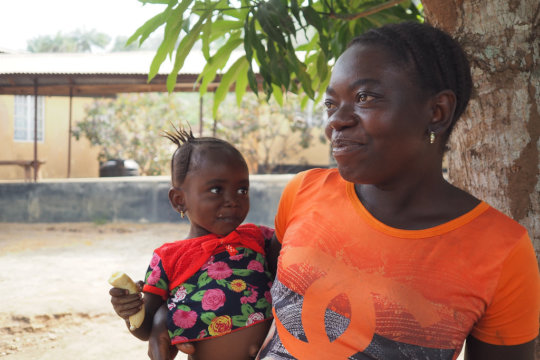 Fatu is 22 years old and her daughter, Ami, is two years old. They live in a rural area of northern Sierra Leone, where we have been working with the community since 2005, supporting women and children to improve their health and nutrition. With your help, we will continue to work with families and health workers in rural Sierra Leone.
Fatu explains how a year ago, Ami became very sick with malnutrition.
"She got sick, she lost weight and I had to bring her to the health centre."
When she arrived, the nurses first advised her to buy some fish, bananas and eggs to improve the nutritional balance of her diet. Fatu used the little money she had to do this, but there was no improvement in Ami's condition.
"She was ill and began to get malnourished. She refused to even eat. At that time I took her to the health centre. They said she was malnourished and gave her peanuts (plumpy nut) and medicine."
The health clinic continued working with Fatu to identify nutritional food that she could afford, and that Ami would eat. By working together, Ami was able to get better.
"Before, I was giving her rice. I think that made my child sick. Her belly swelled and bloated."
"They told me to wash my hands properly before giving Ami her food, and to give Ami peanuts in the morning and evening…without this service, I would have lost my child."
In the future Fatu hopes that Ami will be educated and have a good job, like a nurse or a minister in the government.
With your support, we can ensure that more families like Fatu and Ami's are able to take charge of their health through good nutrition. We can continue to support health clinics and health workers to spread vital knowledge and provide treatment to even more vulnerable families and individuals.
Links: