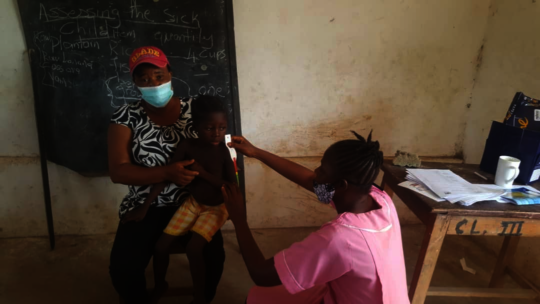 Contributions from many generous supporters enabled us to launch the 'Mama and Pikin Welbodi Project' (meaning 'mother and child health project') in northern Sierra Leone last year. I'm happy to be able to bring new of the progress being made and share some encouraging messages from our team and partners.
The project is now helping to improve the health and nutrition of pregnant women and children under five in Bombali and Karene districts, by improving access to health and nutrition services for families in remote villages.
Despite navigating the challenges of the Coronavirus pandemic, this project has already started to support around 1,179 mothers and 1,267 children across hard-to-reach villages in Sierra Leone.
So far, by partnering with local communities, we've:
Facilitated women's group meetings to spark discussions on nutrition and health. The groups participated in radio programmes and helped to raise awareness of nutrition in their communities.
Organised nutrition training for 15 Community Health Workers (CHWs), who are respected members of the community working with local health clinics in remote villages.
Trained 58 health workers to support and supervise CHWs, and to reach out to communities to monitor and improve nutrition.
Passed along 35 bicycles to CHWs so they can share their knowledge on nutrition with more families, and spot early signs of malnutrition.
We look forward to updating you further on the fantastic achievements of our team in Sierra Leone and our local community partners. Indeed, they would like to thank you for your support themselves. Please follow this link to view a short video message: https://www.youtube.com/watch?v=TUkRvXbt3iw
Links: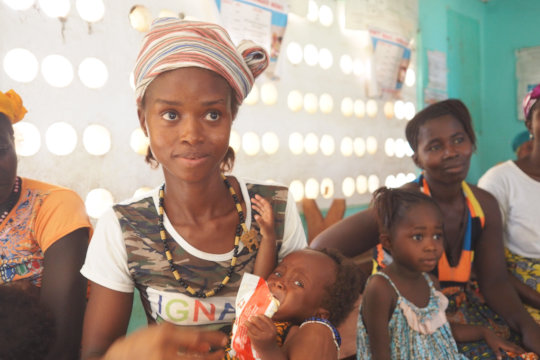 As we prepare to launch the 'Mama and Pikin Welbodi Project' (meaning 'mother and child health project') in northern Sierra Leone, we revisit the story of a local family who have already benefitted from support to improve their health and nutrition.
Health Poverty Action has worked in the community for many years, training and supporting Community Health Workers and helping parents to safeguard their families' health.
Humu is 20 years old, and is mother to one-year-old Bilkish. Humu tells us: "I was walking around the village with my daughter. The Community Health Worker saw me and my daughter and he told me about the service for malnourished children...I was worried before – I was going door to door seeking advice. My Aunty had to console me and calm me down. I was so worried for my daughter's life. Her body was getting smaller and smaller."
The health workers at Humu's local health centre assessed and provided emergency nutritional supplements for Bilkish, to help her regain a healthy weight. They continued to advise Humu, so she can ensure that Bilkish receives a balanced and healthy diet.
When I ask her about her hopes for her daughter's future she smiles: "First she will have to go to school! But after she finishes school my prayer is that she will be a minister of this country. I have a strong feeling she will be a minister."
Your support means that we can continue to work with families like Humu's, so they can give their children the best possible start in life. You can find out more about our current work responding to the coronavirus (COVID-19) pandemic in Africa here: https://www.globalgiving.org/projects/act-to-prevent-coronavirus-spread-in-east-africa/
Links: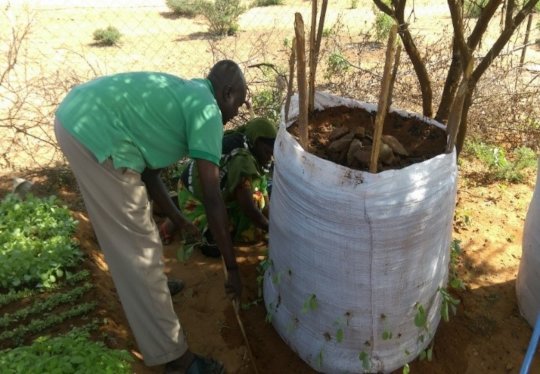 In the aftermath of the drought, Health Poverty Action has continued to work with remote communities in Kenya to build resilience to environmental crises and ensure that the most vulnerable families can secure nutritious foods.
In Mandera County, we were able to establish 10 nutrition gardens, managed by groups from the local communities. We trained the group members on how best to utilise scarce water supplies to grow food, whether establishing river bank gardens, utilising waste water from hand washing, or planting vegetables in sacks.
They grow a range of nutritious vegetables in the gardens, including fast-growing iron-rich crops such as spinach and kale, providing a source of food for their families and vulnerable community members. Surplus vegetables can be sold at local markets at a subsidised price, providing income for growers and a cheaper source of food for other local families.
Households with malnourished children, pregnant and lactating mothers are referred to their nearest nutrition garden by community-based reproductive health agents. This has proven to be a particularly effective way to counter malnutrition and iron deficiency in these remote communities.
Your contributions, and support from donors like you, help marginalised communities to deal with the effects of droughts and other environmental disasters, while addressing the social and economic factors that make people vulnerable.
You can find out about our latest appeals and other ways that you can help to improve people's health here.
Links:
WARNING: Javascript is currently disabled or is not available in your browser. GlobalGiving makes extensive use of Javascript and will not function properly with Javascript disabled.
Please enable Javascript
and refresh this page.