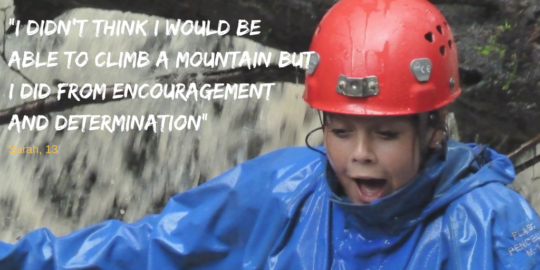 "When you look around the room you can sense a range of emotions: nerves, excitement, defiance, intrepidation, a sense of change." All of the young people we meet in these early days of introducing the Youth Adventure Trust to prospective new participcants, will benefit hugely from our programme. Our job is to inspire them, make them want to grab the opportunity and come on what is potentially a life changing journey with us.
Since our Moving Mountains crowdfunding campaign before Christmas, our two Programme Managers, Rob and Kerrie, have been busy visiting our partner schools. They have been talking to the Year 7s (11 year olds) who have been nominated to participate in the Youth Adventure Programme, which will run until the end of Year 9 (age 14).
During these meetings, the young people and their parents are shown a video about what they can expect from the programme and given the chance to ask any questions they might have. It is also an opportunity for Rob and Kerrie to meet the young people and get a sense of the challenges we hope to help them overcome.
This year the Youth Adventure Trust is celebrating its 25th anniversary. In that time we have helped over 3,800 young people by providing more than 27,000 activity days. We couldn't have achieved so much without the help of people like you over the past 25 years. Thank you!
Your recent donation will be put towards the cost of the first residential camp, Mountain Camp, for this year's new recruits. Their adventures are all starting now. By helping us provide this opportunity, you are making a massive difference to their lives.
If you would like to find out more about our 25th anniversary and how you can get involved, then please click here. In the meantime, watch this space and we'll keep you informed about the young people who have joined this year's programme and how they are getting on.
Kind Regards
The Youth Adventure Trust Team
PS If you would like to have your own adventure this year, then why not join our Team 25!, take part in our Namib Desert Expedition or tackle our 10 Peaks Challenge.
Links: