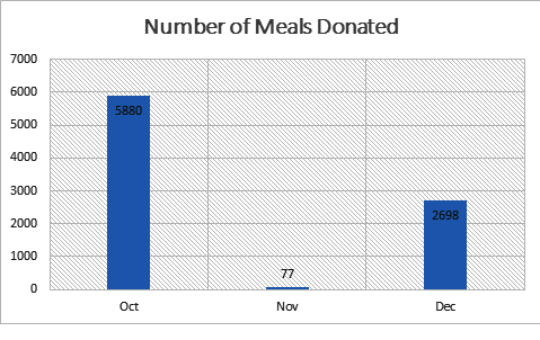 Nourish TT is committed to reducing hunger and food waste in Trinidad & Tobago—with a simple social innovation. Using the Nourish TT website and app, food companies with surplus food connect directly with NGOs that serve the needy with much-needed sustenance.
In 2017, we met our first major milestone which meant we were able to redistribute enough surplus food to provide over 100,000 MEALS to those who need it the most!
In October 2017, we held a 5-day Food Drive, in commemoration of World Food Day and were able to donate almost 6,000 meals' worth of food to more than 1,000 of the neediest persons in our country, saving our charity/NGO partners approximately US$7,000. But we could not do it without our 75 enthusiastic volunteers, 15 dedicated NGO partners, and thousands of generous community supporters who donated items from their shopping carts at participating Massy Stores.
During the months October to December 2017, we also redistributed an additional 1,202,169 Kg of surplus food to provide more than 2,800 meals to the most vulnerable and needy on our society by partnering with our two Donors, Massy (Trinidad) Limited and Nestle (Trinidad) Limited and our NGO partners; Living Water Community and Christ Child Convalescent Home.
THANK YOU – our global well wishers – for your immeasurable support in helping us to achieve these milestones. In 2018, we'll be coming up with even more projects and programs to deepen our social impact of reducing hunger and food waste in Trinidad & Tobago.
To stay in the loop about upcoming activities, please click here to sign up for our monthly e-newsletter and check out our website. We'd also love to connect with you on Facebook here.
Cheers!
Your friends at Nourish TT