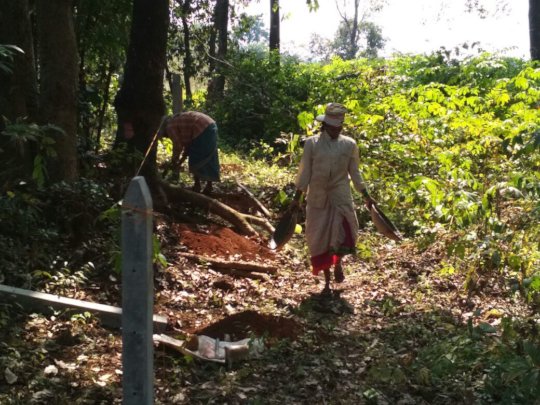 Dear Supporter,
Greetings from AERF!
In the last quarter, AERF field team made some good progress in putting in place a long term measure for protecting 4 large trees in village Sangave. The team after due consultation with local community members erected barbed wire fence around 4 large trees. Out of these 3 trees are of Terminalia bellirica species and one is Ficus religiosa.
The primary purpose was conserve the undergrowth, understand the divesity of the plants growing under these trees and role of big birds such as Hornbill or other frugivores in dispersal of the seeds of these plants. Till last year , all the small and medium grown plants were grazed or trampled by cattle from the village and there was no other way of saving the regenerated plants. This experiment will help the supporters of this initiative to understand how saving giant trees can contribute to growing and conservation of other plants and the relation of birds and other animals with these giant trees.
All in all we had to spend about USD 600 on barbed wire fencing of the 4 large trees which comes to average USD 150/ giant tree! Now this is what we learn when we actually start working on the ground and understand real challenges of conserving these giants. That we are asking only USD 50 per tree is not the point of discussion here. It is about reporting facts.
In another village called Kalambaste, AERF field team discussed protection of large specimen of Terminalia bellirica.
This tree has a GBH ( girth at breast height) of 5.2 meters and its height is 22 meters. It needs to clarified that by putting in place a mechanism for conservation of such giant trees, we are avoiding the natural history and cultural practices associated with such trees being wiped out. This is in addition to the ecosystem services offered by such trees for example offering habitats to many number of birds, bee hives and canopy dependent mammals such as monkeys. We are happy to report that the local community members have shown interest in participating in protection of this large tree and area around it. AERF team is in process of documenting the natural history of this tree in consultation with loca knowledge holders.
Just a small addition, all these trees that we are now protecting have been mapped and tagged with GPS in the previous quarters.
We all know by now that conservation of each giant tree comes up with a new challenge and it reminds us about the value of patience and slow but steady progress.. Thus we need to devise different mechanisms and ensure that our communication about the goal is very clear across board for making it happen on the ground.
In the next quarter we will be reporting on how we are using insurance scheme for immovable properties for avoiding felling of giant trees. So please stay tuned!
We are nearing thanks giving week in the USA and thus it is our duty to express gratitude towards nature for its untiring yomen service to human beings.
We should always remember that healthy environment is critical for ensuring better quality of our life.
Best regards