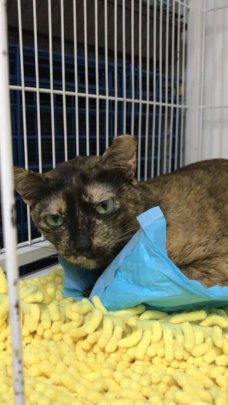 Someone said if every "Cat-woman" has a wealthy Batman behind the scenes to provide financial support, it is not bad to take care of cats. Fortunately, for the 2018, I did receive some help from Batman, not just money, but also spiritual support, that is the most important thing for me; then I didn't have to fight alone in this never ending war.
In the Tai O Stray Cat Home, "Mie Mie" is one of the stray cats in the center; he has Pharyngitis (a type of throat inflammation). Since the beginning of 2018, I noticed that he had difficulties to swallow; therefore I brought him to the hospital for treatment. His condition was not very good, a veterinarian estimated that his sickness has been caused by a feline virus infection, every time when "Mie Mie" has an infection, injection is the only treatment for him and there is no way to cure this sickness completely.
Besides, when we have new stray cats added to our center, "Mie Mie" would have hair loss and his sickness would recur, and of course I do feel pain and helpless every time because I can't help him much at all to tackle the sickness. More than that, taxi fare cost me several hundred HK dollars to bring "Mie Mie" to see a veterinarian from Tai O to the city.
Whenever I feel helpless, face challenges or difficulties, my helpers or volunteers are here for me. One of my teammates, Joey, she knew my concern and help me to provide temporary care for "Mie Mie"; it is such a big help for me, at least I can have time to take care other stray cats in the center. Because of Joey family's temporary care for "Mie Mie", his sickness didn't recur and his condition is getting better and better.
After a long period of torture for "Mie Mie" in the past year, severe ulceration and swelling of the mouth, the veterinarian suggested to do surgery to remove his teeth in order to reduce pain and save his life; for sure this is the most helpless decision but it is the best for "Mie Mie".
Fortunately, his operation was successful; thanks to the veterinarian and Joey family provide care for "Mie Mie".