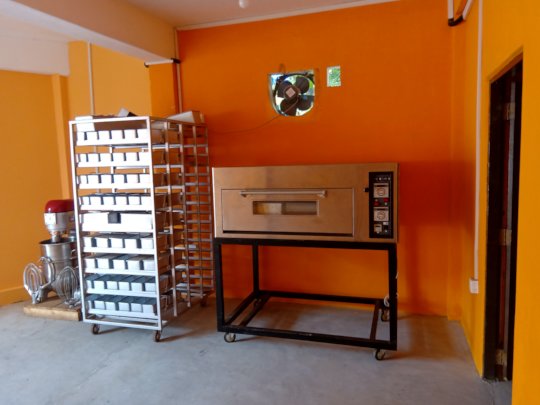 Dear Friends & Supporters
We hope you will forgive our delay in reporting back to you, which is due to the horrific Easter Sunday Terror attacks where the country and its people were left hurt, shocked and afraid. Schools and businesses were closed and many people were too scared to leave their homes for many weeks.
It has taken time for life to settle down but we are delighted to announce that despite many setbacks, the new TFT Bakery building is now open!
This wonderful opportunity for institutionalised girls to be able to learn a new skill is so exciting. Not only are they learning to bake but they are also having fun outside the confines of their usually grim and boring existence, and enjoying a different experience and new tastes.
On completion of the course, they will receive NVQ certificates which will give them employment opportunities, and in time we plan to make the Bakery income-generating.
This week, we received a field visit from Uma at Global Giving, who had the chance to taste some freshly made delicious chocolate and butter cake.. she said it was 'Yummy' and wished she could take some home with her! The girls were absolutely thrilled at her comments.
Uma was also impressed to see our TFT Girls Empowerment Sewing and Computer Projects which have been a huge success for many years in providing vocational skills training for the future.
Although up and running, our Bakery journey isn't yet over, as although we have water, electricity supplies and the heavy commercial equipment has been fitted, we still need a fridge, a freezer, more pots and pans and many kilos of sugar and flour!
Many thanks to our donors for your continued support in helping us to make this happen.
We couldn't do it without you.