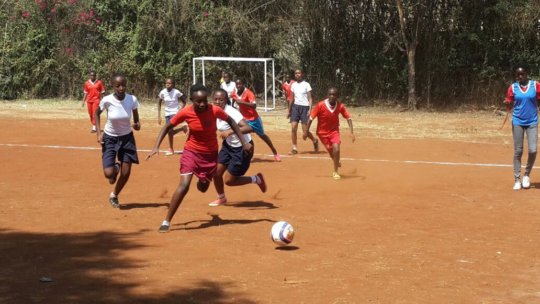 Dear Green-Kenya Family.
It is yet another moment to update all of you with what has been happening on the ground for the last 2 months, It has been spectacular, from our life transforming program called Community Impact Program to the 3rd edition of Kick and conserve tournament!!.
I would like to begin my remarks with a big Thank you!! For your generous donation during little by little matching campaign. I know there are a lot of other ways you could have spent this money, but you believe in our cause, so you chose to invest it in our project. Because of this investment, I want you to feel like part of our team. We're in this together. I want our success to be your success. I am convinced that you shared the information with your friends and families because you know them better than we do and they are now part of Global giver that are making a huge difference in the community miles away from their reach. On behalf of Green-Kenya, we really appreciate you gesture.
I am certain that the footprints of more than 450 participants, both boys and girls are still visible at S.O.S Primary school soccer field in Buruburu after competing in the 3rd edition of Kick and conserve tournament. The schools were almost going for a recess and this was a good opportunity to wish our participants happy holiday, they have gone through our community impact program that included environmental games that had soccer themed messages in them for the last two months.
The 3rd edition of Kick and conserve brought 8 primary schools from Humble back ground like Mukuru, Majengo and Shauri Moyo slums in one central place where participants learned about the importance of environmental conservation and what role they can play while still in school. This year's theme was; "Taking action to save water and to keep water clean, as an individual, as a team and as a community". The tournament has 3 stages, environmental games, environmental discussion and soccer which is always a pooling, each team was getting a point after taking part in each category. All the participants were keen through their captain who ensured that all registered players were present otherwise they would lose the point and there by failing to proceed.
This year we were able to partner with Kenya Forest service (KFS) through their agricultural extension officer in the sub County. The officer gave our team a bit of insights about the type of trees to plant, how to prepare the hole and how the pupils will take care of the trees as they grow. "It is very important to plant a tree while you are still you, so that you can grow together with your tree. You will need these trees when you are old". Said the Representative of Kenya Forest Service, (KFS).All the participating Schools got one tree to plant in their school as a remembrance of their participation in the Kick and conserve tournament and also their contribution to conserve the environment.
This year we had the overall award specifically for the environment. This award would go to any school which had a unique presentation, be it poem, song, art or any other presentation that would send a message to the community about environmental stewardship and the importance of taking action as soon as possible. And sure enough Church Army Academy emerged the winners, the school had no girls' team to participate in the 3 stages but they had a wonderful presentation about the importance of Water and what we need to do as an individual, as a team and as a community to keep it clean.
To me, you are the strength beneath Green-Kenya and the participants wings that we are reaching in different schools and communities, my message to you are these words from Albert Camus who said, "Don't walk behind me; I may not lead. Don't walk in front of me; I may not follow. Just walk beside me and be my friend". Just knowing that you care and you would like to hear from us through these reports means a lot to us.
Links: