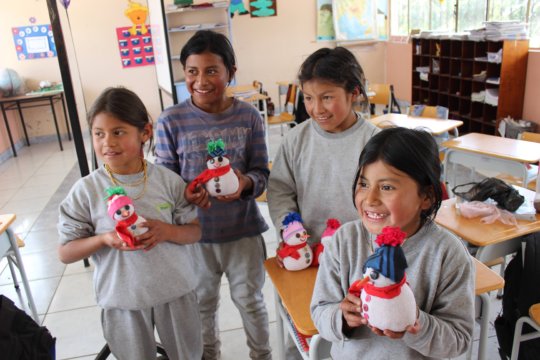 Libraries Without Borders (LWB) raised $5,224 from 53 donors in two weeks. Thank you for making a donation! We wouldn't have been able to do any of this without your help. I wanted to take a moment to share more detailed information with you about the program, including how we envision implementation taking place.
--
Because of this successful campaign, we will be able to launch the first phase of our digital library program in 9 provinces of Ecuador. LWB has engaged the commitment of 4 local organizations to co-implement the programs: Avanti, Fundación Esquel, Fundación Ecuador, and the Ecuadorian branch of Plan International. We aim to expand the reach and quality of these 4 organizations' education programs in isolated, earthquake-stricken, and severely under-resourced communities. Each e-library kit is estimated to meaningfully engage with 600 unique users over the course of the 3 years. LWB will curate and customize educational materials; coordinate logistics involved with delivery, storage, and security; and design digital classroom spaces that are safe and accessible. The 60 e-library programs will not only increase literacy, numeracy, and digital literacy of K-12 students, but also empower communities to develop their own technology-based education solutions. LWB will transfer expertise to our local partners, enabling them to create e-library platforms for other subjects; for designing community spaces that measurably address community challenges; and for securing the resources required to keep e-library programs thriving beyond LWB's 3-year intervention period.
The Partners
LWB has signed MOUs with 4 local organizations to co-implement the programs: Avanti, Fundación Esquel, Fundación Ecuador, and the Ecuadorian branch of Plan International. With Avanti, we will focus on providing after-school programs in Coaque and Manabí for children whose formal education has halted since the 7.8-magnitude earthquake hit on April 2016. With Fundación Esquel, we will work with students in its schools in Cotacachi and Portoviejo, particularly in communities affected by the earthquake and isolated communities that include the Quechua people, one of Ecuador's indigenous groups. With Fundacíon Ecuador, we will build the capacity of their Jovenes con Futuro (Youth with a Future) programs for under-resourced students in Guayaquil and Portoviejo. With Plan International, we would expand the reach and quality of their education programs in underdeveloped communities within Manabí, Loja, Chimborazo, Cotopaxi, Santa Elena, and Guayas.
Objectives
Main Objective: To equip communities in Ecuador with technological tools to increase educational attainment.
Specific Objective 1: To implement 60 digital library programs that increase literacy, numeracy, and digital literacy for K-12 students.
Specific Objective 2: To empower local organizations to develop their own technology-based education solutions.
Theory of Change
LWB will increase literacy, numeracy, and digital literacy for over 36,000 K-12 students by equipping 4 local organizations with KoomBook e-library kits. The e-library technology, along with LWB's facilitator trainings, will equip local educators with the capacity to simultaneously serve greater numbers of students in a more customized fashion. Guiding educators to serve as coaches rather than content experts will also address one of the major challenges for education in Ecuador: unqualified teachers.
LWB will empower local organizations to develop their own technology-based education solutions by equipping our partners with technical skills, impact frameworks, and best practices drawn from our implementations of e-library programs in over 20 other countries. After this 3-year intervention, local partners will not only be trained to update and troubleshoot the technologies provided, but also to build their own e-library technologies for other subjects. In addition, LWB will share best practices for project design, implementation, and monitoring and evaluation by drawing from expertise we have developed as a leading member of the best practices working group at the Inter-Agency Network of Education in Emergencies (INEE).
Timeline: August 2017 to August 2020
For the first year of implementation (August 2017 to August 2018), LWB will launch 2 digital library projects for each of the 4 local partners, creating a total of 8 e-library projects. Pulling from LWB's experiences implementing educational programs in isolated and underserved communities in over 20 other countries, the 2 LWB staff members on the ground would cycle between the 8 projects to continuously customize and improve all aspects of each project.
In the fall of 2018, an additional 52 digital library projects would be implemented with the 4 local partners. The quantity of digital library projects implemented with each respective partner will be decided according to: 1) needs of each respective community; and 2) the extent to which the local partner successfully fulfills its commitments in year 1. Following lessons learned from the first 8 implementations, the LWB team will adjust contents, curriculum, staff training methodologies, registration and outreach processes, and evaluation frameworks for each project.
The technology provided for each of the 60 digital library kits has an expected life span of 5 years. LWB will evaluate the success of its set-up and trainings, in part, by measuring the number of e-library projects that continue to be used at full-capacity for all 5 years.
In the first two years of the program, LWB will work closely with local partners to build internal capacities. Expertise will be passed over for: updating and troubleshooting the e-library technologies, customizing new e-library platforms for additional subjects; best practices for project design, implementation, and monitoring and evaluation; and designing business models and securing funding to sustainably grow the e-library programs. After August 2019, costs for implementation will be integrated into the budgets of LWB's 4 local partners, and LWB staff will formally transfer ownership of each e-library toolkit to the respective local partner. After August 2019, LWB staff will no longer help organizations with direct programming, though it will continue to help with problem solving at the technical and programmatic levels.
In the third year, the LWB team aims to shift its focus to creating a new network of educators in Ecuador that empowers community members to innovate their own education technologies. First, LWB will aggregate data from the 60 project implementations by surveying facilitators, students, families, and key members of each local community. Best practices gathered from this analysis will be shared through local conferences hosted by LWB, with invitations extended to all educational organizations in the region. Using examples from these 60 implementations, LWB will conduct trainings for other organizations in the region on best practices for reimagining classroom spaces, creating more dynamic interactions in the classroom, identifying the highest-quality and most relevant free resources online, and leveraging technologies to achieve measurable educational outcomes. As we have successfully done in West Africa, LWB aims to support education networks in the region in ways that empower communities to collaborate in developing their own technological innovations. At an international level, LWB will take lessons learned from this implementation to share with our international partners via platforms afforded to us by membership in the Inter-Agency Network for Education in Emergencies (INEE) and the Global Campaign for Education (GCE).