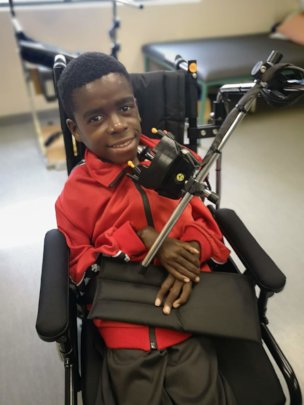 Hi! Its really exciting to share our news with you again.
A while back I introduced you to one of our kids, Thando. He is a 12 year old boy with a condition called Polymyositis. This is an uncommon inflammatory disease that causes muscle weakness affecting both sides of the body. There is no cure for this disease and currently Thando has some use of his fingers and can move his head and neck. One of our greaest challenges has been keeping Thando stimulated at home. Given his condition he cannot take himself outside in his wheelchair, he cannot feed himself, he cannot go to school. Thando relies on his family for everything.
We have tried to get him back to school but the distance is too great and Thando is exhausted before he gets there. In addition to this, because he cannot do anything for himself, he is reliant on someone at school to wheel him around. This has not been that easy.
Pallliative care is not just about end of life care or care for terminal conditions. It also invovles providing comfort to the child's mind, body and spirit. Thando was becoming depressed and we needed to find a way to make him more independent and treat his mind and his spirit. After many months of negotiating and some help from the local hospital's Occupational Therapist, Thando's dream was finally realised - a motorised wheelchair. With this Thando is able to mobilise himself by using his chin. We were all speechless as he left the hospital on his own for the first time ever! His smile is something we will all remember.
We have been blessed with donations to help make Thando's home more wheelchair friendly so that he can go outside when he wants to. Thank you to all those who made this possible.
Thando is experiencing independence for the first time in a very long time. He can move himself around when he wants to and no longer has to wait for someone to help him. Our next challenge is getting him back to school!
Hello! It feels like yesterday that we were celebrating the New Year and here we are at the end of May already. Time really does fly! This time I want to tell you about Baby S. This story is unfortunately not unique in our setting. It also highlights the role of palliative care early in diagnosis and not waiting until a situation like this.
Baby S was born with Trisomy 21 (Downs Syndrome) in January 2019. As with many babies with Trisomy 21, he had a severe cardiac problem. After assessment by the paediatric cardiologists it was determined that surgery would not be an option at that time as his lungs were weak and his weight was low. The cardiologists wanted to reassess. Given the burden on our health care system and the fact that there is only one place within the province to receive paediatric cardiac surgery for State patients, surgery was booked for 2020.
In essence all well and good, but Baby S was oxygen dependent. This meant that he could not go home. His mom has sat at his bedside at his base hospital for 4 months, the whole of her maternity leave. Eventually someone from base hospital called Umduduzi in. They were not sure how to help this mom and Baby S anymore especially as she was due to return to work.
We met with Baby S's mom – what a beautiful soul. We discussed what was happening, how bad the cardiac problem actually is and how weak Baby S still is. His mom very bravely asked what would happen if we stopped the oxygen. As difficult as it is we had to tell her that the oxygen is keeping him alive. She looked at her beautiful little boy and told us it was time. He has suffered enough and this was no life for him or for her. She took him in her arms, kissed him gently, told him she loves him and said goodbye. He died peacefully in her arms feeling so loved.
Many of the doctors came to us afterwards and asked if we had meet the mom before. We told them that this was the first time. They were astounded as to how we could have achieved what we did in such a short space of time. They have known her for months and they could not have had that conversation with her. For us this highlights palliative care. We met the mom not knowing what she wanted and not really having a plan ourselves. We were there to listen, to answer what questions we could and give the mom options. We gave her power; power to make decisions and power to ask the difficult questions. This power should have been given to her right at the beginning and that is where late referrals are so difficult on everyone – the parent, the treating team and us.
Although not a happy outcome it was a peaceful one and Baby S's mom feels that she did what was right for him. She had watched him suffering for 4 months not being able to do anything. She was finally given the power of decision-making.
Wow! I can hardly believe that it is already February 2019. Where does time go? 2018 was a good year for Umduduzi - Hospice Care for Children. Our work keeps growing as more health care professionals realise what we can offer them and their patients. While that is awesome for the patients because it means they are getting the care they deserve, capacity remains an issue. As a team we work to ensure that every family is seen and that they are given the care and support that they need. A tough task sometimes with a team of 3 but we believe in what we do and so find a way to make it happen.
Sometimes our work takes us out of our area of expertise but it is what our patient needs. Palliative care is holistic care. It is about meeting the needs of the child - body, mind and spirit. Take for example NV. He is a 13-year-old boy with a very rare condition called polymyositis. Polymyositis is an inflammatory disease that causes muscle weakness affecting both sides of your body. Having this condition can make it difficult to climb stairs, rise from a seated position, lift objects or reach overhead. In NV's case, he is wheelchair bound and is unable to use his arms. He only has use of his thumbs. One of NV's greatest needs is to go back to school. A difficult task in a rural community where roads are not accessible for wheelchairs and the distance to the school is very far. In addition to that, there are not many community schools who will accept a "special needs" child. This is incredibly frustrating as NV is an exceptionally clever young man who is being treated as if he is cognitively impaired. The only thing wrong with him is that his body doesn't work so well.
As a palliative care team we have had to venture into a completely new world. We are meeting with the schools to try and promote NV's case to be at school in a class of his peers. We are negotiating transport because his family are unable to get him to school and he cannot get himself there. We are also trying to manage the emotions of a teenage boy whose mind is active but whose body is failing. Although a challenge it is one we are willing to take on. Just because NV has a life-limiting illness it does not mean that he cannot fulfil his potential.
Therefore, as we venture into 2019 I would like to take this opportunity once again to thank you for your continued support. It is because of you that we are able to do what we do and that we are able to help NV meet his full potential.
WARNING: Javascript is currently disabled or is not available in your browser. GlobalGiving makes extensive use of Javascript and will not function properly with Javascript disabled.
Please enable Javascript
and refresh this page.