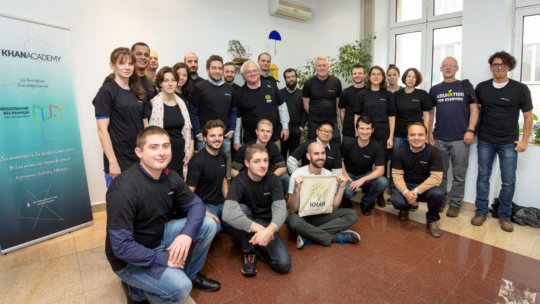 Dear friends,
The past 3 months were even more dynamic than usual and full of meetings with students, teachers and people who support our cause. As a result, we get more and more excited and inspired to quickly finish the translation of Khan Academy in Bulgarian and start more comprehensive awareness and adoption campaigns. Because Bulgarian students need to know about Khan Academy and need to use it now!
Below you can learn more about our latest interactions with the community, our successes with kids, our strong usage growth and our continuing work.
We find more and more local advocates
Simona Stoyanova is a geography teacher (see her below). We met her at the big annual conference Education 2016 held in Sofia at the end of October. Simona told us about her experience with Khan Academy:
She uses math lessons at Khan Academy to explain to her students concepts in the geography which the textbook assumes they already know. How do you scale a map linearly? What does exponential population growth mean for the future of our world? What do the contours of a map mean? It's OK - Khan Academy's math lessons can help! Finally, beyond the classroom,
Simona also studies with Khan Academy for her own career development and mere curiosity.
In October we introduced Khan Academy to students in the National High School of Mathematics and Natural Sciences in Sofia. For our joy some of the students already knew Khan Academy, which is not surprising, but it is always nice to meet face-to-face users of the platform and to get feedback from them, as well as to inspire more learners. Those who have already had some experience with the platform were using Khan Academy mainly for preparation in math and IT exams at school or participation in competitions. Thanks to our visit, two more classes know about Khan Academy now.
We are part of a global community
In October we hosted in Sofia a conference of the Language Advocates of Khan Academy. The event gathered together representatives of the headquarters of Khan Academy, Crowdin (the famous international platform for localization and translation) and colleagues from the Khan Academy translation teams in Brazil, Czech Republic, France, Georgia, Germany, Japan, Mexico, Poland, Portugal, Serbia, Sweden and Turkey. This meeting strengthened our feeling that we are part of a global community which has the potential to influence how education will happen in future. We discussed Khan Academy's application worldwide, innovative ways to encourage children to learn, possible approaches for cooperation with government institutions and businesses to achieve greater dimensions of our efforts, etc.
We will pause with the personal stories here to let you read about our wider work. However, these and many other stories are what inspire us to keep going!
What we have been up to in the last 3 months - in figures
Meanwhile the translation and proofreading of Khan Academy lessons keep going with a stable pace - thanks to all your generous support! During the past 3 months we translated the subtitles of 335 videos more! We have been making the process of proofreading smoother and edited more than 200 000 words of already-translated content in mathematics.
The test version of Khan Academy in Bulgarian bg.khanacademy.org is becoming more and more popular too - thanks to all new translations and all communication efforts! In the period September – November 2016:
the site had 19 680 visitors (+129% in comparison to the same period last year),

the total number of browsed pages is 126 202 (+128%)

in 30 181 sessions (+130%).
Our YouTube channel with dubbed videos KhanAcademyBulgarian had 10 400 video views (+15%).
This incredible growth is a result of the combined efforts of our team and you – our supporters, to make Khan Academy accessible for Bulgarian children in their own language. More lessons in Bulgarian mean more children could benefit from the platform. More Bulgarian kids learning with Khan Academy mean more Bulgarians being part of a global community of learners, it means also more knowledge gained, more self-motivation for development and real equal chances for everyone, everywhere.
We hope that you will continue to stand behind us. The results of your help are evident! You are part of making Khan Academy accessible to our children every time you support our cause. Do it also in the Christmas time! Donate an amount of your choice, devote your donation to a person you love and make it a gift, ask your colleagues or friends to start a monthly donation or just spread the word.
Thank you for all your support!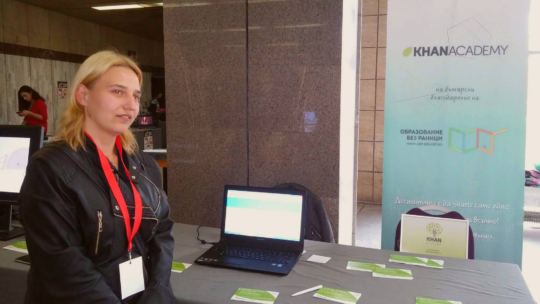 Links: