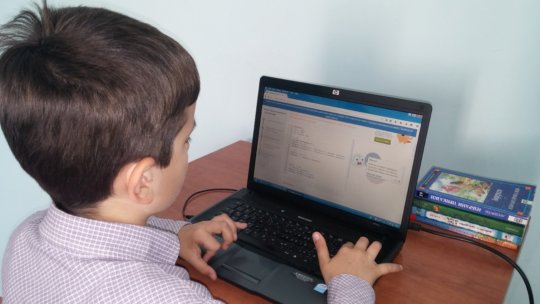 Dear friends and supporters!
It's been 3 months since the start of our "Khan Academy in Bulgarian" project at Global Giving. Thanks to your commitment and support we set off at good speed to accomplish our mission through collective effort.
Before we dive into the details of our work, here is what your help truly means for Alex, a 9 year old who just started enjoying his summer vacation with Khan Academy: "I like coding with Khan Academy. With JavaScript I can draw and make pictures move or disappear. I like it that I can make something meaningful out of something that appears meaningless. My first challenge was to draw a snowman. In the beginning I didn't know what to do and then I tried with ellipse and it worked! Then I had to draw the snowman's hands as well. I also earn points and badges for completing different challenges. I'm having difficulties with the projects because of lack of examples. But I read the lessons again and I watch the video. And thank you for the widget that helps me when I make mistake."
We share Alex's excitement about making something out of nothing. For him and for the thousands other monthly users on bg.khanacademy.org, we continue working hard.
Here are just a couple ways you have supported our fundraising in the past three months:
We reached our initial $5,000 goal during the Open Challenge in March in only 4 days!
As of June 3rd, 2016 we have raised $11,018 out of our new $20,000 goal.
We have 227 donations, 212 donors and 5 000 project page views, and growing.
The many individual donations to our mission have also sparked interest in bigger companies. We have received one bigger donation from the Bulgarian branch of a renowned international corporation and have started preliminary talks for strategic partnerships with other organizations.
During the past 3 months we translated 560K words to the Bulgarian Khan Academy. We emphasized the lessons and exercises from Khan Academy's high-priority content - namely in mathematics and computing. This is milestone to enable the launch of the Live Version of the Bulgarian platform. Another reason why Khan Academy's math content is especially important are the recent results at the national external assessment in mathematics for 14-year-olds. Unfortunately, every third student failed! We urgently need to react to this new high, giving Bulgarian students Khan Academy's proven innovative tools and helping them to easily improve their math skills - for free. Thank you for your support on this long road!
At that moment we have translated 51% of the content of Khan Academy's site (exercises, articles, etc.). Video lesson subtitles are also many - we have 63% in math and 16% in computing done. We are proud to be a top-5 most translated language on Khan Academy.
Translations are not everything, though. In terms of quality control, in May we started editing translated content with select editors. Thus, with your help, we took important new steps towards a high-quality Bulgarian version.
And more good news: Due to our strong motivation to enable Khan Academy's Live version in Bulgarian soon, our team has grown with a new project coordinator - Stanislava Gateva.
All our project's efforts and achievements, aimed at helping Bulgarian children, teachers, and learners in general, reflect in the statistics too: bg.khanacademy.org, even if still in beta version, had 14 000 visits in the last 3 months, and the total number of browsed pages is 89 000 in 21 000 sessions. Additionally, our YouTube channel KhanAcademyBulgarian had 11 000 video views. The most viewed video lesson for the last three months was "The multiplication tables" - our 'evergreen'.
Thank you once again, on behalf of Alex and many other kids, for giving them the tools to learn at their own speed and stay motivated to Learn Anything!
You can continue supporting us!
*** GG will ADD 50% to your DONATION ***
*** BONUS & MATCH DAY: June 15th ***
Donations up to $1000 will be matched by 50% on June 15th, 2016!
Also GG will award two $1,000 Bonus Prizes to the projects with the highest number of unique donors and most funds raised on that day. Matching on GlobalGiving.org lasts from 9:00:01 EDT until funds run out or 23:59:59 EDT on June 15th. So, according to where you live, the times are:
Bulgaria: from 16:00:01 on June 15th to 6:59:59 on June 16th.
Central and Western Europe (CEST): from 15:00:01 on June 15th to 5:59:59 on June 16th.
US East (EDT): from 9:00:01 on June 15th to 23:59:59 on June 15th.
Funds run out quickly so please plan your donation in advance.
Support us here: https://www.globalgiving.org/projects/educate-bulgarian-children-with-khan-academy
We count on you. THANK YOU!