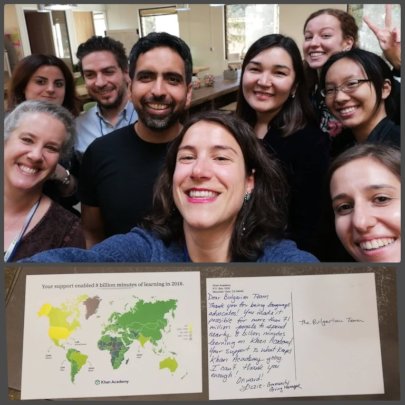 Dear Friends,
The Little Prince says: "What is essential is invisible to the eye." So as autumn is almost gone and winter holidays are just around the corner, let's celebrate – with a cause. Causes like ours – for a better education for all children in Bulgaria – are more than essential, even if the small steps towards their success are often invisible to the eye. So please consider celebrating Giving Tuesday on December 3 with a donation to our project for Khan Academy in Bulgarian and keep supporting us during the Year-End Fundraising campaign (4-31 Dec). Your donations go a long way making our common cause happen and we wholeheartedly believe that together we can make a real change in our community!
What better proof than a look at what we have achieved together for the past three months:
Khan on the news, Khan on the subway, Khan everywhere
The release of Khan Academy's mobile application in Bulgarian has reached the news! We are very glad that even before officially launching it, we were contacted by various popular media representatives to talk about the app, and also to share our vision for the future of Bulgarian education as a whole (see the link below).
But that's not all! Noble Graphics, the most awarded advertising agency in Bulgaria, made for us an amazing poster campaign. This, as well as the support of partners like Sofia Municipality, Metropolitan and Vivacom, has allowed Education Without Backpacks and Khan Academy to have visible presence in several subway stations in Sofia and reach thousands of people! You can find a photo of one of our campaign visions below.
Khan Academy Annual International Convention in California
From November 17th to November 19th, for a second year Khan Academy's Headquarters hosted the annual international convention in California, gathering all organizations that work for the localization of the site into different languages. The atmosphere was very supportive and friendly and language advocates had the opportunity to mingle among Khan employees or discuss with other advocates different strategies and ideas for improvement. There was a special session with Khan's founder Salman Khan where he shared Khan Academy's top priorities and his gratitude to the teams behind the localization and popularization of the site in so many different countries around the world.
This year, our executive director, Rozalina Laskova, was able to attend this important meeting. Rozalina was very active during the whole three days and never missed the chance to ask questions, share our team's vision and raise awareness about our needs. She also managed to have an inspiring talk with Salman Khan himself, shared ideas about possible common projects, and even caught him for a selfie!
Work with children
At the beginning of the school year, together with OMO Bulgaria and Radio N-Joy, we organized some fun outdoor activities for children! In one of Sofia's beautiful parks, we solved math problems in the sandbox and did "running dictation". As always – working with children is extremely energizing and reminds us not to forget to experiment!
And just a few days ago, we announced the National Competition "Learn with Khan Academy" in partnership with CORPlus foundation. We look forward to seeing the results of the students. Meanwhile, you can share the news about the competition with your family and colleagues. More information is available on our website obr.education (in the Events section).
Teachers' trainings and feedback
Since the start of the new school year, we have continued our inspirational work with teachers from all over the country and we are glad that our trainings are getting really popular!
We held two successful trainings: "Workshop for Innovative Educational Practices" with Nedelya Cake Company's support; and also a "Digital Tools for Attractive Education" event, where we trained the whole team of Sofia Vocational School of Electronics "John Atanasoff" how to work with Khan Academy and other educational platforms and apps. In the very last days of November, we will train even more teachers on how to use digital tools more efficiently, and the group is already full with enthusiastic and motivated teachers!
Here is what Velina Pencheva, a teacher from 48th Primary School in Sofia, thinks about our trainings: "I was really impressed by this training. Besides, your enthusiasm and desire to do useful and systemic things about education, despite the difficulties, fills me with joy and optimism."
We are proud of our growing network of educators and we are thankful for their dedication and also for their support in promoting our trainings. See how in our promotional video (link below).
We never miss important events!
We are delighted to have been part of the International Inclusive Education Conference 2019, organized by the Association for Shared Learning ELA, in Pomorie. In addition to presenting Khan Academy to professionals and practitioners in all areas of inclusive education, we have once again reaffirmed our belief that a systematic approach is needed in the development of social and emotional skills during school activities. Working with Khan Academy helps with this – it allows for group work and a differentiated approach so that each student can work at their own pace and be satisfied and happy from every small step towards the success. It also allows teachers to save time from assigning and checking students' individual work and to spend more time on developing their soft skills.
During another event – a roundtable organized by Education Bulgaria 2030, in the presence of a Vice-President of the European Commission and the Bulgarian Minister of Education and Science, our executive director Rozalina Laskova emphasized on the changing role of the teacher – from lecturer to inspirer and mentor, and on the ways how Khan Academy helps teachers with this new role. She also shared our desire for established and effective platforms, such as Khan Academy, to be recognized and validated by the Bulgarian institutions in a similar way as regular textbooks are.
We were also part of the event "Sofia tomorrow", organised by "Vision Sofia", a Sofia Municipality initiative for a long-term development strategy for the city and the region. We had the opportunity to share our views on the role of the teacher, to talk about our work with teachers and schools, and how the tools of Khan Academy platform can change the education in a better way and thus supporting the sustainable development of a city like Sofia.
Our main partner, America For Bulgaria Foundation, invited us to take part in the Annual Meeting of their Professional Educational Community in Plovdiv. We had our own booth where we talked about Khan and we also held two workshops for teachers and principals. And we are proud to announce an exclusive interest in our workshops – more than 100 of the participants chose to attend it!
Our CEO Rozalina is one of the 30 people who change Bulgaria!
"Bulgaria's Changemakers" by Daniel Penev is a collection of the inspirational stories of 30 people who work to improve Bulgaria. We are honoured that our executive director, Rozalina Laskova, is also recognized as one of the people who change Bulgaria.
"Whatever I do, I need to feel that it's a cause, I need to work for something more than mine or my family's well-being. There are many opportunities and needs in Bulgaria. If I'm going to work for a social cause, why not do it in my home country?", Rozalina says with a smile.
If you want to know more about Rozalina's path, read her story in the book!
State of the translation effort today
We are really excited to finally be able to offer our users some arts and humanities content, besides STEM! In the past 3 months, we have been actively working on Khan Academy's Philosophy and Music Courses, with the support of Nedelya Cake Company, as well as on our World History Course, thanks to the US Embassy in Sofia. You can check for yourself some of the work we've done – Wireless Philosophy's first unit, Critical Thinking, is already available for Bulgarian learners (link below).
Results for the past 3 months (29.08.2019 – 26.11.2019):
Translation: 200,000 words and 335 videos (World History, Wireless Philosophy, Music, Economics and more)
Proofreading: 70,000 words and 109 videos (Wireless Philosophy, Music, Physics)
Newly recreated/dubbed: 121 videos (Physics and Math)
Khan Academy usage growth
As our content grows, so does our userbase! We are pleased to inform you that at this point we have around 30,000 registered users, who have studied Khan Academy content in Bulgaria on bg.khanacademy.org!
Results for the past 3 months:
Sessions: 81% growth (compared to same period last year)
Users: 69% growth (compared to same period last year)
Our work would not be possible without you! So during this festive time of the year, we really want to humbly thank you for your participation in these efforts and to encourage you to consider supporting our future endeavours in improving education in Bulgaria with innovative tools and comprehensive approach! Every single donation is vital for us as our budget is formed mainly from grants and donations. So make a donation of an amount of your choice, devote your donation to a person you love or make it a gift! You really do make an essential contribution to change, and it is visible to us!
Thank you!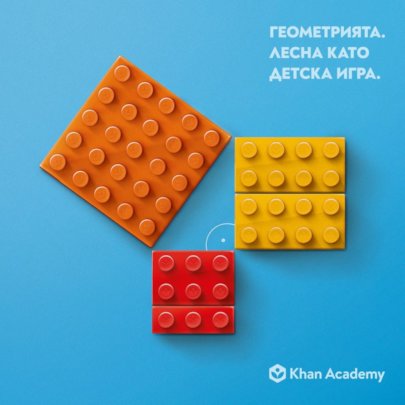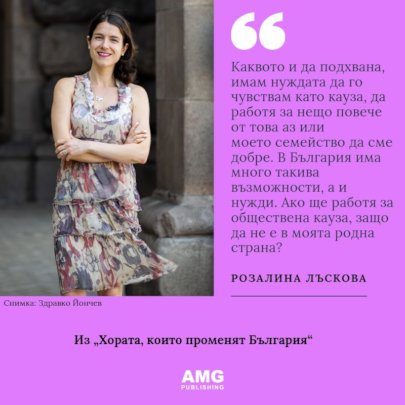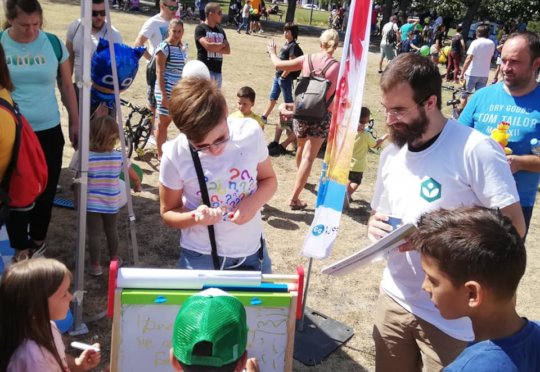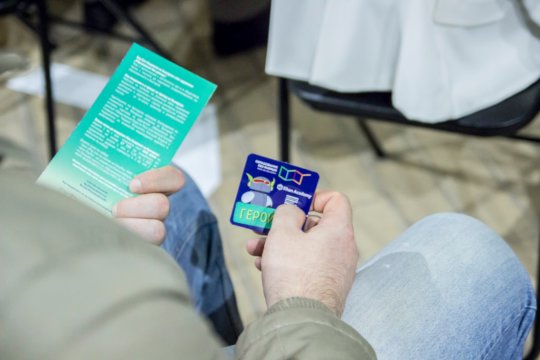 Links: