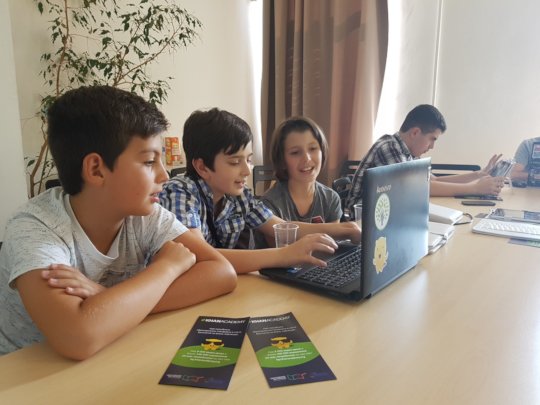 Dear Friends,
Summer may be great even far away from the beach! For example, when you work for the Bulgarian version of Khan Academy and have inspiring meetings with teachers, students, volunteers and organisations who support you. Here is what we'd like to share with you in this still quite hot September:
Khanaton
In July we organised our first Khanaton since many years. This is an event where we gather volunteers willing to translate Khan Academy content - and spend some cheery time translating together. This year we invited students mainly at high school age.
But guess what? We had to find out that Khan Academy fans may start translating even at an earlier age! So did our friend Alex (you know him from previous reports) and two of his friends. They have had just finished 4th grade. They joined the Khanaton and worked as a team, translating the subtitles of one Khan Academy video! They were also inventive enough to find the automatic translation function and then to only edit where it's needed :)))).
You can see a picture of Alex, his friends and the other enthusiasts above.
The Khanaton was organized with the support of Coca-Cola Helenic Bulgaria. The company awarded our project idea to encourage youth to volunteer and contribute to important causes.
Teachers' training
Also in July, together with our partners from the Center for Creative Training we organized our first teachers training providing participating teachers also with the so called qualification credits (teachers need such for their career development, according to Bulgarian law). Of course, Khan Academy was one of the central topics.
We were impressed by the interest teachers demonstrated and by their discipline and determination to finish the hard programme we had prepared for them!
Newly added teachers' resources on Khan Academy - of course already translated in Bulgarian
In August our dedicated volunteer Viktoria Dimitrova translated the newly added Khan Academy resources for teachers. They consist of one-hour video training which helps teachers get the basics - what is Khan Academy and how to use it, why it is so absolutely unique in helping each student achieve her/his best. Enjoy the videos and prepare for the new school year! The link is below.
America for Bulgaria Foundation is supporting us again!
We are delighted and happy to share that our main partner - the America for Bulgaria Foundation - will support us for one more year. With this new grant, we will focus on the localisation of Math and Physics content, on teachers trainings and Khan Academy promotional presentations for students.
Another great partnership - with Viber
Couple of months ago, representatives of Viber called us with a cooperation proposal. As it turned out - Khan Academy has many fans, also among the Viber colleagues, and they want to help us spread the word about Khan Academy in Bulgarian.
So on 17th of September, first day of the new school year in Bulgaria, watch out for the Khan Academy in Bulgarian free sticker pack, our chatbot with lots of inspirations and challenges and the launch of a Viber community.
We cannot express how happy we are to have you and all those organizations behind us! Your support means a lot to us and most importantly - to all students who want to learn and to live up to their potential! We continue to count on your donations!
State of the translation effort today
Results from the past 3 months:
Translations: 675 K words and 286 videos (Math, Chemistry, Physics, Astronomy, Health and Medicine);
Proofreading: 175 K words and 105 videos (Math, Chemistry & Physics);

Newly dubbed 82 video lessons (Computing).
Khan Academy usage growth
Results for the past 3 months:
Sessions - now 65 593, with continuing strong growth;
Users - now 45 495 unique visitors.
For more great outcomes like those above - please support us again! Donate, or share and invite friends to join our common efforts for education of the future!
We use the opportunity to share more news:
Khan Academy released a course for younger learners. For non-English speaking kids, it is appropriate for learning English. You can download it for free of course! Just type Khan Academy Kids in your browser.
Khan Academy has a new logo! Have a look below.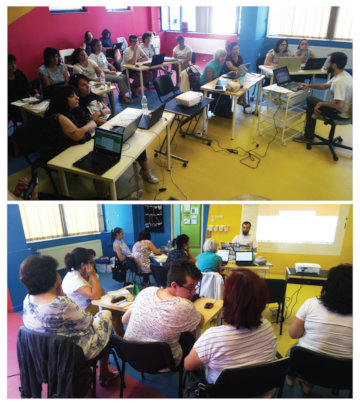 Links: