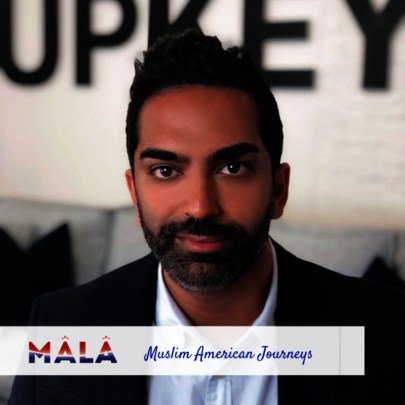 2020 is set to be the biggest year yet for the Muslim American Journeys project. MALA's team is hard at work in Chicago, New York, and Washington D.C. collecting the stories of American Muslims, and archiving oral histories. These stories illuminate the diversity within American Muslim communities, and showcase the range of contributions that Muslims continue to make to society every day. Take, for example, one of our newest storytellers, Amir Badr, the CEO of Upkey:
"I came to Chicago in May, so when it was still winter. I remember I wanted to cry on the inside because I couldn't communicate with people. And it felt so bad not being able to ask questions due to being so shy. Part of the shyness was cultural, but part of it was also because I was just new. It was an incredible feeling though to be like oh my god I made it! But then also realizing that oh my god I made it but I don't know what to do now! I remember looking around at people and thinking that everything was so beautiful, everyone was kind of free and everyone was doing their own thing. Even though I was very scared and nervous, it felt like I was in pain. Deep deep down, I had this new hope that I am in the right place and that even though I'm about to cry now I am going to figure this out.
This was definitely a personal and passion kind of driven idea for me, everyone else that is at the Upkey family, you know we have grown the team to twenty-plus people now and we are just getting started. So, I don't see this being a mere venture because I think there is an underdog in all of us. We all want to see a hard worker whether they are a student or professional, get the chance they deserve."
MALA has collected and archived hundreds of unique success stories like Amir's. We are currently working to expand the Muslim American Journeys project even further by developing more multimedia approaches to storytelling. With your support MALA can continue to collect and share these incredible stories. Our journey has just begun.
Links:
As 2019 draws to a close, MALA is finishing up a year of tremendous growth and expansion. At the forefront of this growth is the Muslim American Journeys project, which has increased by nearly 20 percent this year, to include even more stories of Muslim American triumphs, struggles, and journeys across the United States.
The reach of the Journeys project is growing at a national level: in October, MALA leadership was invited to present on MALA's oral history project at the Annual meeting of the Oral History Association for the second consecutive year, alongside representatives from the National Library of Congress, the Veterans History Project, and others.
This month, MALA also opened applications for our annual scholarship program. This program is open to all American residents over the age of 18 who are pursuing a higher education and who have a story to tell. We are honored to assist aspiring young leaders access higher education, and are excited to read and share the incredible stories they submit.
As Giving Tuesday approaches, we hope you will consider supporting the Muslim American Journeys project, to help MALA find, record, produce, and share more incredible stories of Muslims in the United States.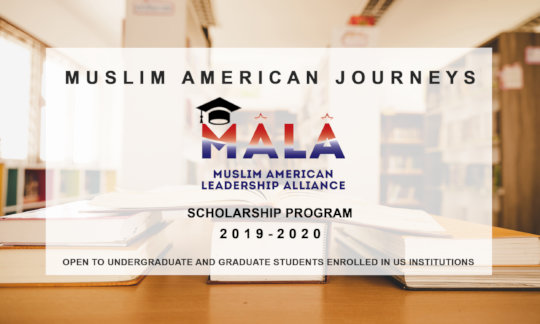 As of today, MALA has officially opened applications for the 2019-2020 scholarship program. The 2019-2020 application cycle will run from November 14th through March 1st, with final decisions being announced on April 1st.
This is set to be our biggest year yet: After a successful season of unprecedented fundraising via grant-making and community networking, MALA is prepared to offer scholarships to an even larger group of driven and unique young leaders across the country. As the MALA Scholarship program enters its third year, we look forward to hearing and the inspiring stories of America's youth as we continue this important tradition of learning, mentorship, and community empowerment.
Even as academic choices expand, higher education remains the preeminent tool for empowering new generations of leaders and change-makers. MALA remains committed to this mission, and will continue to be an ally and a safe place for emerging young leaders everywhere. We invite you to join us in this journey, and to stand with us in supporting young people in the pursuit of a better world.
Links:
WARNING: Javascript is currently disabled or is not available in your browser. GlobalGiving makes extensive use of Javascript and will not function properly with Javascript disabled.
Please enable Javascript
and refresh this page.