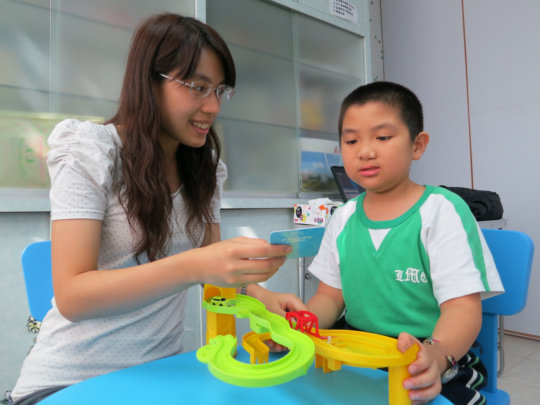 Speech Therapy Service
Children with cleft lip and palate (CLP) typically have a variety of speech problems.
It is because there is less tissue on the roof of the mouth for the tongue to touch, and the soft palate is not long enough to close off the mouth from the nose that will bring about nasal speech. Besides, it is common that agilityof palate after surgical repair is far from ideal.
These problems can make it difficult for the child to learn how to make some sounds and thus some children may have problems with their speech as follows:
Delay with speech development;
Poor movement of upper lip and palate, abnormal tongue and tongue-palate contact, lack of co-ordination with breathing while speaking;
Velopharyngeal incompetence causing air leakage from the nose and heavy nasal sounds while speaking;
Obstacles to speech due to inflexibility of oral muscles;
Development of bad compensatory speech habits due to insufficiency of speech organs.
Cleft lip and palate children need to have speech assessments from 18 months, and it is necessary for children to take speech therapy as soon as possible in order to prevent any speech problem, otherwise the correction will become more laborious and time consuming.
However, there is constant long queue for public speech therapy service, and even your turn come eventually, the appointments are relatively scattered that may not be able to meet the needs of cleft lip and palate children. Though private service is an alternative, however, the fee is too expensive for most of the families.
In view of cleft lip and palate children's urgent needs for speech therapy and the insufficiency of public service for the patients, HKACLP provides resident speech therapy service, which is especially designed to correct common speech problems of cleft lip and palate children with adequate follow-ups according to individual's need so as to help them catch up with their counterparts in studies during 2-6 years old "the golden period for learning".
Along the Way with You - Support Service to Families with CLP Patients
Born with congenital cleft lip and palate, the affected babies have abnormal appearances and feeding problems. They also need to undergo primary surgeries during the first year of birth and may need secondary revisions in early adulthood depending on individual's condition. In different stages of growth, veteran parents' support will help the patients and their families to go through every treatment process positively and confidently.
Sponsored by "Ng Teng Fong Charitable Foundation", HKACLP has formed District Support Service Team in June 2012 to provide district-based supportive service to new born babies and their parents, mothers bearing affected babies, and patients who will undergo surgeries.
The objectives of establishing the service team are to strengthen the parents' caretaking knowledge and capabilities to ensure that the babies are in good care; enhance mutual help among parents; develop volunteer service to give chance for experienced parents to help those of the new born; and to keep the parents abreast of the latest treatments of clefts so as to facilitate rehabilitation of patients.
At present, there are 16 members in District Support Service Team. The trained team members will be delegated to take care of new parents by frequent follow-ups, sharing their experience and giving guidance to them. The modes of service includes: appointment interview, hospital visits, home visits, telephone contacts and group meetings in the districts.
Community Education Activities
HKACLP arranges "Care for Cleft Lip and Palate" exhibition in different places in Hong Kong; organizes community education activities in cooperation with community centres and youth centres; and publishes information like booklets, leaflets and Member's Newsletter. The aim is to enhance general public's understanding of cleft deformity and their acceptance of the patients.