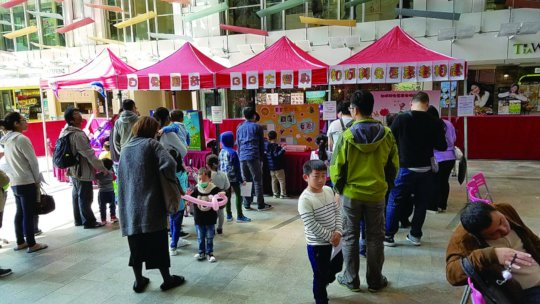 "SYMPOSIUM IN CLEFT DEFORMITY AND TREATMENT SERVICES IN HONG KONG"
HKACLP's annual Social Educational Exhibition was held on 11 March 2018 at Lok Fu Place, Kowloon. This annual event comprised of two sessions in this year. In the morning session, there were display boards introducing the cleft treatment services providing by public hospitals in Hong Kong, as well as the support services offering by HKACLP. There were also game booths and distribution of leaflets to introduce cleft lip and palate ("CLP") and most importantly, to promote the message of acceptance and caring to CLP patients. In the afternoon, the "Symposium in Cleft Deformity and Treatment Services in Hong Kong" was held for the first time by HKACLP. Representatives from the Cleft Teams of 5 public hospitals in Hong Kong attended the event introducing cleft deformity and their respective protocols for patients with clefts. Taking this activity, we hope to increase public awareness of CLP, and at the same time, introduce the medical services for cleft patients providing by the public hospitals in Hong Kong.
Cleft Surgery Mission at HKU Shenzhen Hospital
During 22 to 25 May 2018, some committee members and volunteers of HKACLP went to HKU Shenzhen Hospital, to provide voluntary services to the parents and patients joining the above-said Mission. Many CLP patients came from remote cities and provinces of Mainland China hoping to undergo cleft repair surgery at HKU Shenzhen Hospital within these four days. HKACLP's volunteers provided bed side emotional support to the patients so as to alleviate their worries and pressure prior to the surgery. Besides, our volunteers shared with the parents information about post-operation feeding, cleaning of wounding; cleft rehabilitation path etc. Although 4 whole days of working, our volunteers expressed that they were pleased for joining this meaningful event.
Sharing Session of Reverse Headgear Application
Cleft lip and palate is a kind of congenital orofacial deformities. Although the affected babies may have their cleft lip surgically repaired at 3 months, and cleft palate repaired at 1 year old, when theygrow up, they may present with secondary deformities such as collapsed and asymmetric nostrils, insufficient and asymmetric upper lip etc. Besides, due to cleft palate and cleft upper dental ridge, a majority of children patients may started, as early as few years of ages, to have their mid face and upper jaw underdeveloped, resulting in underbite (i.e. the upper front teeth behind the lower ones, so that upper and lower front teeth are not able to contact each other), plus the lower lip tends to evert forward which results in undesirable appearance, low self-esteem, speech problems, bite problems etc.
Therefore, early orthodontic treatment is very important to CLP patients. Reserve headgear is a type of orthodontic appliance attached to a patient's head with a neck strap or a number of straps around the head. The device helps in correcting severe underbite problems that will consequently lessen the complexity of the patient's orthognathic surgery upon puberty.
In the sharing session held at our Centre, their parents and their children who had undergone the treatment course share as follows:
1. The first parent said after his son (age 9) received the treatment of reverse headgear for 9 months, they found that his upper jaw were "coming out" , the "V"shape dental ridge became "U" shape, and there were more space for eruption of permanent teeth.
2. The second parent said that they understand normally the headgear is worn at night and within the home. But his daughter (age 11) was willing to wear the headgear as long as possible and she did not mind to wear it at school as well. Consequently, she achieved a significant result of 18 mm underbite prior to treatment to 10.5 mm after wearing the appliance for a year.
3. The third parent said that it was difficult for his son (age 7.5) to wear the palatal expander since his month was too small and he felt so painful to wear them initially. However, his son had tried hard to get used to the headgear prior to Alveolar Bone Graft Surgery scheduled to be done next year. Luckily, his son adapted quickly to the new appliance in two months'. After four months, they were happy to see that the underdeveloped upper jaw had grew outwards satisfactorily.