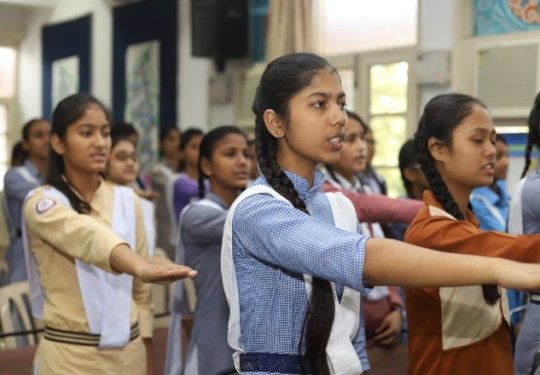 UDAYAN SHALINI FELLOWSHIP
OCTOBER-NOVEMBER 2018
Udayan Shalini Fellowship programme of Udayan Care is a unique academic excellence and personality development programme for deserving and talented girls from weak socio-economic background aiming to turn them into empowered and dignified women or Shalinis. It is unique because it goes beyond being a usual scholarship programme by not only supporting higher education but also providing regular mentoring and leadership development and inculcating a sense of social responsibility to them.
Udayan Shalini Fellowship Programme were also able to introduce 'Employability and Placement section' for our shalinis to help them get placements in various fields.
In 2018-19, USF has moved to 4 new cities – Pune & Thane (Maharashtra), Vadodara (Gujarat), Bengaluru (Karnataka)taking the count of chapters to 20. We are now in the process of inducting around 1100 new girls in 13 states.
Key Highlights
During this quarter, we have inducted our 50 new Shalinis in USF Programme (Batch-17th) with the support of UC-USA.
We have conducted Mentorship Training Session with the existing Mentor Didis to strengthen the mentoring process and with prospective Mentor Didis to fulfill the need of mentoring of 50 new Shalinis.
Quarterly Workshop On 'Dental Hygiene'by Dr. Rimjhim
Udayan care is completing 25 years of existence and we are going to celebrate Silver Jubilee by organizing the USF Grand meet in the month of March'19. The selection of the participants is in process at every Chapter's level. In this regards, Delhi chapter conducted an Essay Writing Competition in the month of November.
OCTOBER 2018

Induction Ceremony: Batch-17th
From 1st week of July we started with the distribution of application forms USF Program in 32 targeted government schools in Delhi. Total 622 forms were distributed.
Moving ahead, the applicants were invited to our Written Exam at Mahavir Senior Model School. Our carefully designed question paper assesses the candidate on general knowledge, basic science and mathematics along with special focus on English writing skills.
Based on the marks secured in the written exam, a cut of list was created on the basis of which 154 candidates were called for the interview.
At USF, the process of interviews involves two panelists who engage in discussions with not only the candidate but also their parent. Marks are allotted on the basis of family involvement, general awareness of the child, career aspirations and goal setting.
After the carefully assessing the marks scored in the interview, home visits of 84 candidates were conducted. Home visit is a vital part of our selection process. During the home visits, we assess the candidate on the basis of their need, family condition, financial status and other parameters developed in our home visit form. After careful analysis spread over a span of 3 months, 50 candidates were selected into the program.
On 12th October, 2018, Udayan Shalini Fellowship Program, North Delhi Chapter celebrated its 17th Induction and Pledge Taking Ceremony at Mahavir Senior Model School. At the ceremony, 50 deserving girls were honored with the title of a 'Shalini' after they successfully cleared our 3-tier rigorous assessment which we call as NAT (Need, Ambition, Talent).
To join us in blessing our Shalinis, we had Sadhana (Chief Guest) from Mira Model School and Sudhir from Freelance Products Private Limited.
To commemorate the day, a group photograph was taken this followed with lighting of the lamp. Thereafter our Shalinis presented our guests with a beautiful painting made by Raveena of Batch 14.
Moving further, Dr. Kiran (Managing Trustee of Udayan Care) gave the welcome address wherein she shared with all the guests, the mission of Udayan Care and how Udayan Shalini Fellowship program is an essential part in achieving our goal which is "Regenerating the Rhythm of Life for the lesser privileged". She also shared inspirational anecdotes about her journey with our Shalinis.
To prove the capacity, grit and determination of our Shalinis, Modi, welcomed on stage our Alumnae Shalini, Smita and Aarti to inspire everyone with their story and journey with Udayan Shalini Fellowship.
As the program progressed, the fellows of the newly inducted batch were invited on stage and awarded with their first fellowship Cheque along with their Badge of Honor by the Chief Guest and Guest of Honor.
Following this, Sadhana (Chief Guest) and Sudhir (Guest of Honor) were invited to address the gathering. Both the guests shared their journey and laid emphasis on the need for more such programs that help girl children live their dreams of pursuing higher education.
In closing, Arun (COO, Udayan Care) was invited on stage to extend their gratitude on behalf of everyone to the Chief guest and Guest of Honor along with the parents of our Shalinis for making the event a huge success.
The ceremony finally culminated by singing of the National Anthem by everyone present.
Quarterly Workshop on Dental Hygiene by Dr. Rhimjhim
The workshop started with an introduction of the facilitator. She first gave a brief about her topic "Dental Hygiene" and explained different types of dental practices one should incorporate in their everyday lives. The presentation included surgeries to erect tooth position or to cure various diseases associated with tooth decay. The facilitator then spoke about her expertise in Oral Medicine, Diagnosis & Radiology. Shalinis were given brief detail about fields of Dentistry like oral, cosmetic, geriatric, orthodontics etc. After that shalinis were divided into the group of 10-15 in number and were given a practical demo of dental cleaning and functions of each tooth through a model. The girls were given chance to ask their queries during the session. The session was very informative and interactive
Employability Workshop: Emotional Intelligence by Mr. Bhaskar
The workshop was organized for 16th Batch Shalinis at Mahavir Senior Model School. The goal of the workshop was to recognize the existence of emotions in each interaction, understand emotional strengths and shortcomings use the core values to rewrite the emotion blueprint and communicate to convey a sense of balance. The workshop began with making Shalinis know about emotional awareness as knowing and understanding the feelings that are present in oneself and others and explaining Emotional intelligence to manage the emotions or behaving appropriately to the environment.
The importance of Emotional Intelligence was narrated as very important in attaining success in their lives and careers. As individuals, their success and the success of the profession today depend on their ability to read other people's signals and react appropriately to them. It is imperative that each one should develop the emotional intelligence skills to better understand, empathize and negotiate with other people otherwise, success will elude them in their lives and careers. It was ascertained that people with higher emotional intelligence find it easier to form and maintain interpersonal relationships and to 'fit in' to group situations and are also better at understanding their own psychological state, which can include managing stress effectively and being less likely to suffer from depression.
The key skills for building emotional intelligence, Self-management, Self-awareness, Social awareness & Relationship management were described at length. This included a lot of real-life examples and role plays. Shalinis also shared their experience of reaction at different situations Finally, the session concluded by explaining that application of emotional intelligence will improve their performance at school, improve their physical & Mental Health. Shalinis perceived that the best strategy to develop EI is first trying to understand own emotions, then try to understand how people around them feel and finally try to gain a better understanding of one's relationship strategies.
Employability Workshop: Communication-4 (CV Preparation & Group Discussion Practice) by Ms. Neha
The workshop on 'CV Preparation & GD Practice' was organized for batch 13 at Mahavir Senior Model School. The objective of workshop was to make Shalinis learn about the importance of a well written resume, create a resume using the guidelines provided, conduct self-evaluation on group discussions & learn techniques of making a positive impression in a group discussion.
After introduction, Facilitator asked Shalinis meaning of CV (Curriculum Vitae, or résumé). Based on all the answers it was summarized that a curriculum vita is a document used to list one's qualifications and apply for employment and it provides overview of candidate's skills, education & work experience. It was made to understand a good CV is required as first chance to make a good impression on a potential employer & boosts chance of getting a face-to-face interview. An activity was conducted with Shalinis where they had to highlight their skills to employer for a particular Job. Thereafter components of CV were dealt in detail. Formatting and spacing guidelines were discussed. An activity was undertaken where under given heads all were asked to build their profile & prepare CV.
It was explained a group discussion is conducted on a topic or situation to test the candidate's way of sharing opinions, respecting other's opinion. An activity was undertaken. On various topic all Shalinis were made to practice the GD. Shalinis were now well versed with prolife building for CV and expressed confidence in applying the techniques of communication in Group discussion.
Employability Workshop: Women's Rights by Ms. Kamakshi

The Workshop on 'Managing Workplace Bias' was organized on 7th October 2018 at Mahavir Senior Model School. It was attended by batch 15. The aim of the workshop was to introduce Shalinis to existing biases and to enlighten them about three essential laws that protect women's rights, against sexual harassment, for remuneration and maternity benefits. The meaning of bias was explained as 'lack of objectivity or an inclination to favor one thing or person over another'. Shalinis were made to understand Gender bias in particular as discrimination towards people based on their gender rather than their individual merits. To equip the girls to deal with bias at workplace they were educated on the subject. Acts like Sexual Harassment of Women at Workplace (Prevention, Prohibition and Redress) Act, 2013, Equal Remuneration Act, 1976 & Maternity Benefits Act, 1861 were elaborated.
The session was great learning for Shalinis. After session, they were equipped with the knowledge of biases & handling them at workplace in informed manner. Now the shalinis were very much aware that India has formalized sexual harassment at workplace as a penal offence, punishable with imprisonment and penalty. They were pleased to know that with the advent of the present legislation, a paradigm shift can be noticed in the way employers are made liable for the breach of law by its employees. Shalinis were confident that being educated on the laws on sexual harassment and other laws that protect women at workplace will help them to stand up for themselves, they will indeed be workplace ready even more.
Mentor Training Session by Ms. Garima

Formal mentor training was organized for new mentors at Mahavir Senior Model School. The goal was to support the development of new inducted Shalinis with regard to academic preparedness, personality development & career orientation.
After this qualities and character of mentor were elaborated. They were told that other than being committed, compassionate & empathetic it is imperative to be non-judgmental and patient. Mentors were asked to follow guidelines of mentorship; it was mentioned that they should build rapport first with mentees before discussing the goals. They were made clear to draw boundaries with mentee & discuss and agree about the confidentiality of the information shared with and by the mentee. Mentors were advised to be a good listener and be approachable. Further they were to ascertain to be supportive and take a positive attitude. Type of mentoring was discussed; Mentors were given manual of guidelines to observe during the mentoring relationship, as well as the format of feedback form of mentoring was handed over.
It was expressed by the mentors that training has been very beneficial in terms of better understanding of the guidelines & criteria of mentorship. It made them equip with the understanding and tools to guide mentee so that they are able to make informed & ethical decisions. It was clear to them that mentorship will also provide them with opportunities to learn and grow and also enable their mentee healthy start in life by facilitating the process of self-discovery and self-awareness.
NOVEMBER 2018
Employability workshop: Planning, Vision Creation & Goal setting by Mr. Bhaskar
The workshop on Planning Vision Creation & Goal setting was organized at Mahavir Senior Model School. It was attended by batch 17. The objective of the workshop was to make Shalinis understand the need to plan, steps of planning & use planning for life events. Further it was to guide them to set goals in the smart format create a plan to achieve the goals. After the introduction of the Facilitator and the Shalinis, examples of very successful people were quoted. Their planning to achieve the goal was demonstrated. Shalinis were explained that big inventions like smart phone, sending someone to moon was accomplished as a result of setting goal at certain point. A vision was chartered and realized.
Concept of smart goal was taken up. To make the goal S.M.A.R.T., it needs to conform to the criteria of Specific, Measurable, Attainable, Relevant and Timely. It was said that SMART goal setting creates verifiable trajectories towards a certain objective, with clear milestones and an estimation of the goal's attainability. The session was very effective in realizing Shalinis about goal setting & planning. They understood that goal setting will give direction in life and boost their motivation while proper planning will help them to keep things in control of events this will enhance their confidence
Employability workshop: Merchant Navy, Scope in Shipping Industry for Shalinis by Mr. Sarthak
The focus was to educate shalinis about merchant navy, shipping Industry and make career on sea/related Industry.
The session increased their knowledge about the shipping industry as whole. They were given exposure to shipping operations in which he explained how the process of shipping works in terms of trading. The facilitator was accompanied by Ms. Shivi who is a Ship Broker and is HR head department of leading shipping company. She inspired girls by her own story and motivated them to look on the side of merchant navy as a career. She gave brief on various sectors where girls can apply and flourish.
'Futureof Jobs in India' by Mr. Kunal
The workshop on 'Future of Jobs in India' was organized at Mahavir Senior Model School. It was attended by batch 16 & 13. The session was categorized into 4 main segments, namely:
Are jobs reducing in India?
What kind of jobs will be removed?
What are the new jobs evolving?
How do we save ourselves from this transition?
The Objective of the session was to let the Shalinis know changing trend of jobs in market and how to trap right opportunity by moving with time & move ahead with transition.
There were ample number of examples and graphs in the seminar to make sure that the students understand and relate themselves and hence could progress in their life.
The session was very effective in realizing Shalinis about Future of jobs in India. They understood that there are ample number of opportunities available in India and learn to ensure enriched knowledge for their growth.
English Essay Competition
In celebration of this joyous journey, and as a mark of our onward commitment to determinedly work to empower vulnerable and disadvantaged groups of children, young girls, women and youth, we are organizing an event 'Celebrating an Action for Change.'
The theme is based 'Women's Empowerment.'
In this regards, we have conducted an Essay Writing Competition on "India of my dreams" which is very much justifying the theme of the event. The objective of the Essay Writing Competition was to know the 'analytical skills'of the Shalinis. The second phase of this activity would be a test of expression to evaluate the speaking skills.
Success Story - SANYA
Chapter: North Delhi
Year of Induction: 2011
Hailing from a small family of 4 members, where the father was the sole breadwinner and mother was busy in household chores.
"I come from a background where I got limited resources to pursue my basic education. My parents did not stop me to pursue my dreams and education."- Sanya
Turning point came in her life, when,she heard about the Udayan Shalini Fellowship program in her school and worked hard to get selected into the program.
"It was a proud moment for me and my parents, when I was awarded the fellowship during the induction ceremony. Udayan Care is like second family for me which helped me to improve leadership qualities, communication skills etc. USF workshops proved helpful to groom my overall personality. In the five- year long journey, I got proper mentoring support from my mentor didi and I became more optimistic, fearless and confident. From the program, I received guidance regarding different career fields available and how to pursue them. I also got opportunity to do my first Internship with Springer Delhi. At this organization, I met with some inspiring people who were instrumental in shaping my personality"- Sanya
Present Status: Sanya is working at Unique Shiksha NIS Institute as a Content Developer.