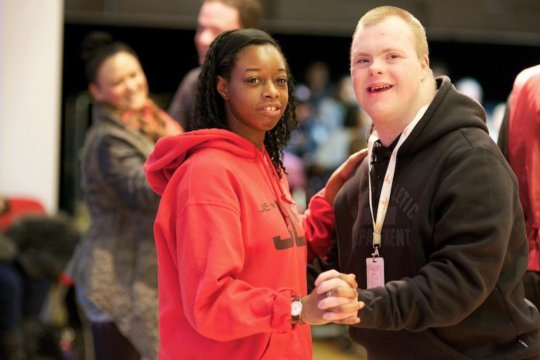 Learning Disabilities week has just passed and we have been celebrating friendships and relationships of people with learning disabilities who are part of our VALUES service.
VALUES supports adults with learning disabilities by helping them make friends, become more independent and get the most of out life.
"Everyone is friends here"
Life has changed a lot for VALUES client Chanee over the last few years. Learning to travel on her own, her first job, her first home on her own and whole load of new friendships.
Chanee goes to VALUES 4 days a week.
"I have made loads of friends are VALUES. Everyone is friends here, even the boys. I like walking, swimming, tea dance and drama." Explains Chanee.
Opening doors to new opportunities
Aaron Keen, VALUES Executive manager, says "I have seen Chanee grow in confidence over the last few years. I think a lot of that is from doing drama at VALUES".
Learning to travel on her own has opened up a new world for Chanee. VALUES taught Chanee how to use buses and the key routes she needed to get to her Activities. Chanee said:
"I like using the bus, it means I can go and see my friends and I feel more independent."
Finding employment
Chanee has a paid job at Voluntary Action Leicestershire where she has made lots of new friends. "I clean up the tea cups and clean the kitchen" says Chanee.
"I often see her making a beeline for one of her daily chats with the VAL staff" explained VALUES manager Mikaela.
Chanee also volunteers in the hairdressers and the dining room at an older person's home. Chanee isn't the only one who enjoys the job. She explained saying:
"They love me there, they say 'don't leave, you're really good' when I'm washing their hair"
"Since Chanee has been volunteering at VALUES she has become more positive and her confidence has grown immensely, she has learnt new skills and from this she now has her first paid job" said Cezett McIntosh, Chanee McIntosh's mum.
A place of her own
Chanee has taken the massive step of moving out of the family home into her own flat where she receives a couple of hours support a day.
"I really like my flat, I don't have to share the bathroom with anyone. I cried the first day when my mum left but I soon made friends and now we go on holiday together. We are going to the seaside next week. We also play 'come dine with me' and cook for each other in our flats."
Links: