Projects Update:
As planned, and under execution, two boreholes earmarked for Imeko and Ilaro communities of Ogun State, Nigeria, are nearing completion.
The one at Imeko is taking longer project execution period, as a result of the topography of the community, with rocky surfaces, and requiring deeper digging to reach water surface. This has equally tripled the cost of excavations and erections of rings to keep water in drinkable state.
The two projects are due for commisioning in about two weeks, and once carried out, all donors to this projects, will be availed the opportunity of seeing what AnneGift Foundation has done with donations received.
The two communities are already excited, seeing the level of work done, and with completion in sight.
The commissioning reports and projects handing over will be available, once carried out.
We are sincerely grateful to our donors, around the world, for their generous support, believing they will continue to support, seeing that the donations given have been judiciously expended.
Links: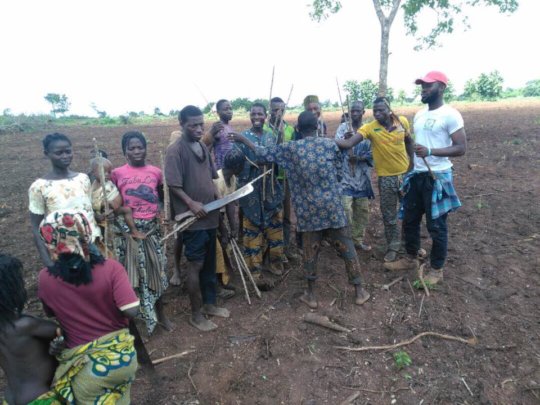 This project is aimed at helping 250 women of Imeko attain economic independence. Until now, an average woman of this own rely on the husband for virtually all responsibilities of home up-keeping. The idea of a single unpredictable income translates into increased poverty and lack. This situation. too, means the woman suffering nil or low esteem. It is therefore, our opinion that these women be supported with ideas of a second income to complement that of the husband earning below $5 a week.
Things are even getting worse now, the women now have nobody to rely on, no job for the husbands, no hopes, just like many with dimmed hopes all of our nation, our women have no definition for beloging to a nation that cared less of their existence.
To women, sleeping and waking up is just a routine of surviving to see another day. Hopes have faded. The children have no food, clothes, not to talk about going to school.
Please, let us work together to empower this women to have self esteem, eradicate poverty, malnutrition and also sufering from abuse. We want women to be part of a wider community development and useful in making quality contribution to community development.
We are appealing to all donors to partner with us so that together we can empower Imeko women by lifting hands and raising their hopes.
Many thanks for all your support.
Links:
Boreholes Projects for Imeko and Ilaro Communities:
The sinking of boreholes for the use of the two above-mentioned communities are nearing completion. More than 90% of projects execution carried out. The one at Imeko experieced delay due to the topography of the community, requiring extra time and funding to complete.
Specifically, the borehole engineer realised, as the sinking progresses that the soil there were loose, hence caving in and requiring a repeat of actions to rectify. This was not, also, without added costs. Same experience applied to the borehole sinking in Ilaro Community.
While appreciating the efforts of our general donors for supporting this laudable projects and vision, we, therefore, will like to, appeal to our backers and donors around the world, to continue their support for these projects. These projects are at advanced stages by virtue of their support, and we believe these communities will value these laudable efforts.
Links:
WARNING: Javascript is currently disabled or is not available in your browser. GlobalGiving makes extensive use of Javascript and will not function properly with Javascript disabled.
Please enable Javascript
and refresh this page.