In the last couple of months more and more kids are showing up in our afterschool program, some days up to 65 kids are participating.
We were able to give all the kids more nutricious snacks during the afternoon, such as Incaparina which is a protein drink for kids and a piece of fruit.
On the picture below you can see 2 sisters enjoying their snack. They came the first time about 3 months ago and didn't miss more than 2 afternoons ever since. They love to participate in our different activities suchn as handicrafts and sports but also always ask for a double snack. We hope we can activate and motivate those kids to continue studying and improving their health conditions.
One of the special activities we did with older girls in the last couple of months was Yoga. In a childish way they learned more about their breathing and controlling their emotions. Every single day they asked when the next Yoga class was going to happen.
Another special activity was a activity from our Director who is a qualified psychologist. He organized an activity focused on their safety on the street and what girls would have to do in case of strangers coming to close to them.
Thanks to all of you who have donated and made it possible to do all those incredible things here in the neighbourhood of Las Rosas in Quetzaltenango, Guatemala. It is very needed and we see the changes in new kids every single day.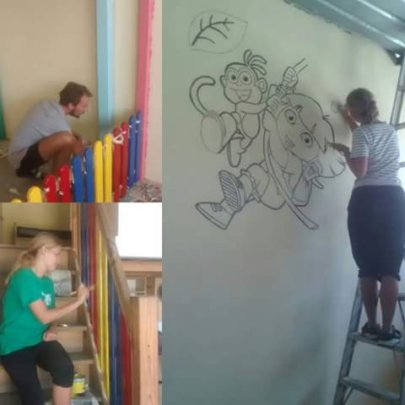 Unfortunately we were not able to re-open our daycare yet. We are still working very hard to encounter new sponsors/ grants to be able to re-start this beautifull project.
But we did go ahead with the renovation. A group of volunteers painted the whole daycare to give it a completely new image. Everything is very colourful and on the wall there is a beautifull painting of Dora The Exporer.
Everything is about ready for the re-start, the only thing we need is money to be able to contract 2 nannies to look after the kids and give the smallest kids early stimulation and a cook to take care of the nutrition.
Please consider helping us to encounter the last things we need to re-open this very important daycare. Right now most of the kids that used to come to our daycare are considered malnourished by the health post that´s located right next to us.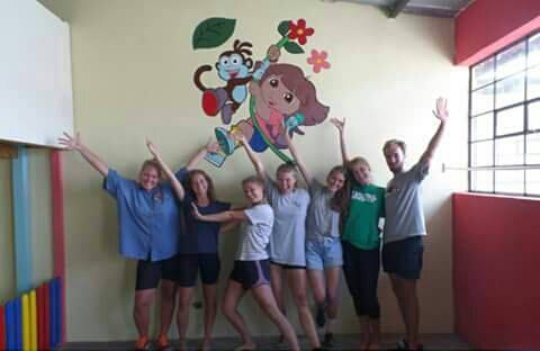 Links:
Thank you for your donation to support our Day Care project. Unfortunately we didn't make it yet but our goal is to re-open by fall this year. We are staying positive to reach our goal. In the meantime we are still helping as many children as possible with the received donations.
We are currently organizing afternoon activities for approximately 40 primary school children from 6-14 years old. The activities vary from educative activities to games, making handicrafts and practicing motor skills. But our main vision is to let the children be children in a safe environment. Besides the activities we also stimulate them to do their homework and we have two psycology students to help with this every afternoon. Apart from the afternoon activities we were able to support about 20 children with school utilities and monthly costs. These costs are a great barrier for the parents therefore the donations helped these children stay in school.
Would you like to receive more updates about the different ongoing projects of Caras Alegres, on this link you can subscribe for our newsletter: http://carasalegres.org/contact-us/
Links:
WARNING: Javascript is currently disabled or is not available in your browser. GlobalGiving makes extensive use of Javascript and will not function properly with Javascript disabled.
Please enable Javascript
and refresh this page.