Pakistans distict Pesharwa with its diverse population of residents, internally displaced people and refugees from Afghanistan is lacking a sufficient primary health care service. This situation is especially dangerous for vulnerable groups such as children, older or sick people as well as pregnant women and newborns. In a critical situation this lack of primary health care can turn out fatal.
The project was implemented in October 2017 and is carried out by our coalition member Malteser International. It focusses on mother and child health care in both refugee and non-refugee communities. The project aims to ensure proper and around the clock pre- and postnatal care, birth support and emergency transfers, if necessary. Therefore, the health centers were equipped with necessary birthing material, such as medication or dressing material.
As mother and child health is also influenced by various aspects, other actions are implemented as well:
The nutritional state of the mother has a great influence on the child's health. Therefore the nutritional state of pregnant or lactating women and children of 6 to 59 month is surveyed and monitored
A sufficient and hygienic water supply is necessary to protect patients from water-based infection and ensure basic hygiene. Therefore the local water infrastructure around and within health centers is improved and maintained
psychosocial help is being included into basic health care
local and communal health workers are trained, for example concerning "nutrition and health"
The project both improves the management process in local health care and provides the community with basic, self-care coping strategies.
We are very grateful that you support the work of our coalition. Your donation enabled us to increase our various support to people in need. Thank you!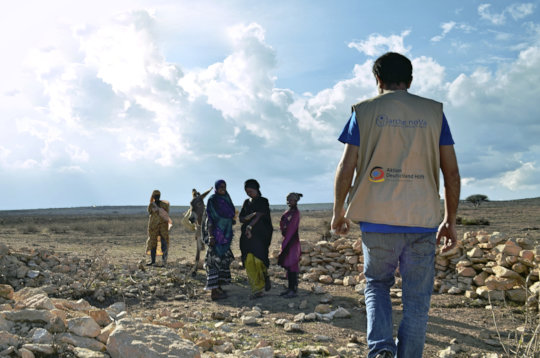 Ethipia is one of the most affected countries of the current drought in Africa. Due to the lack of rain, the vegetation is not able to feed lifestock. Normad families are not able to uphold their lifestyle and settle in informal camps, where they try to get access to food and water. One of these camps is located near Danan in the southern part of Ethiopia.
Our member organization Arche NoVa is currently supporting a health center in Danan. Nowadays, the center is focusing on treating people with severe malnutrition and diarrhea. But like the whole district, the city of Danan and the health center is suffering from water supply problems. In the past the community provided water from a river 70 kilometers apart to support its 8.000 inhabitants. The logistics were not only costly, the water was also of poor quality and therefore brought a new risk for infections.
With the support of our donors, Arche NoVa was able to build a water treatment plant on the area of the health center. Due to trainings, the staff of the health center will be able to service and maintain the plant on their own. Arche NoVa will move onto repairing the poorly equipped sanitary facilities.
We are very grateful that you support the work of our coalition. It enabled us to increase our support to people in need. As the hunger crisis is still going on, humanitarian aid is the only possibility to support the people suffering in East and West African countries. Thank you!
Since August 2017 more than 607.000 Rohingya have fled the escalating ethnical conflict in Myanmar. Most of the refugees have survived violence in their home country and suffered severely on their passage to Bangladesh. In Bangladesh they are protected from discrimination, but they are not entirely safe: The refugee camps are tensely crowded; the risk of infections like cholera is alarmingly high. Having left everything behind, they are in dire need of food and water, shelter, clothing as well as psychological support. Furthermore, heavy monsoon rains are flooding the camps.
"We were forced to leave our country to survive", Zakir* tells us. Once he was working as a volunteer for World Vision. Now he and his family depend on the humanitarian distributions of food, water and hygiene items. "There is simply no way to earn your living. As a refugee, you don't have another option to survive".
The aid workers of our coalition are relentlessly supporting the refugees. Medical teams are treating injured refugees or carry out much needed health check-ups for pregnant women like Zakir's* wife. To compensate the lack of fresh water, a quick response team of ASB has installed several mobile water treatment plants. With these plants, several thousand people have now access to fresh water.
We are very grateful that you support the work of our coalition. Your donation enabled us to increase our various support to people in need. Thank you!
*name changed
WARNING: Javascript is currently disabled or is not available in your browser. GlobalGiving makes extensive use of Javascript and will not function properly with Javascript disabled.
Please enable Javascript
and refresh this page.