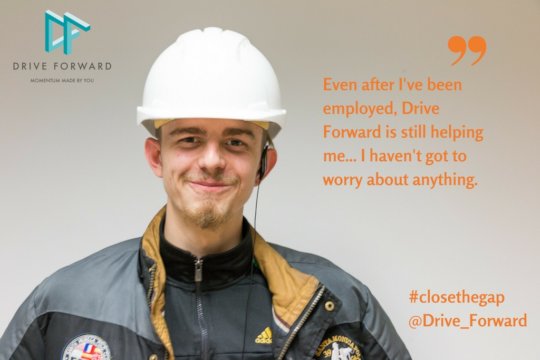 We know it's cheesy, but let us start this project report with a huge THANK YOU and a round of applause! "Care Leavers this Christmas" has been the most successful crowdfunding campaign Drive Forward has run so far:
We reached our initial 5-week goal of £2,000 in only 12 hours on GivingTuesday
Over the course of 5 weeks, you helped us raise over £6,000
You are one of 44 unique donors
One person is supporting the project on a regular basis giving monthly
And there is more good news to be shared: Last year, GlobalGiving awarded us a Community Grant towards our "Closing the Gap – Empower Care Leavers in London" project. This meant that any donations made towards this project, as well as towards "Care Leavers this Christmas", were matched 100%! Therefore, your fantastic support didn't just raise £6,000 from 44 donors, but in effect you raised £12,000 to enable young care leavers in London to become participating and contributing members of society.
Here are some of their stories.
Sephora, 22
Read the full story here.
When Sephora, aged 22, first stepped through the Drive Forward doors in the summer of 2017, her first thoughts were "will they really be able to help me with what I am looking for?" Young people leaving the care system are referred often from one service to the next and not all are able to help them or deliver on promises.
Sephora had just quit working for a care agency, which she had been engaged with since she left care at 18. As a mother of a then 5-year-old, the uncertainty around changeable hours and flexible work times had become too much to handle. She turned to her social worker for advice and was recommended to get in touch with Drive Forward. Sephora wanted to start a new career, which would allow her to establish a stable environment for her daughter. She was looking for a 9-5 job, ideally close to her home as well to her daughter's school. She started working with Heaven, one of our Employment Consultants, who encouraged her to look at industries and jobs the young mother hadn't considered before. This included a brand-new opportunity with one of our new partners.
We had just finished consulting with the Children's Commissioner's Office to design an apprenticeship scheme accessible for, and tailored to, the specific requirements of care leavers.
When Heaven first suggested the Business Admin Apprenticeship to Sephora, she was unsure. It was outside of her comfort zone as she had not been in an office environment before. However, boosted by Heaven's belief in her and knowing that she wouldn't have to go through the application process alone, she decided to go for it and was delighted when she learned that her application had been successful.
There was one last hurdle to face: starting full-time work. Sephora was no longer eligible for housing benefit and had one month to wait until her first pay cheque. She had bills to pay, travel, clothes and food for her and her daughter to think about.
Thanks to your fantastic support, Sephora wasn't left on the back foot. She was able to budget ahead, instead of scraping by and getting into debt before she had hardly begun.
Three months into the job, Sephora describes her experience:
"It is amazing, it is going really well, I am learning a lot daily… just how the office works… I am happier… Before I worked for a care agency and I did not know if I would have a job from one day to the next. I have a 7-year-old child. There are certain things you have to be able to provide for your home and it is hard to provide these things… I am more relaxed and I have 25 days' holiday… I can plan for things."
Aaron, 20
Read the full story here.
Aaron's career goal is to set up his own business in multi-trading doing plumbing, pipework, decorating, electrics, residential and commercial, a trade he has learnt about from his step-father. When he joined Drive Forward in September last year, Aaron was highly motivated and eager to progress in his career. Together with his Employment Consultant Rachel, Aaron identified work and training opportunities in the building and construction sector and completed a couple of applications. After a short while, Aaron was invited to interview with a newly established construction company and promptly got the job!
Like so many young people working with Drive Forward, Aaron had been classified as NEET (Not in Employment, Education or Training), which means that he was relying on social benefits. Signing an employment contract, however, put him into a situation where one the one hand, he was no longer eligible for Job Seekers Allowance or housing benefit, whilst on the other hand, not having received his first month's pay check yet. Thus, he was facing the challenge of tackling a period of three weeks without any financial incomings.
"Closing the Gap made a huge difference to my life. When I started my current job, there was a period of three weeks where I hadn't been paid anything. Obviously, I'm expected to get to work, which costs money, and the job centre told me 'You're working now, so we don't have anything to do with you anymore.' That's where Closing the Gap has really helped me, covering my travel as well as other things like food and clothes."
Aaron started working in late October and loves his new job. He keeps his end goal in mind and still engages in the various after-work activities we offer at Drive Forward to boost his professional and personal development.
"When I'm older I want to have my own business in multi trade. I want to be able to do brick laying, plastering, electrics, plumbing… I had this dream ever since I was 12 years old that by the time I retire, I want to move to Hawaii and build my own house. Yes, I'm going to build my house in Hawaii!"
Nikki, 22
Nikki is a graduate with a first-class degree in Human Rights and Politics from Colchester University. She has been unemployed since completing her degree and came to Drive Forward for help and advice around her CV and finding a job.
Going through different options available to graduates in her field, Nikki decided to apply for a graduate internship specifically aimed at care leavers with the Civil Service. Whilst we supported her throughout the application process and helped her prepare for the interview, Nikki showed a lot of initiative attending our employability skills workshops and sessions with corporate partners, developing her competencies and learning about tools like the STAR technique.
Nikki made it through to the final stages of the process, but unfortunately did not get the position with the civil service. However, she remained resilient and started working as a Christmas temp at the prestigious Fortnum & Mason's shop in Charing Cross.
Nikki was desperate to work, but was cut off from receiving Job Seekers Allowance on starting her role. On top of this, she was moving house, which put additional stress and uncertainty on the situation. Her Employment Consultant, Rachel, was able to encourage her to keep on with the job, offering to pay her weekly travel costs to get to work through the Closing the Gap fund. Nikki's Personal Advisor from the Leaving Care Team further managed to provide Nikki with food vouchers throughout December, enabling her to make ends meet until she would receive her first pay cheque.
Your support allowed Nikki to gain confidence and she is now undertaking a paid for training course which is targeted at students wanting to set up their own social enterprise. We are looking forward to seeing her after her course and supporting her develop to her enterprise ideas.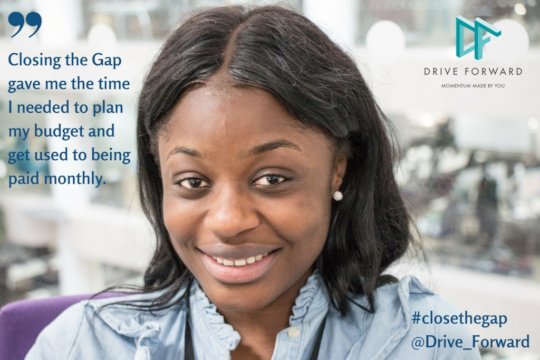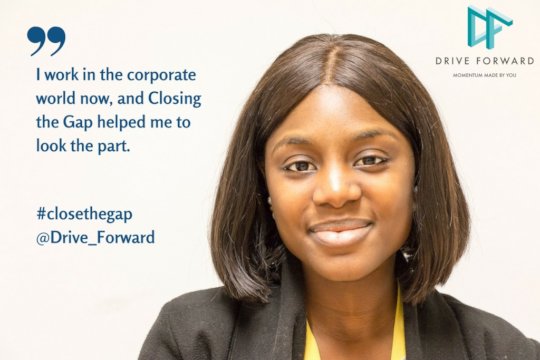 Links: