Education is the single most powerful way out of poverty. 600 of the most vulnerable children from the squatter camps of central Kolkata are enrolled in Tiljala SHED's education programme. It costs just £11 or US$15 per month to give a child the chance to lift him or herself out of destitution, abuse and hopelessness. Thanks to your generosity we are able to help Tarannum and hundreds like her...
Report from the field...
Tarannum
Tarannum is a very bright girl, 14 years, from Topsia Canalside squatters is now studying in class V. Her father is an alcoholic and drives a rickshaw. He seldom contributes to his family. The change maker is her mother who is a maid servant working in two different houses and earns an income of Rs.6000 per month. One of her sisters has been deserted by her husband, she also stays with her two daughters in this house.
Tarannum is a very ambitious girl and wants to become a teacher and support her family. She lost few years in school as she was in her village. She is now studying hard to reach her goal. She regularly attends our coaching centre and is very much motivated to continue her studies as once upon a time she wanted to quit from her studies. Her mother has also taken a loan and has purchased the rickshaw for her husband but her husband drives only intermittently
About the project
600 children of rag pickers, rickshaw drivers, maidservants, vegetable sellers are enrolled on Tiljala SHED's Education and Child Protection programme. They are required to attend their local government school but in the afternoon they attend remedial classes in T SHED's 5 centres, one in the heart of each community where we work. Here they play, sing, complete their homework, attend remedial sessions and child protection workshops. They love the classes and attendance is very high. Their parents are also closely involved - after all it is only with the parents' consent that the children remain in education and avoid dropping out. Tiljala SHED works very hard to persuade the parents that a proper education is worth the sacrifice of anything a boy might earn rag picking or working in a factory. And infinitely better than marrying off a daughter as soon as she reaches puberty.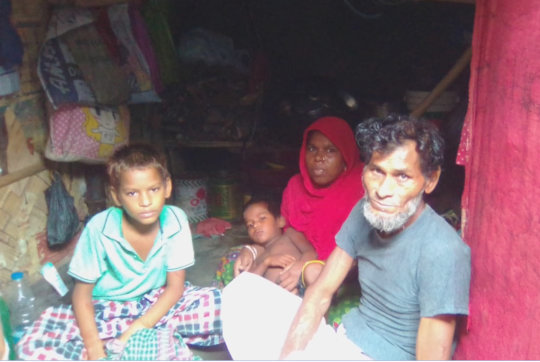 This project provides regular rations of dry food to some of Kolkata's most vulnerable families. Each family receives rice, dal, chick peas, oil and soy protein. This means that the family does not go to bed hungry and that the children are better able to study.
Thank you so much for your support. We desperately need more funds to help more families. It costs just Rs1200 (£13 $US25) a week to keep a family from starving.
A report from one of our field workers:
Mansur is 60 years old and is residing with his family members beside the railway line at Park Circus. Mansur cannot walk properly. Sometimes he works in Muslim burial ground (cemetery). His wife Saburjan is a beggar. She is 35 years old. She is handicapped and also has heart and liver problems. She earns Rs.50/ per day. There are five members in the family.
Rijabul is the elder son of the family. He is 12 years old. Now he is in Metiabruz and works as a labourer. He contributes small amount to the family. But this income is not enough for running the household expenses. Sometimes the family goes to sleep without food. Raju is the second son of the family and he is 10 years old. He studies in class I in a government primary School. He is average in his studies but trying to do better. Sometimes, he also begs for the support for his family. Khadem is the third son of the family. He is 5 years old. With this dry ration food support, the family will not have to starve now for a month. This emergency food support has fed the hungry from the city's most vulnerable area and who are deprived of the basic facilities.
This emergency food support has proved to be of immense help to all these families. With your support these children can avoid child labour and remain in education.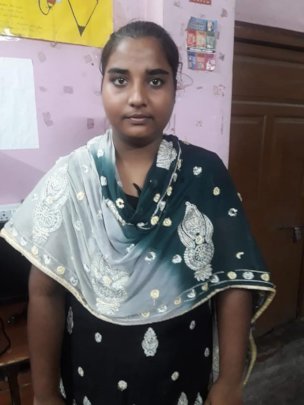 Almost a year ago I reported here about 6 ambitious young women who were busy defying all expectations and about to embark on a university career. https://www.globalgiving.org/projects/educate-destitute-girls-in-kolkata-india/reports/?subid=99072
Today I am delighted to report that they are all doing well and loving college life. Back in November 2017, we were worried about Dulari.
Like the others she had proceeded against the odds through the Islamia Girls High School (enduring class sizes of 150 and upwards). She had been inspired by Sofia Khan, who had grown up in the same slum but had fought the system and is now a senior officer in the West Bengal Civil Service. Determined to get into university, Dulari jumped at Tiljala SHED's offer of free Sunday tuitions, passed her class 12 exams and won a free place to Bhawanipore College.
But her family was so poor that her parents wouldn't be able to spare her for any more education, nor would they be able to provide her with the books, stationery, travel costs and other expenses she needed to be able to continue with her education.
Thanks to your generosity Dulari was able to join this sponsorship programme and all these costs are covered. She wants to join the civil service, like Sofia. You have given her the opportunity to make a success of her life.
Report from Shreya and Aamna who run the programme:
"Dulari lives with her family in a rented room at jannagar Road kol-17 Her father Md Alauddin he works as a Auto Driver and he earn very less Her mother Kharuinisa she is a house wife .They are four sisters all of them are studying in school. At present she is studying in B.A 1st year at Bhawanipur education society college it's a famous collage at Kolkata. She said thanks to GlobalGiving Project for her support now she is getting everything .Before getting the sponsorship she was in Anjuman Islamia Girls High School during that time she faces many problems it's a big challenge for her to complete her education her family is very grateful to GlobalGiving Education. Hopefully she will complete her graduation."
WARNING: Javascript is currently disabled or is not available in your browser. GlobalGiving makes extensive use of Javascript and will not function properly with Javascript disabled.
Please enable Javascript
and refresh this page.